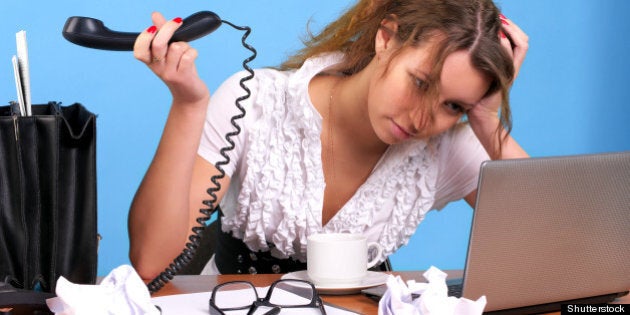 A group of university students has called on Ontario's Minister of Labour to end unpaid internships, just as two prominent Canadian employers become the latest focal points for growing controversy over the practice that critics say illegally exploits young people.
The University of Toronto Students' Union (UTSU) contends that more than 300,000 Canadians are "illegally misclassified" each year as interns, trainees and non-employees, a situation that they say has a destabilizing effect on the economy because unpaid work drives average wages down while increasing student debt at a time when the youth unemployment rate is twice the national average at 14.2 per cent.
They wrote a letter last week asking provincial Labour Minister Yasir Naqvi to ban "all forms of unpaid labour that benefits employers."
In Ontario, as in most provinces, unpaid work violates labour laws unless it falls under a list of exemptions. Under those laws, interns deserve pay if their duties fall under the definition of "work," which classifies them as employees.
Naqvi thanked the UTSU for the letter in an email Wednesday to Huffington Post Canada, but stood by the province's law, saying that it provides "strong protections around internships."
"If you perform work for someone – unless you are self-employed, in a co-op placement, or a trainee – you are an employee covered under the Employment Standards Act and should be paid – it doesn't matter if you are called an 'intern' or not," he wrote in an email.
"Not only are we concerned about the effect of unpaid internships on students, but we are also concerned with the health of the labour market for post-secondary graduates and youth, who are currently facing an 18 per cent unemployment rate upon graduation," the group said in the letter signed by president Shaun Shepherd. The union also wants the province to enforce its Employment Standards Act (ESA) better.
Critics of unpaid internships say many employers are flouting those rules by asking new grads to put in time without receiving a pay cheque or even the promise of an eventual job. Proponents say unpaid work is an increasingly necessary bridge between the textbook-centred world of academia and the real life experience required to land jobs in an increasingly competitive labour market.
Toronto City Councillor Ana Bailao was derided by some constituents this week after posting to a community email group a request that seeks applicants for unpaid "summer internship opportunities" who are either pursuing a degree or have recently graduated from college or university. The message was obtained by HuffPost.
The problem is that employers are exempt from the province's ESA – which, among other things, requires payment of minimum wage – only if interns are enrolled in a post-secondary program.
After community members spoke out about her posting, Bailao responded by blaming "an office error" that misstated her request for "volunteers" as "interns," adding that her "office budget does not leave room for monetary compensation." Bailao's office said the councillor had no comment.
Those are just two of the most recent examples of employers caught in the crosshairs of a rising frustration among young people that coincides with an increase in temporary, contract and casual work in the Canadian labour market.
The U of T students said the province's ESA "disenfranchises students, trainees, interns and young workers by either partially or completely exempting them from employment standards protections."
In addition to the exemption for unpaid work by students, the province's ESA does not apply in a scenario that meets all of the following criteria: training is similar to that given in a vocational school; is for the benefit of the intern; the employer derives little benefit from the intern's activities; the job does not displace other employees at the workplace; the intern is not promised a job afterwards and is advised that he or she will not be paid.
Ella Henry, legal director at the UTSU and a law student at the university, said that most unpaid internships do not fall within the very narrow list of exceptions to the ESA but the province is doing little to enforce the law. Her union is asking Naqvi to crack down actively on enforcement rather than simply acting when they receive a complaint.
"If the minister doesn't respond and start taking action to enforce the existing legislation and look at whether there need to be changes, they're going to be hearing more and more from students who feel the government is not particularly interested in the concerns of our generation."
Still, not all recent grads agree that unpaid internships are detrimental.
Angie Li is about to graduate from Carleton University and the 21-year-old already has a job in her field. It's a feat she feels is thanks to experience gained at three overlapping unpaid internships that she also balanced with her regular academic workload.
"I think when I did my interview with the people I'm working with now, they thought it was amazing as to how I was able to juggle all those internships, and the fact that it was unpaid, I think, helped in giving me the advantage because it shows people I'm not doing it for money," she said.
Meanwhile Lauren Friese, founder of TalentEgg, a website that connects millennials with entry-level jobs, says students are going down a dangerous and slippery slope by criticizing all unpaid internships as bad or illegal.
She questions why student groups are asking governments to change laws in a way that would discourage companies from giving young people valuable experience that they otherwise would not be able to get, and without which they would be unable to enter the workforce successfully.
"Without internships – whether they're paid or unpaid – (or) training, work and experience that is open to people that have absolutely no experience ... there is absolutely no way for those young people to get the experience they need to find that first meaningful paid career," short of paying to go back to school, she said.
"When that's the alternative, from a student perspective, a lot of the time, it's actually better for their career to take some sort of internship, some sort of alternative work experience."
Toronto-based labour lawyer Andrew Langille says illegal unpaid internships are a cross-country problem that perpetuates income inequality and creates an underclass of unemployed and underemployed youth. Those who can afford to take time to do unpaid work build their résumés, while others add to their student debt or settle for jobs for which they are overqualified to make ends meet, he says.
There are currently no statistics on how many Canadians are working for employers without getting paid. The U of T students are also asking the ministry to work with Human Resources and Skills Development Canada and Statistics Canada to track unpaid youth labour at the provincial and national level.