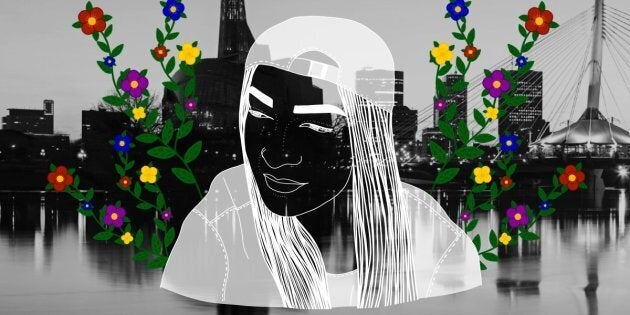 Sadie-Phoenix Lavoie is a co-founder of Red Rising Magazine, which focuses on uplifting and centring Indigenous voices — something Sadie-Phoenix does in all aspects of their life.
Sadie-Phoenix moved to Winnipeg because their mother wanted them to receive a quality education. They've since graduated from the University of Winnipeg and are a community co-ordinator with Wa Ni Ska Tan, an alliance of hydro-impacted communities. They're also two-spirit, which means they identify as having both masculine and feminine spirit, and Anishinaabe from Sagkeeng First Nation. Sadie-Phoenix uses they/them pronouns.
Sadie-Phoenix is thoughtful and has a sort of jovial tone to their voice. And although they keep reiterating that what they say is just one opinion, their words are incredibly meaningful and relevant. They do a lot of work for their community, but acknowledge that in order for change to happen in this country, both conversation and allyship is needed.

Being an urban Indigenous person in an era of reconciliation means you're often called on to be an expert, or to provide insight on all things Indigeneity. Sadie-Phoenix would rather be a facilitator.
Work I have done in the past has allowed me to reach out and meet people from different areas. So when people call on me for certain things, I can point them in the right direction to someone who is more informed about what's happening.
I can only be a support and an ally to other Indigenous people, it's important to acknowledge that we have different experiences and have experienced different levels of colonization throughout history.
I don't feel like I'm inclined to speak on behalf of what is the best interest for other indigenous peoples unless I connect with them. And that's important, because you want to refrain from just homogenizing what is an Indigenous person.
They acknowledge that while "reconciliation" is somewhat trendy, it won't happen passively. For Indigenous people to be given the platform they need, non-Indigenous people need to become active bystanders.
There's a lot of hesitancy in terms of people wanting to become educated on Indigeneity.
I think intent is super important, and so people just wanting to observe and understand but not fully engage is something that we're constantly dealing with. It's a lot to educate a lot of people, but it's important. People are reaching out and they're trying to bridge those communities — Indigenous and non — and that's super important because it is really about relationship building.
It's hard because this "trying to reconcile" comes off as this onus on Indigenous people a lot of times. We're the ones that are out there to educate; we're out there trying to share stories, and sometimes that's not a two-way street.
Getting involved is not about non-Indigenous people feeling less guilty. It's not about them making themselves feel better. It's to alleviate the oppression that we are dealing with, and it starts off with non-Indigenous people becoming educated.
It's them actually disrupting their own systems that their country has created — that have become oppressive. Making sure that they're inserting themselves to do that work, because it's a lot on our shoulders.
It's just me reconnecting with my relationships to the environment, to the land and ultimately Mother Earth. Doing these types of actions is showcasing that I care about our future, that I care about the next generation and their livelihood.
You're having another wave of colonialism and the complete disregard for our rights. Those rights are there for a reason; treaties are there for a reason, and people need to understand what our relationship is to the environment.
It's really important to show it can be done. And to do it unapologetically; to not be afraid of resisting. We're so scared and hesitant because we have so much oppression from systems, but the spiritual and also physical harm of not doing anything is there.
I just felt a calling. It was just one of those things that I felt in my gut, and I felt in my heart — my spirit — that I needed to be there. It's not that I didn't care about the consequences of what would happen, but I was running on the fuel of Indigenous resistance.
Some of the responses in this piece have been edited for clarity and brevity.
This story is part of Not My Territory*, a HuffPost Canada series about urban Indigenous perspectives driven by the people who are part of the country's fastest growing populations.
*Some Indigenous people live in cities that don't overlap with their community's traditional territory, and many feel burdened by being regularly called on to represent cultures and backgrounds that aren't their own.
Popular in the Community