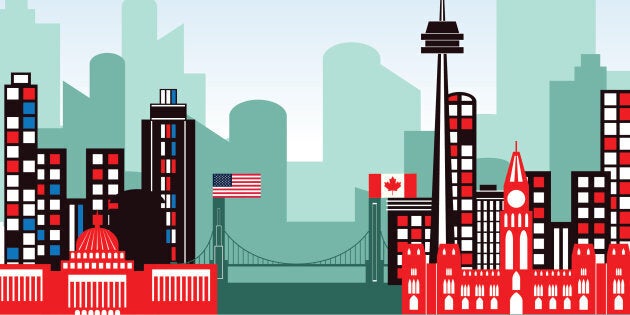 This fall marks the tenth anniversary of the collapse of investment bank Lehman Brothers, and the start of the global financial crisis that roiled the world for years to come.
That crisis was precipitated in large part by the collapse of the U.S. mortgage lending market, which propelled the country's housing into the worst slump in modern history.
In Canada, that slump never happened. After a brief dip in 2008, Canadian house prices resumed growing and didn't look back.
So 10 years later, are Canadians the big winners in the housing market lottery? That depends on how you look at it. A new analysis from real estate portal Point2 Homes compared the two housing markets to see how they've fared in the past decade.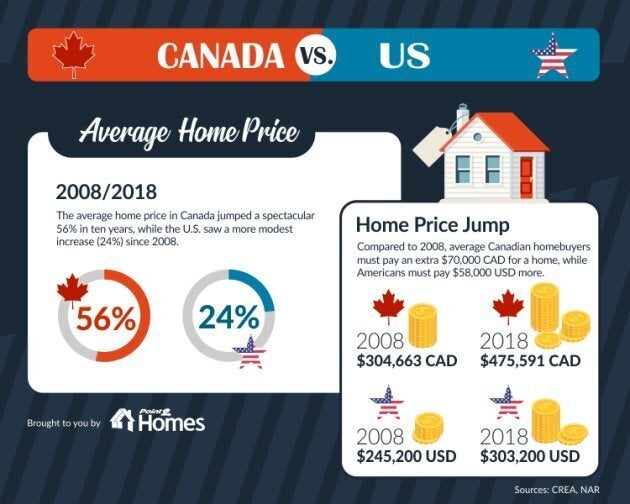 In that time, the average house price in Canada jumped by 56 per cent, a pretty solid windfall for homeowners. But for homebuyers, affordability is becoming strained. Incomes only rose 15 per cent in that time.
Despite a long slump after 2008, the U.S. housing market has seen prices grow for six straight years, and the average price is now 24 per cent higher than it was a decade ago, the Point2 Homes study found. Incomes grew by 18 per cent in that time, so unlike in Canada, affordability has only worsened slightly, overall.
"The affordability crisis worsened in Canada, where the housing market went from 'seriously unaffordable' to 'severely unaffordable,' but the American housing market remained in the 'seriously unaffordable' category," the report said.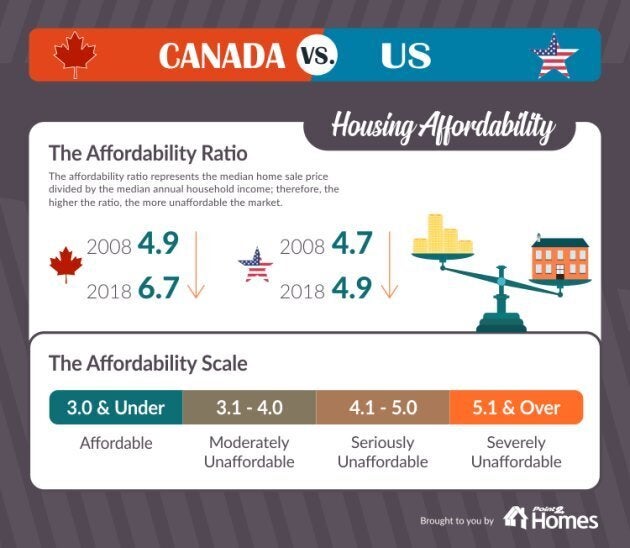 In Canada, the average house went from costing 4.9 times the average household income, to 6.7 times. According to Royal Bank of Canada, home affordability is at its worst levels in three decades. In the U.S., things have barely changed in a decade, going from a ratio of 4.7 to 4.9.
But the trend has been very uneven in Canada, with affordability eroding particularly in Toronto and Vancouver, while other cities have remained relatively stable.
Watch: This is Canada's most expensive condo (story continues below)
In Vancouver, the benchmark price for a detached home more than doubled in the past decade, to around $1.5 million this fall from around $725,000 in the fall of 2008. The average home now costs 17.3 times the average income, making it the least affordable housing market on the continent.
In Toronto, the average price of all home types also more than doubled in that time, to $786,000 from $368,000. An average house costs 7.5 times average income.
But other places have had very different experiences. Take Calgary, where house prices peaked and fell in 2007. Today, the price index for Calgary is just 4 per cent higher than it was at that peak in 2007. A house costs just 4.1 times average income, a bargain compared to Toronto and Vancouver.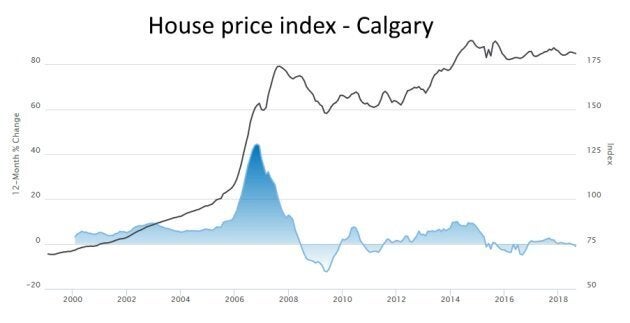 In both the U.S. and Canada, the share of households that own their own home has declined in the past decade — though more steeply in the U.S.
And likely for different reasons: In Canada, worsening affordability has delayed first-time home buying, while in the U.S., many were forced out of their homes through foreclosures during the crisis, while high unemployment kept many younger Americans from buying homes.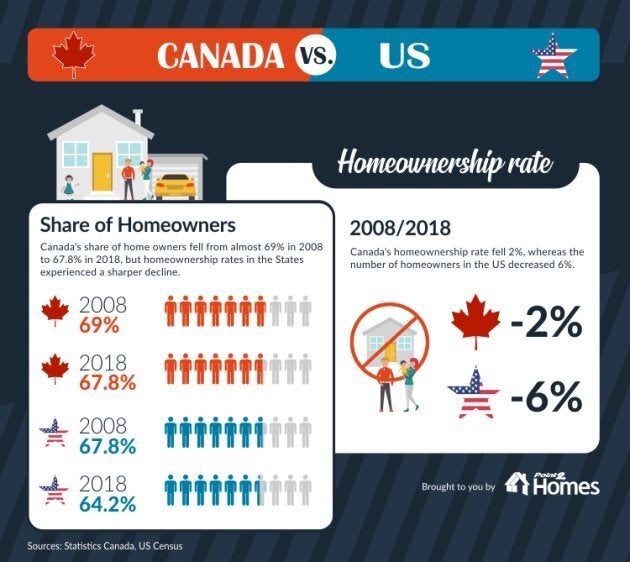 For those renting, things look very similar in Canada and the U.S. Rental rates rose 23 per cent in the U.S. over the past decade, and 25 per cent in Canada — though, again, with very large regional differences.
As pricey as Toronto and Vancouver have become, they don't hold a candle to the U.S.'s most expensive rental markets. According to Padmapper, an average one-bedroom rented for $2,140 this past August in Toronto, and for $2,000 in Vancouver. Compare that to an average rent — in U.S. dollars — of $4,119 in Manhattan, $3,590 in San Francisco, $3,379 in Boston and $2,801 in Brooklyn. That's according to data from RentCafe.com, cited by Point2 Homes.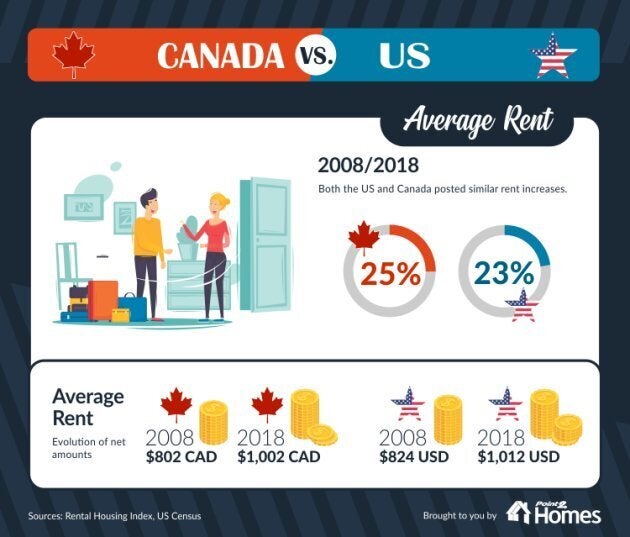 And finally, there is the fact that both the U.S. and Canadian housing markets entered a slump this year.
In Canada, tougher new mortgage rules combined with rising mortgage rates took a bite particularly out of Toronto and Vancouver. In Toronto, sales in the first nine months of this year fell nearly 18 per cent from a year earlier. In Vancouver, October home sales were the lowest for the month in six years. Calgary home sales are at their lowest level since the 1990s.
So maybe the real surprise here is that, after a decade in which the U.S.'s housing market struggled through an epic slump, and Canada's soared to new heights, things don't actually look all that different. And, as residents of Calgary can tell you, whether you won or lost depends very much on the specific housing market you're in.
Who the winners and losers are doesn't break down according to Canadians or Americans. Rather, the winners are those who got in early and have seen real equity gains in recent years. The losers are those looking to break into the market now, with prices high and mortgage rates on the rise. To those we can only say, good luck.