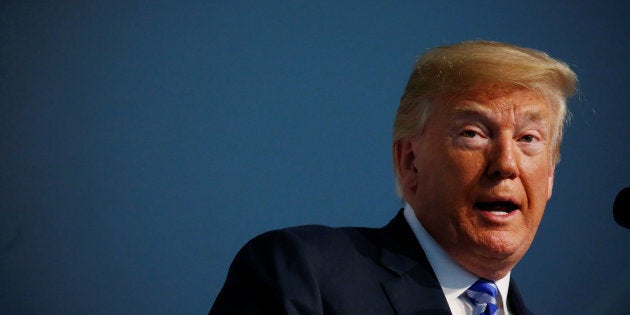 With U.S. tariffs on Canadian steel and aluminium in place, and Canada planning to retaliate with tariffs of its own starting in July, we are now officially in a bit of a trade war.
Only a bit, though, because as trade experts will tell you, it could be much worse. For now, the war will affect only a small portion of the Canadian and U.S. economies. We are not in an all-out, full-blown trade war. Yet.
All the same, some parts of the country will feel the sting more than others. According to an analysis from National Bank Financial, Ontario and Quebec have the most at risk from Trump's tariffs.
"At the risk of oversimplifying, steel is an Ontario story and aluminum is a Quebec story," NBF head of public sector strategy Warren Lovely wrote in a recent client note.

"Of the $7.4 billion of Canadian steel that was exported to the U.S. in the past 12 months, almost 80 per cent came from Ontario. Of the $11 billion of Canadian aluminum shipped to our American neighbours, Quebec supplied roughly two-thirds."
NBF carried out an analysis earlier this year on the parts of Canada most at risk from a Trump-led trade war. They looked at which Canadian industries were being targeted by Trump's protectionist rhetoric, and then combined that with data on which industries are most dependent on exports to the U.S., and which ones stand to have high tariffs if Trump cancels NAFTA.
What they found was that Ontario, Quebec and Manitoba are far and away the provinces with the most risk from a Trump trade war. In Ontario, eight per cent of the economy is exposed to a trade war, while in Quebec it's about seven per cent, and in Manitoba it's nearly 6.5 per cent.

Still, the effect of the Trump tariffs on Canada's economy might not be all bad.
The tariffs will hurt Canadian steel and aluminium producers by lowering prices for those products in Canada, but "for any business using those products as an input, that's actually a good thing," explained Royal Bank of Canada senior economist Nathan Janzen in a recent report.
And "many more workers are in industries that build things from metal than produce metal themselves," he noted.
All told, steel and aluminium production account for just 0.5 per cent of Canadian jobs and economic output, Janzen noted. The tariffs will have a "moderately negative but manageable" impact on Canada.
Trump-supporting states to get hit hardest by Canadian tariffs
Since the Trump's administration announcement last week it would apply 25-per-cent tariffs on steel and 10-per-cent tariffs on aluminium from Canada, Mexico and the EU, experts around the world have loudly noted that the U.S. itself could suffer from the move.
The U.S. Chamber of Commerce estimates that 2.6 million U.S. jobs are at risk from Trump's trade agenda, including 1.8 million potentially lost if the U.S. pulls out of NAFTA, with hundreds of thousands more jobs at risk from the metal tariffs and tariffs on Chinese-made goods. (To our knowledge, no one has yet estimated the jobs at risk in Canada from the trade war.)
"Import tariffs are typically framed as an attack on another country's exports. Much of the cost, though, is ultimately paid by domestic rather than foreign producers and consumers," RBC's Janzen noted.
With Canada announcing tariffs on $16.6 billion-worth of imports from the U.S., as retaliation for the steel tariffs, some U.S. states stand to lose business from Canada when the tariffs come into place on July 1.
Intentionally or not, the Canadian tariffs will hit Trump voters particularly hard. The Business Insider blog compiled a list of the U.S. states most at risk from Canada's retaliation, and it turns out the states with the most to lose are ones that voted for Trump in the 2016 election.
Watch: Canadian tariffs to hit some curious U.S. items (story continues below)
Ohio tops the list; it shipped US$1.75 billion-worth of goods to Canada in 2017 which now fall under Canada's retaliatory tariffs. In second place is Michigan, with US$1.17 billion in goods.
Also hard hit would be New York (which voted for Hillary Clinton), Pennsylvania (a Trump state) and Illinois (Hillary), with combined exports of US$4.33 billion that fall under the tariffs.
But that's just under current circumstances; who knows what the situation will look like next week, given the capricious nature of the Trump administration's trade policies.
"Perhaps the most important message from tariffs is that they are based on flimsy rationale — and that makes it difficult to predict which industry might be next," RBC's Janzen noted.
Popular in the Community