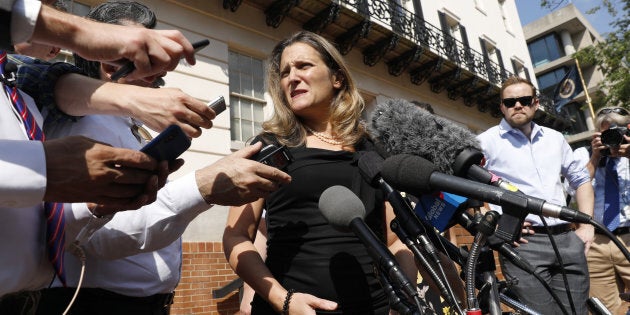 The new U.S. Mexico Canada Agreement (USMCA) that replaces NAFTA isn't a huge game changer for Canada, analysts agree: Its biggest benefit is lifting the uncertainty that hung over Canada's economic future during the negotiations.
But there are some notable changes, for businesses as well as consumers.
On the business side, the deal protects Canada from the threat of auto tariffs, and even expands the quota for tariff-free cars from Canada to the U.S. by 40 per cent.
Canadian dairy farmers were largely upset to hear that the quotas for U.S. dairy products are going up, to around 3.6 per cent of all sales, from around one per cent on Monday.
Watch: How do you pronounce USMCA anyway?
And a long-controversial dispute settlement mechanism is going away. NAFTA's Chapter 11 allowed companies from one NAFTA country to sue the government of another at a tribunal if that company felt it hadn't been treated equally to domestic businesses.
However, NAFTA Chapter 19, which allows member countries to challenge each other's anti-dumping and countervailing duties, will remain intact. Canada has repeatedly and successfully challenged U.S. lumber tariffs under this provision.
But there will be changes for consumers as well. Here are some of the key ones:
Canadians who buy goods from the U.S. online or by mail will get some relief on duties and taxes.
Canada's de minimis threshold — the maximum you can ship into the country without paying extra — has been set at $20 for decades. Under the new deal, goods under $150 won't be charged duties, though the GST and provincial sales tax will be charged on goods from $40 and up.
That could mean faster delivery of goods bought online in the U.S., CTV News reports, as fewer shipped items will receive attention from customs agents.
But it will likely be met with resistance from retailers. The Retail Council of Canada had campaigned against a hike to duty free limits, arguing it could lead to "increases in cross-border orders, with the obvious negative consequences for retailers in Canada and their employees."
Canada agreed to increase the patent length on a key class of drugs known as biologics to 10 years from eight years, caving to one of the U.S.'s key demands.
That's a positive for pharma companies' bottom lines, but a negative for Canada's health care system, which will see higher costs as it will now take longer before cheaper generic versions of drugs become available.
Books will disappear from the public domain
Canada has agreed to extend copyright protections terms to the life of the author plus 70 years, from its current life plus 50 years.
This means that numerous books and other works by authors who died in the 1950s and 1960s will disappear from the public domain in Canada, and will be subject once again to copyright.
Among the authors whose works stand to disappear behind the copyright curtain once again are Ian Fleming, author of the James Bond novels and stories, as well as literary icons such as Aldous Huxley and William Faulkner, and poets Sylvia Plath and T.S. Eliot, among many others.
No more American Super Bowl ads
As part of the new trade deal, Canada has agreed to stop allowing U.S. ads to be shown during the Super Bowl, according to internet and e-commerce law expert Michael Geist of the University of Ottawa.
That deals a blow to viewers who tune in for the often buzzworthy commercials that debut during the game.