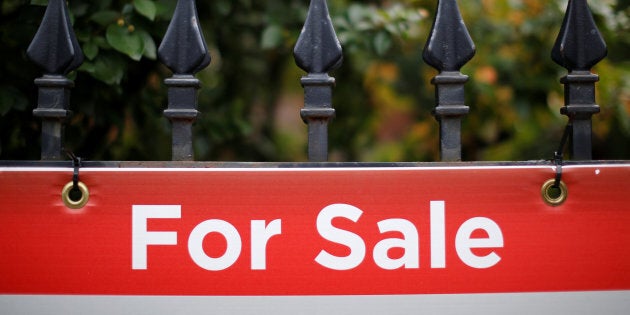 Canada's recently-announced trade deal with the United States and Mexico is about to make housing more expensive, and mortgage-holders should brace for impact.
James Laird, president of CanWise Financial and co-founder of mortgage comparison site Ratehub.ca, told HuffPost Canada that now that there's some clarity on free trade with Canada's biggest trading partner, "this big cloud of uncertainty on the Canadian economy has been lifted."
"If a trade deal had not happened, it would've put significant downward pressure on our economy," Laird said.
"And so for this reason, the Bank of Canada was hesitant to raise rates any further until we had a super-important free trade agreement in place."
Watch: What happens when there's an interest rate hike? Story continues below.
Laird said that now the deal is in place, the new focus for the Bank of Canada will be inflation, which has grown above the BoC's target levels in recent months.
"Which is why, now that we have a trade agreement in place, it seems like a certainty that we will have a Bank of Canada rate increase at the end of October, probably followed by, let's say two to three in 2019."
Beware, whether you have a mortgage or not
While rising interest rates can often cause house prices to fall, they're not the only thing that affects purchase prices.
"A very important variable is general economic growth, so to have the free trade agreement in place actually puts upward pressure on home prices, because it allows our economy to grow, people to earn more wages and to use those wages to buy more expensive homes," Laird said.
A lack of supply of new housing has also been causing prices to rise in recent years, and a free-trade agreement isn't going to change that, either.
Variable-rate mortgages will go up with a BoC rate announcement, so borrowers need to make sure they're "budgeting appropriately," and "be prepared for higher payments starting now and next year," Laird said.
"These borrowers, they are immediately exposed to whatever rates do, so they need to be prepared kind of now for their mortgage payment to go up," he said.
For those variable-rate borrowers with a tighter monthly cash flow, Laird said locking it into a fixed rate is probably a good idea.
And if you've already got a fixed-rate mortgage, you should be thinking about your next renewal date, whenever that may be.
These borrowers "should just make sure that their household budget and income are able to absorb a renewal at a higher rate than what they're paying today," he said.