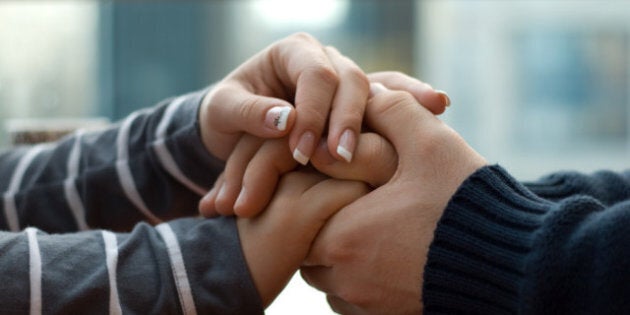 Why not include some giving-back into your gift-giving this Valentine's Day? Knowing that your expression of affection can help those in need will transform a Hallmark holiday into a feel-good act of charity.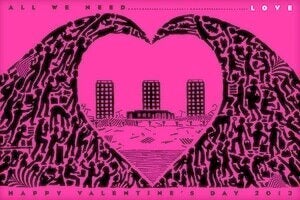 Giving To Charity For V-Day
1. Send Relief: Love 4 Relief is the stylish result of a collaboration between Surf Collective and the non-profit Waves for Water. Send your sweetie an original Valentine's Day e-card from a variety of NYC artists and contributors (like the one shown above) and make a donation to the Sandy Relief Initiative in their name.
2. Volunteer: Cancel those dinner reservations and head to your local soup kitchen, or another charity of your choice, and donate your time by volunteering. Spending the evening giving back to your community will make you and your valentine feel a shared sense of accomplishment and goodwill. Plus, who says you can't go for a romantic date after your volunteer session?!
3. Eat Your Heart Out: On Thursday February 14th, Boston Pizza is offering heart-shaped pizzas in their restaurants across Canada. One dollar from each sale will go to the Boston Pizza Foundation, which supports various charities, including the Heart & Stroke Foundation of Canada, Juvenile Diabetes Research Foundation and Kids Help Phone. Whether you choose to dine-in or order delivery, you and your significant other can enjoy a scrumptious pizza, knowing that your V-Day feast has helped raise money for a worthy cause.
4. Get Happy Feet: What's more romantic than giving your sweetheart the gift of comfortable footwear?! We all know that TOMS shoes are super-comfy and come in all sorts of fun colors and patterns, but what we love most about TOMS is their One for One Movement: for every pair of TOMS that is purchased, a new pair of shoes is given to a child in need. If that doesn't make your heart smile, we don't know what will.
5. Give (RED): Help (RED) fight AIDS in Africa by giving an Apple (PRODUCT) RED iPod nano. Purchasing this awesome gift could provide over three weeks of lifesaving medicine to someone living with HIV in Africa. It will also provide your tech-loving honey with a slick new gadget!