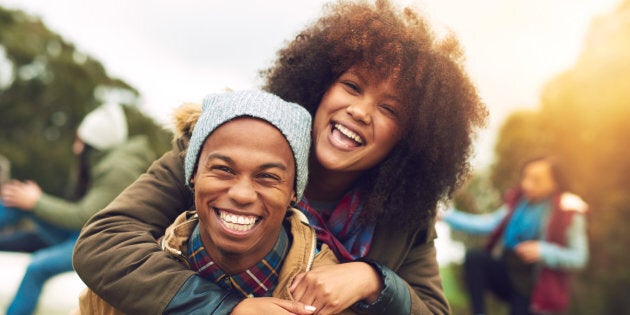 If you are one of those new couples who are joined at the hip, then Valentine's Day means you might be kicking things up a notch.
When you and bae are in the "new couple" phase, it's exciting and nerve-wracking at the same time. You'll likely want to make your first Valentine's Day date special — meaning not necessarily extra, but fun and noteworthy.
Here are 10 fun Valentine's Day date ideas that you can try out wherever you are in Canada.
1. Make it a skate night
If you and bae are strong enough to brave the cold, having a skate night under the stars sounds like a pretty sweet date option. You can go to the Bentway Skate Trail under the Gardiner Expressway in Toronto or the Rideau Canal Skateway in Ottawa. You can then warm up with some hot cocoa. This a great way for new couples to bond while doing something fun.
2. Hit up a board game café
3. Indulge at a chocolate festival
Chocolate is the answer to everything — even awkward first dates. This Valentine's Day, take bae to the Hot Chocolate Festival in Vancouver or the Days of Wine and Chocolate Festival in Niagara on the Lake, Ont. If not a festival, you can always find a chocolate lovers workshop, food tour, or tasting happening in your town thanks to a quick Google search.
4. Get cracking at an escape room
Nothing tells you more about someone than when you put them in a stressful situation. If you're up for it, spice things up on V-Day by hitting an escape room. It's an immersive experience where you play a fictional game by solving a puzzle in a given timeframe. This team-building exercise lets you bond with your partner, and there's several across Canada: Secret City Adventures in Toronto, Escape Hour in Calgary, Enigma Escapes in Winnipeg, and Mystery Motel Escape Rooms in Ottawa.
5. Get creative juices flowing at paint night
Forget wining and dining! Couples are now breaking the ice and having some fun with paint because it's a much more exciting way to celebrate Valentine's Day. Paint Nite and Cocktails 'n Canvas are just some of the companies offering paint night sessions across Canada. At these events, they teach you how to paint a design step-by-step, no experience required. Plus, they have cocktails!
6. Plan a spa weekend getaway
For some alone time, go away to a spa for a romantic Valentine's Day weekend. Scandinave Spa offers deluxe baths and couples massages. They have several locations across the country, including Blue Mountain, Ont., Mont-Tremblant, Que., Old Montreal, Que., and Whistler, B.C.
7. Take in the view on a helicopter ride
8. Go to a local festival
There's always a local festival you can go to with your date. For instance, Toronto's Ontario Place has a Winter Festival Exhibition with a bonfire and skating rink. There's also the Fête des Neiges in Montreal. It's a low-key way to explore the city, see something new, and end the night with dinner and a glass of wine.
9. Brave the cold and hit the slopes
Adventure lovers who want to enjoy some outdoor activity can brave the Canadian cold and head to a ski resort. The Horseshoe Resort in Ontario, the Lake Louise Ski Resort in Alberta and the Whistler Blackcomb Resort in B.C. are just some options for you and your partner to make the most of your freshly-minted "new couple" status.
10. Get your laugh on at a comedy show
Laugh your way to his or her heart by spending Valentine's Day at a comedy show. Toronto has the famous Second City, while Ottawa has Absolute Comedy, which offers a dinner and show package for a LOL night.