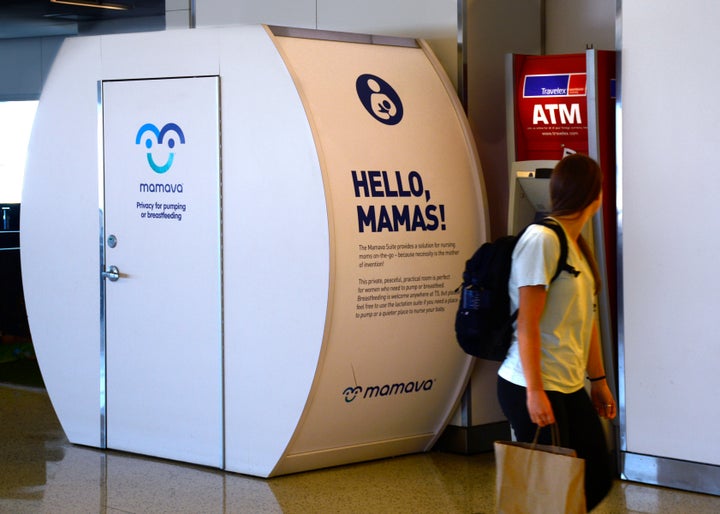 In an effort to provide mothers with a clean and safe area to breastfeed, Vancouver International Airport is testing out a free nursing pod in one of its terminals — and, unsurprisingly, everyone is divided on the matter.
A version of this debate has been transposed onto the Vancouver airport's new test initiative — a 50-square-foot pod equipped with two benches, a charging outlet, a USB port, a mirror, a shelf, a coat hook, ceiling vents, a light, and an exhaust fan.
Parents are able to enter the pod by using the free "Mamava" mobile app, or by talking to the airport operations centre. (Mamava is the company that creates the pods.)
Sounds great, right? Well, there are a lot of mixed feelings, and they stem from the thought that these pods send a message that moms who breastfeed should do so out of sight, rather than having the freedom to nurse wherever is most convenient.
WATCH: Go inside a breastfeeding pod. Story continues below.
Many people on social media have taken issue with the idea that moms should be "hidden in a cage as opposed to doing what is natural in public."
Still, breastfeeding in public comes with its own set of issues, not the least of which being the need to find a comfortable location to do so (it helps if chairs have arms, for instance), babies fighting against coverups (if a coverup is used), and, as mentioned earlier, those infamous, cutting stares.
A global breastfeeding survey from 2017 found that while 89 per cent of respondents believed nursing was the best way to feed their babies, 17 per cent of Canadian mothers still admitted to feeling embarrassed of doing so in public.
The new pods, though, are not a replacement of the option to breastfeed anywhere, but were implemented as a matter of convenience.
"We've introduced this pod as an option for any parents or families who wish to nurse their children in private," a communications specialist from Vancouver International Airport told HuffPost Canada. "We welcome passengers to nurse their children wherever they feel comfortable in the airport."
Some parents have noted that, while they do typically breastfeed wherever they want, there are times the privacy is better both for them and for the baby. "My kids can handle noise but sometimes they can't relax unless [it's] totally silent around them," one user said on Twitter.
Others who have experience with Mamava pods have noted their benefits: "Me and my wife used these [pods] in the States," one man said on Twitter. "They were amazing. Spacious. Felt cleaner than a greasy airport gate. Can't believe there are complaints."
Many airports have nursing rooms, but pods are a relatively new phenomenon — at least in Canada.
"We are always looking for ways to improve our airport and accommodate all types of passengers, including families travelling with young children, and this new pod offers families another space to breastfeed or breast pump," the airline official said.
"It's a pilot launch and we may consider adding new pods in other areas of the airport in the future based on the response."