To prevent a half-blind fish from being bullied by its tank mates, the Vancouver Aquarium gave it a fake eye.
The copper rockfish had developed cataracts with old age and needed one eye removed, according to a blog post by the aquarium. So head veterinarian Dr. Martin Haulena replaced the fish's real eye with a prosthetic one — partly for appearances, and partly for survival. Without the eye, other fish in the tank would pick on it for appearing weak.
"We do find that when fish are blind from one eye and there's no visible eye, other fish kind of recognize that and they'll actually attack from that side," Haulena said in an aquarium video of the procedure. "So [it's] cosmetic, for sure, but there's definitely an animal welfare component to putting in the prosthetics."
With the help of Seattle Aquarium head vet Dr. Lesanna Lahner, Haulena sewed the eye to the bone above the fish's eye socket using nylon sutures and attached it with titanium clips while the animal was under anesthesia. It's the first time this surgery has been done at the Vancouver Aquarium, according to the blog.
And it seems to have made a world of difference for the little swimmer.
"It's doing well," Lahner told Metro News. "Since it's had the prosthetic eye, it's been out and about and acting more like a normal rockfish."
The fish lives in the Vancouver Aquarium Marine Science Centre's Strait of Georgia exhibit. A yellowtail rockfish also had the procedure done, and will return to the exhibit at the Vancouver International Airport.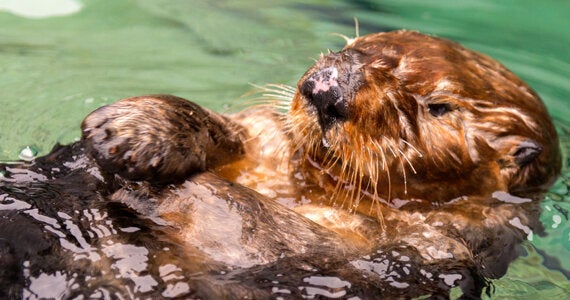 Walter The Shot Sea Otter Makes The Vancouver Aquarium His Home