An exchange between a cyclist and motorist in Vancouver turned into a physical fight this week, demonstrating that tensions between the two groups simmer in the city.
Cyclist Edward Hoey claims he was making a left turn in downtown Vancouver when the motorist behind him started honking his horn and yelling at him about not being in the bike lane, reported CBC News.
Hoey claims the man was trying to swerve into him, causing him to crash onto the sidewalk. When he approached the driver, Hoey says the man pulled his hand into the car. When Hoey managed to free his hand, he pulled some papers out from the passenger side seat and scattered them on the sidewalk, reported CBC.
The two men disagreed over the use of a bike lane at Dunsmuir and Burrard streets, Sgt. Randy Fincham of the Vancouver police confirmed to The Huffington Post B.C. in an email Monday.
"Allegedly, the cyclist attempted to damage the driver's car, after the cyclist was cut off by the driver, and the two men became involved in a physical altercation," wrote Fincham of the Friday afternoon run-in.
Cyclists are not required to use bike lanes in Vancouver.
Story continues below slideshow: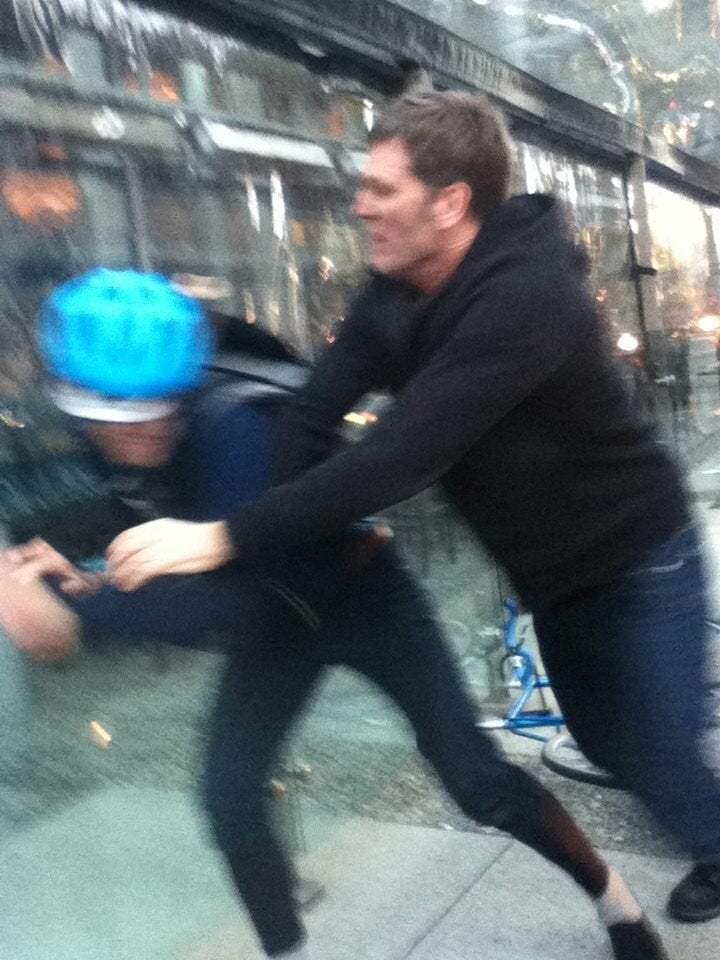 Vancouver Cyclist-Driver Fight
Hoey alleges that the driver, who has not been identified, tried to drive his vehicle into him again before getting out and assaulting him. Hoey's friend claims it took five to six people to pull the driver off him.
Austero's photos are, according to a statement by police, going to be sent to investigators.
"A number of photos have been distributed on social media depicting the final moments of the physical altercation," the statement said. "This is unfortunate, as the photos appear to paint an incomplete picture of the event."
Police concluded that both men were at fault and so far, charges are not being laid, Fincham said. But Austero claims her friend was pretty hurt.
"Edward's shoulder is badly sprained, his skin and clothes are ripped and his bicycle needs minor fixing," Austero wrote on Facebook. "Be aware that the driver in these photos is a danger to fellow cyclists and is still at large."
Fincham said Hoey was driven to the hospital by police, adding, "Both men were provided with advice on how to avoid similar conflict in the future."