Guests were in for a ride when a Vancouver couple surprised family and friends by tying the knot on a bus Wednesday.
"There is never a week we don't talk about our first meeting on the bus. It's just so random," new bride Nina Schmidt said in a TranLink news release, hours after her mobile ceremony.
Fate brought Schmidt and her stylist husband, Jarred Greff, together nearly a year and a half ago. She shared details of her "love at first sight" story in a TransLink Buzzer post on Aug. 2:
On Wednesday, April 18, 2012 around 11:40 a.m., Jarred and I met for the first time on the number 3 bus going up Main Street. I was sitting in the folding accordion-like section when Jarred walked by and sat down a couple metres away from me. We couldn't stop making eye contact. Then he stood up and sat down to the closest available seat to me. We had about three stops to talk before I had to get off the bus. We didn't exchange numbers, but he told me he worked at Main and 23rd. With the encouragement of good friends, I chased him down at work later that day. A couple days later, we went on a 22-hour date and we've been inseparable ever since.
Family and friends were picked up by a chartered bus from a designated spot, oblivious that the planned wedding wouldn't take place at Canadian Memorial Church as they were led to believe.
When the bride was picked up, guests were floored that the ceremony was unfolding on board.
According to TransLink spokesperson Jiana Ling, the transit company was happy to oblige with the couple's request, rolling out one of their available buses from the company storage yard.
"They did not pay for it," said Ling in a phone interview with HuffPost B.C. "TransLink did sponsor the event."
The timing of the wedding fell in place with the transit authority's annual week-long "I Love Transit Week 2013" contest where riders are encouraged to share what they enjoy most about public transit for prizes. With day two nearly over, it might be hard to top a bus wedding ceremony.
"It is not a normal thing, it's definitely a TransLink first," Ling said.
Metro Vancouver couples still searching to save some money on a venue for their big day better not crawl to the regional transit authority hoping for a free ride, Ling warned.
"We're not taking wedding requests," she added.
Check out photos from the ceremony here: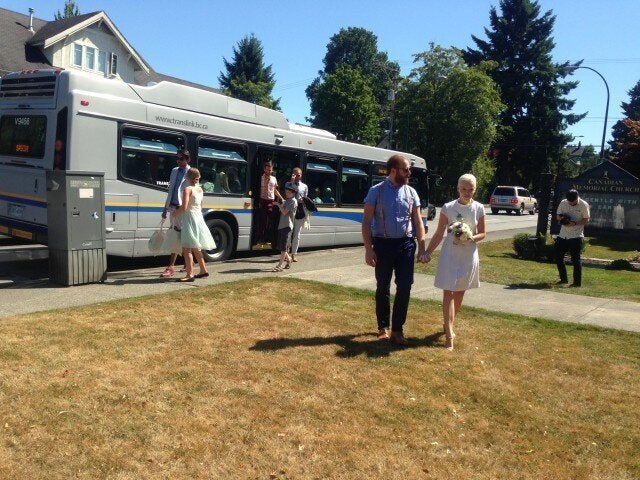 Vancouver TransLink Bus Wedding
Popular in the Community