The Chinese New Year dawns on Jan. 31, 2014, and there is no shortage of fun ways to celebrate the Year Of The Horse in Vancouver and Richmond.
For flat out cross-cultural novelty value, surely nothing can beat the annual mash up of Chinese New Year and Robert Burns Night. Gung Haggis Fat Choy takes place this year on Jan. 26. This Scottish/Asian event takes over Floata restaurant in Chinatown and features food — including their signature haggis won tons, the poetry of Burns, ghost stories and music from both cultures (bagpipes alert!), a silent auction and special guests.
Chinatown will be awash in vibrant colour with the Chinese New Year Parade on Feb. 2, where over 50,000 spectators will line the streets to see community groups, floats, bands and the largest assembly of lion dance teams in Canada pass by.
The Asian malls always put on a good show, generally stretching the festivities out over a few days. In Vancouver, celebrations kick off at International Village Mall on Jan. 30 and continue through Feb. 2, featuring live performances and radio broadcasts, a traditional lion dance, festive sales booths and, on the upper level, history, culture and food will come together to form a Chinese New Year Heritage Village.
In Richmond, Aberdeen Centre has multiple events, beginning with the Chinese New Year Flower And Gift Fair (Jan. 24 - 31). The fair has been running since 1989, and is a great place to pick up your celebratory blooms and treats.
On Jan. 30, revellers can join a countdown to the New Year from 9 p.m. with Fairchild Radio and TV, and receive blessings from the Chinese God of Fortune. Cultural activities, including a lion dance, live performances and a special CBC Live broadcast take place through Feb. 2.
The God of Fortune will also bestow blessings at Yaohan Mall on Jan. 31, where festivities will include firecrackers, live music and a lion dance.
For a celebration with no consumerist angle, head to Richmond Multicultural Community Services Caring Place on Jan. 30, for a Chinese New Year potluck lunch. Between noon and 3 p.m. old and young can feast and take part in a variety of fun activities.
However you decide to celebrate: Gung Hay Fat Choy!
Like this article? Follow our Facebook page

Or follow us on Twitter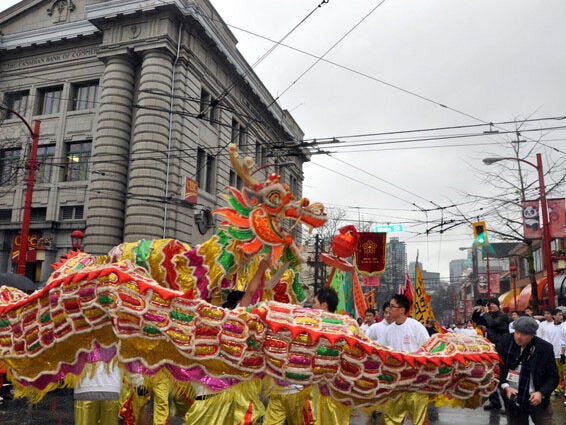 Vancouver Chinese New Year Parade 2012
Popular in the Community