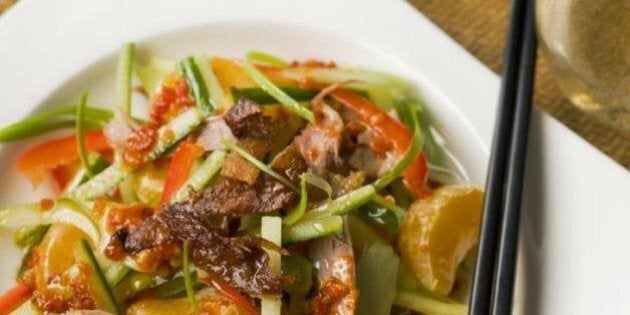 If you ever wished you could find the perfect wine to go with your Asian meal but weren't sure where to start, then a new program launched by B.C. winery Okanagan Crush Pad may be just the thing to release you from your tea and Tsingtao habit in time for Chinese New Year.
Not only have the Okanagan vintners produced a handy-dandy Asian food and wine pairing guide (published in both English and Mandarin), they've released a specially crafted wine, under their Haywire label, to celebrate the Year of the Horse.
Check out some of the suggested dishes to pair with Haywire wine. Story continues beneath slideshow.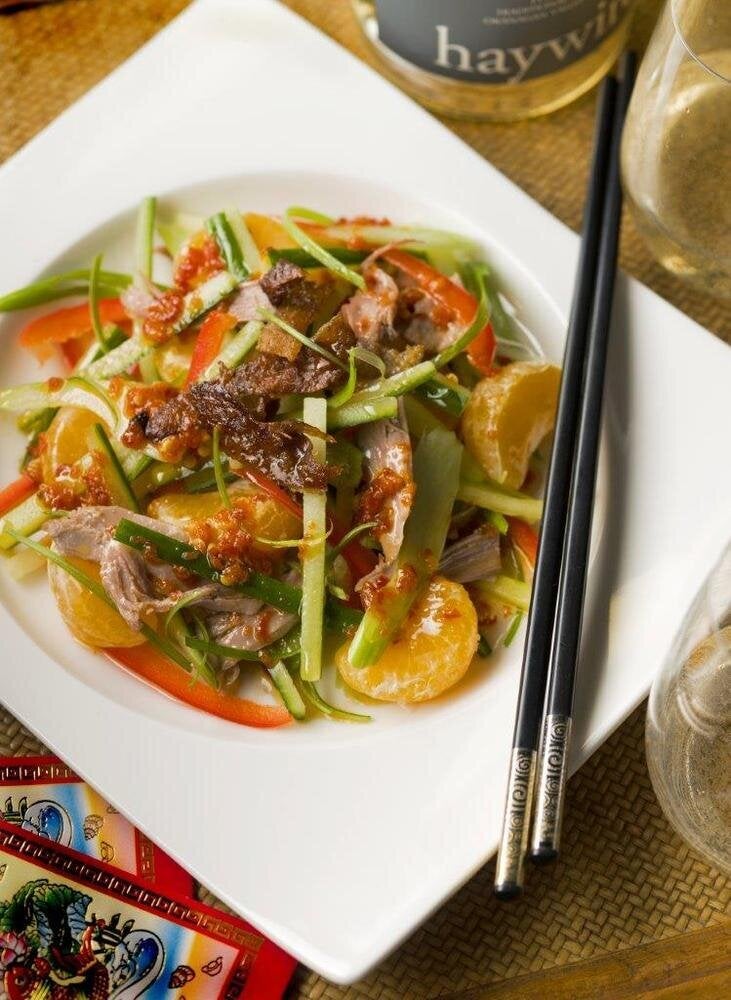 Chinese New Year Food And Wine Pairings
Just 688 bottles of the 2012 Haywire Pinot Noir (that retails at $24.90) have been released, bearing a limited edition label depicting the symbols of the horse and good fortune.
Gently aged in old French oak barrels and bottled in its purest state and has lovely cherry aromas and fruit-forward flavours, with soft texture and light tannins. It pairs well with pepper and onion sauce pork rib as well as seared sablefish with sweet soy sauce and baby bok choy.
The winery came up with the idea as a response to the growing trend of B.C. wineries moving into the Asian export market, introducing varietals to a culture not traditionally associated with wine, but currently embracing it enthusiastically.
"That's pretty unchartered territory for a small winery," Haywire co-owner Christina Coletta told The Huffington Post B.C. "So, rather than take that risk, I thought we should put our efforts into targeting the Asian community that lives in B.C."
Local Asian food writers have been working on the notion for a while now, Coletta noted. "People like Stephanie Yuen, Stephen Wong, Nathan Fong and others have gone to great efforts to educate their community about food and wine pairings, and it just clicked into my head that there had really been no concerted effort from the wine side to talk to them in their own language, and in a way that presented B.C wine."
And why B.C. wine in particular? Well, Coletta says the big misconception is that Asian people are all about big, bold Bordeauxs or knock your socks off Californian Cabernets — neither of which pair well with Asian dishes. The Haywire program is designed to bring the two cultures together at the table and create harmony of flavour.
"We're trying to present a series of wines that are an alternative to those heavier styles," she explains. "And those wines are really what we do in the Okanagan Valley best —light , aromatic reds and whites, sparkling wines and rosé. Very different."