Video has now surfaced of a skirmish between a motorist and a cyclist in downtown Vancouver. It shows the driver swearing and shouting as he confronts the cyclist.
In the 50-second video, which was posted on YouTube by Vancity Buzz on Monday, the unidentified driver says, "Give me my f***ing shit back" three times as he walks up to cyclist Edward Hoey and pushes him.
The driver can be seen grabbing Hoey by the left arm and lowering him to the sidewalk, as a witness yells at him to stop.
The driver holds Hoey on the ground for about three seconds before two men arrive and pull him off. He tells the men that the cyclist tried to steal items out of his car.
The fight last week happened after Hoey was trying to make a left turn, he told CBC News. He claims the driver behind him was honking and yelling at him for not being in the bike lane.
Witnesses told Vancouver police that the cyclist fell to the ground after he was cut off by the driver, but there are also allegations that Hoey tried to damage the vehicle.
Charges are not being laid as police have concluded that both men are at fault, Sgt. Randy Fincham told The Huffington Post B.C.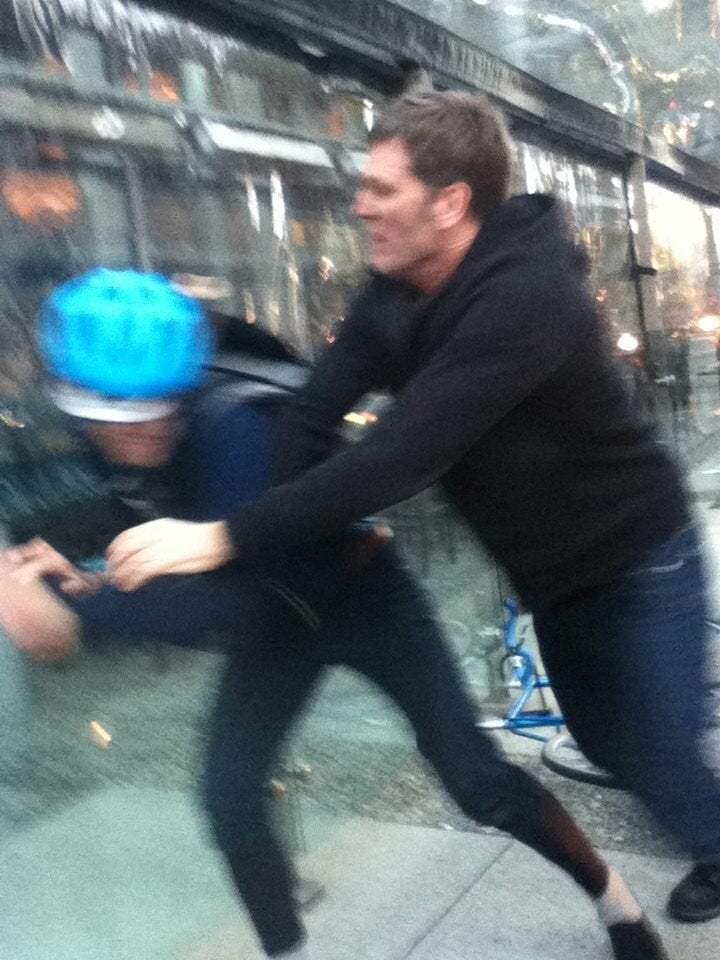 Vancouver Cyclist-Driver Fight