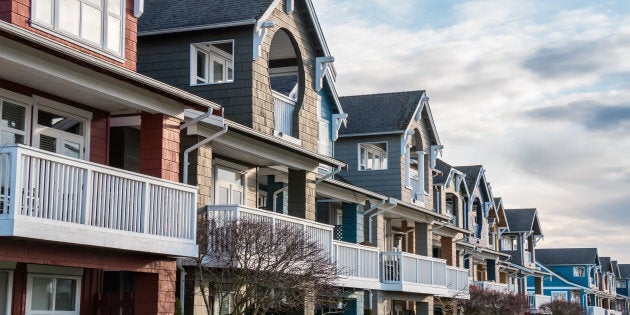 The market for detached homes in Vancouver has softened so much that it is "beginning to enter buyers' market territory," says the president of the region's real estate board.
Sales of detached homes were down 39.4 per cent in February, compared to the same month a year earlier, according to data from the Real Estate Board of Greater Vancouver (REBGV).
That segment of Vancouver's housing market "has been not as busy. As a realtor, you can see it when you're working," REBGV president Jill Oudil told HuffPost Canada.
Watch: Vancouver house needing 'a litte TLC' listed for $7 million
A number of factors are conspiring against Vancouver's market these days, including the foreign buyers' tax introduced in 2016, rising mortgage rates and a new "stress test" for borrowers that raises the bar for mortgage qualification.
But Oudil points the finger at something simpler: Prices that have grown astronomically high. The benchmark price for a detached house in Greater Vancouver was just above $1.6 million in February, up 77 per cent in the past five years.
That price growth has now fizzled. February's benchmark price was unchanged from the month before and down 0.8 per cent in the past six months.
Still, those high prices have pushed many buyers into the condo market in recent years, helping to explain why condo prices have grown faster than detached home prices over the past year.
"When you look at the overall market, it's still so busy as a whole, and there still isn't enough supply for the number of buyers," Oudil said.
Condo market stronger, but slowing
Condo prices are up strongly over the past year, REBGV data showed.
The benchmark condo price of $682,800 is 27.2 per cent higher than a year earlier, and up 2.6 per cent in just the past month.
But even this segment of the market is now showing signs of slowing. Sales were 7.1 per cent lower in February than the same month a year earlier.
Still, the condo market remains firmly in buyer's territory, Oudil noted.
Provincial housing reforms are the next question mark
British Columbia's minority NDP government introduced a 30-point plan to improve housing affordability in the province, which includes an expanded foreign buyers' tax, and a new property tax charged to owners who don't file income taxes in B.C.
Though the new tax is aimed at discouraging non-resident foreign buyers from buying homes in B.C. and leaving them empty, it is also impacting residents of other provinces who own vacation properties in B.C.
Oudil says it's not clear yet what the overall impact of the new measures will be on the housing market, though she stresses that the impact of an expanded foreign buyers' tax is likely to be limited.
But in a recent report, TD Bank estimated that the new measures will mean a 5-per-cent decrease in house prices in Vancouver this year.