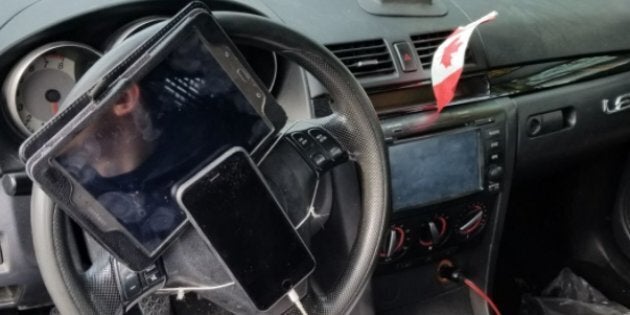 Vancouver police pulled over a driver for wearing headphones on Wednesday, only to discover they were plugged into an iPhone that he'd attached to his steering wheel. The phone was right next to a tablet, which was also mounted to his steering wheel. With string!
"Can't make it up," the Vancouver police's traffic unit wrote on Twitter. "Yes, that's his ticket he's holding."
Police gave the driver an $81 ticket for failing to produce a driver's licence, the Vancouver Sun reports. He was not given a distracted driving ticket, which would have cost him $368 and four penalty points.
Observers on Twitter weren't too impressed with that detail.
The ticketing officer decided it was appropriate to educate the driver about distracted driving instead of issuing a ticket, a Vancouver police spokesman told the Sun.