After seven years as a Vancouver cyclist, I try really hard not to read mainstream news coverage of local cycling issues. Actual cycling in Vancouver is usually fun and relaxing. Media coverage gives an impression of danger and hatred by other road users often incongruent with reality. I try not to read it but I usually fail, and Monday morning I couldn't avoid the tweeted pictures of sign-wielding protestors opposing closing Point Grey Road to non-local vehicle traffic.
I felt compelled to see these protestors in person. A younger, more angsty self would have wanted to mock and troll them, literally ride circles around them and ring my bell. But I'm older and more chill now, and really I just wanted to see if they were real, if their hearts were in it or if they were just NPA (Non-Partisan Association) hacks, and if they were as homogeneously old, white, and wealthy as they appeared in pictures.
However, as I'm getting going by late morning I read that the protestors are already gone. Maybe they'll be back for the afternoon commute? Tweets later say no. Alright, maybe they'll be back for Tuesday morning's commute. I planned to ride by then and also take the chance to try the newly reconfigured Point Grey Road for the first time.
The next morning from my Grandview apartment I head down Union Street on the Adanac bikeway, the first bikeway in the city constructed in 1993 and one of the busiest today. Approaching Main Street I pass through the recently improved 200 block of Union Street (changed summer 2013). After Main I connect onto the Dunsmuir viaduct bike lane (opened summer 2010). Easily cruising through bustling downtown, I turn left from Dunsmuir onto the Hornby bike lane (opened early 2011).
I remember how in the early days, there was a lot of uncertainty among cyclists on how to navigate the turn between the separated lanes, but today the morning commuters flow smoothly past each other. Heading south on Hornby I pass the turnoff to the newest greenway on Comox Street (opened early 2013). Finally through downtown I reach the Burrard Bridge bike lane (opened summer 2009), which was the first major bike project under Mayor Gregor Robertson and Vision Vancouver.
Riding over Burrard, I think about five years ago, the first time that I rode that lane and felt the freedom of a safe, dedicated space for cyclists to cross the bridge. Five years of bike improvements under Vision, and every one that I mention faced the same cycle of noisy opposition, media attention from car-advertising-dependent news outlets, extended consultation processes and compromises, more noisy irrational opposition, then implementation. Then, after the road work is done, the opposition voices taper off to a whimper as people realize the road change hasn't negatively affected traffic much at all.
As I approach Point Grey Road at MacDonald, I'm disappointed but unsurprised to see no protestors; just a massive wall of orange traffic dividers and a few city road workers. Proceeding onto the now vehicle-restricted Point Grey, I feel like I'm somewhere familiar but now different.
This road that previously felt so narrow now feels spacious. I don't have to worry about keeping far right and possibly bailing on a rough pothole. I take a leisurely pace, checking out the affluent houses along that stretch, not having to worry that a luxury sedan will come up from behind and impatiently pass too close. The morning fog makes this unusually peaceful road seem even more dreamlike.
This post wasn't written to convince you that new bike lanes and greenways are a good thing. I don't need to, because after five years of Vision's "controversial" bike infrastructure projects, the numbers, studies, and history speak for itself. I'm writing this post because I'm gravely concerned for the citizens that so vehemently oppose bike improvements. Their arguments aren't grounded in rationality but in a sense of entitlement over public space, and prioritization of their entitlement over road safety. Such people should not be allowed to drive public discourse.
But it's the NPA and presumptive NPA mayoral candidate George Affleck that I'm most perturbed by. "Honk to re-open. See us Monday morning at Pt. Grey Road. It's for all Vancouverites," tweeted Affleck the previous Sunday, along with a link to the NPA's "Point Grey Road Media Event."
"For all Vancouverites" doesn't logically fit with "leave it open to unsafe vehicle traffic" in a city where more than 40 per cent of trips are by foot, bike, or transit. "Honk to re-open" is disrespectful to the local residents they claim to be fighting for. Who are they honking at, the city road workers?
Affleck used this event to make the first promise of the 2014 election year: that if they win, the NPA would reverse this change and reopen Point Grey Road to commuter traffic. Yes folks, the big first election promise is 1.3 kilometre of non-arterial road reconfiguration.
They seem to have learned nothing from the previous election when pushing the issues of bike lanes, chicken coops, and an unfunded streetcar line backfired on them. I started an election analysis account recently (@LotuslandVotes) because I thought this was looking to be an exciting election year. Instead, first signs from the NPA suggest they're going with more of what sunk their ship in 2011. Can we go back to 2008's NPA with Peter Ladner? I'll take a pragmatic businessman and cyclist over a marketing hack any day.
This city isn't short of meaningful political issues: housing affordability, homelessness/addiction, job creation, living wages, cultural venue closures, and pedestrian traffic safety. But apparently we're short for meaningful issues that the NPA wants to touch. Could the real municipal opposition party please stand up?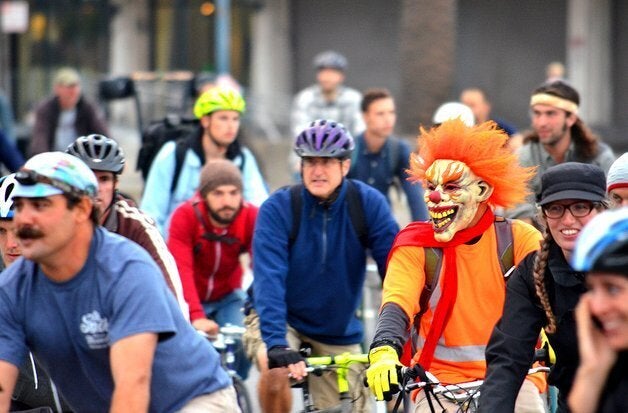 Critical Mass 20th Anniversary