As a sex positive advocate, fetish event promoter, and editor of Erotic Vancouver Magazine, the passage from one year to another always marks the time when people start asking what I thought THE events of the year were, and what are my can't-miss events of the year ahead.
The first question I always find hard to answer. Some of the most magical times for me might have been a small dinner party, or an amazing conversation that took place at an event that, otherwise, was only average, and of course one person's perfect night is another person's OK one. Many great nights are the perfect coming together of incidents at a regular event, be it monthly or bi-weekly, and you can never predict at just which events that will happen!
But when you ask me what events I'd be upset to miss in the year ahead, then things get easier!
NOIR Fetish Ball Grand Opening at Chapel Arts: Jan. 19, 2013
I feel a little guilty including this on a list I'm compiling: this is the monthly night that I run after all. But then I realized that's the reason it's got all the things I love!
This month we move into new, larger digs, and you'd be hard-pressed to find a better venue for a night named for film noir. Chapel Arts is the city's oldest venue, a former chapel and hall that was built in the 1890s and then turned into a funeral parlor. Renovated in the art deco style in the '20s it's only in the past couple of years that it's been turned into a unique event venue.
With NOIR's signature front and centre dungeon play space, and now the opportunity to add a second room of DJs, the city's most underground fetish event promises to get even more amazing.
Taboo Sex Show: Jan. 17-20, 2013
After auspicious beginnings a decade ago, back when it was the Naughty But Nice Sex Show, this yearly event sunk from being a bonanza extravaganza to, well, frankly, blech! But last year they really turned that around, and this year looks to be truly phenomenal. Sure, it's largely a giant sex shop, but it's a sex shop with added value! Seminars, entertainment, and my favorite part, the dungeon, and all the diabolical demonstrations you'll discover within it.
Westcoast Bound: Feb. 1-3, 2013
While I've already stated that I am loathe to pick an event that's the best of the best, personally if I were told I could only go out one weekend this year, this would be it!
Mark this on your calendar, grab your tickets, and start planning for it NOW. Vancouver has hosted plenty of kinky conferences over the years, but with last year's offering from Metro Vancouver Kink (MVK) we finally made the leap from really good to WORLD CLASS KINK!
In every other month of the year MVK offers up the city's largest dungeon play party, usually combined with at least one educational seminar; in some months they might also offer one or two other special events. But for this one weekend it's as if they combine as much action as they offer the other 11 months of the year and cram it into just three days.
Forty seminars, 21 presenters, two nights of dungeon play parties, one kinky speed dating session, and countless opportunities for fun. That's Westcoast Bound.
Blog continues after slideshow: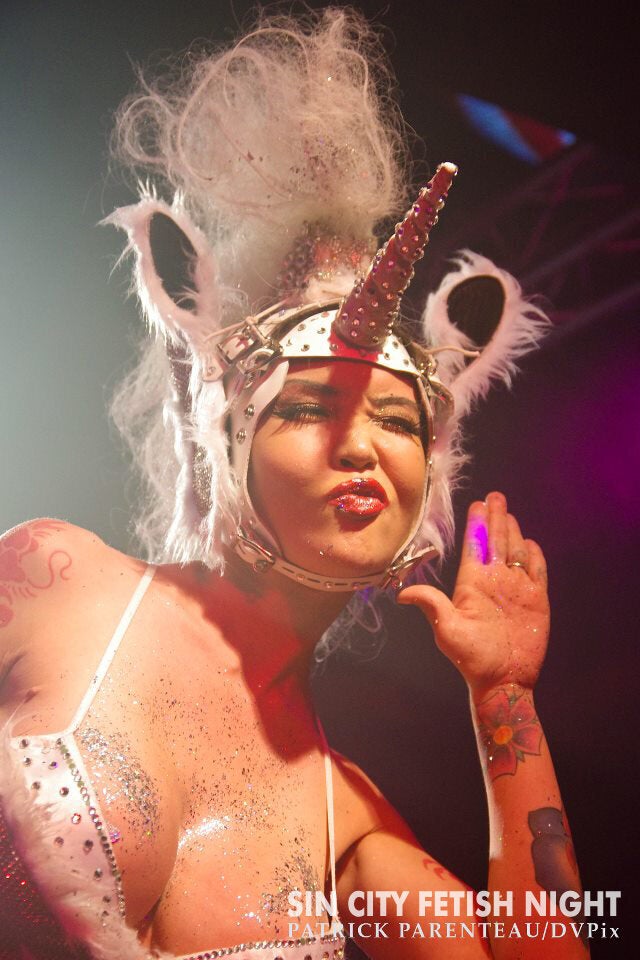 Vancouver Alt Sex Events 2013
Sin City's 12th Anniversary Party: Usually the last Saturday in July
Ask the man or woman on the street what they know about Vancouver's kink scene, and odds are that if they know anything they'll mention Sin City. This is the night that has brought fetish to the masses of Vancouver in a way that nothing before or since has been able to do, first on a monthly basis and now twice as often.
While their Halloween Party has gone from being their best event of the year to a victim of its own success, attracting as many looky-loos as kinksters and fetishists, their anniversary party still captures all of what makes this night great, then magnifies it and serves it up on a platter of spectacle.
While I've been asked not to share just what the promoter, DJ Pandemonium, has planned for their biggest party of the year, suffice it to say that it's going to be the grandest fetish extravaganza Vancouver has ever seen!
Vancouver International Burlesque Festival: May 2-4, 2013
From small beginnings only a few years ago, the VIBF has grown into Vancouver's sexiest festival, bar none. While the majority of the offerings on this list are for the truly sexually adventurous, at many of the various VIBF shows you're likely to find multiple generations of the family laughing it up in style.
Point of pride for the city: while this festival brings in a lot of world-class talent from elsewhere, more and more the world at large is coming to recognize that some of the best in burlesque actually comes from Vancouver.
Club Eden Halloween Party: Oct. 26, 2013
As a long-time bartender I despise Halloween parties held in a club environment. It's amateur drunk night. For years the local fetish scene managed to avoid that scourge , but as I've written above, unfortunately it does no longer.
Fortunately in 2012 I discovered a Halloween event where the sexy vibe isn't messy.
Club Eden is Vancouver's premiere swingers' club, and takes place in an amazing, purpose-decorated hall in New Westminster. Just about any party there is a good one, but on Halloween not only do the organizers bring their best game, so do all of the attendees.
Expect to see more skin than you would at a typical Halloween night, more moderation in the drinking department and, yes, some truly bizarre sexual couplings because of the costumes involved. Greek and Egyptian gods and goddesses getting it on together could really give you a whole new take on mythology.
Whistler Lifestyle Weekend: Nov. 8-11, 2013
Of all the events I'm listing for 2013 this is the only one I haven't been to in the past. I intend to rectify that huge mistake this year.
This year they've once again taken over the 69 room (how fitting!) Summit Lodge in its entirety, and once again they foresee having to book overflow rooms in other hotels to accommodate their crowd. (And keep in mind, very few people choose only double occupancy this weekend.)
While this is primarily a swinger's weekend, there was more than a nod to those interested in BDSM, with demos, workshops, and play equipment on hand at various events over the course of the weekend.
With the possible exceptions of the annual Winter Pride LGBT Ski Week, and some of the athletes' after-parties that reportedly took place during the Olympics, I don't think Whistler has ever been this wild!
Note to Tourism B.C.: Event attendees from around the world left touting the old B.C. slogan "The best place on Earth!"
All in all that's a lot of great events for the alt-sex crowd. So while vanilla Vancouver may still be "No Fun City," with its regulations, liquor laws and misguided Granville Entertainment District, for the sexually open or open minded we find ourselves living in "Oh Fun City!"