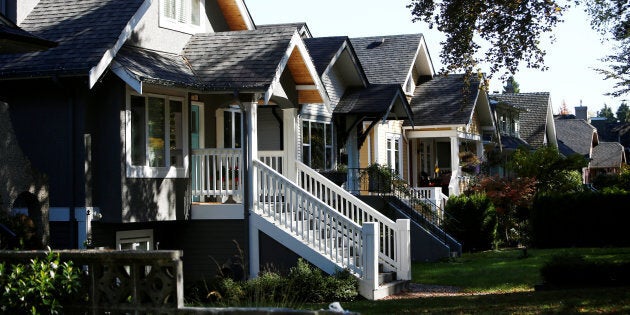 Vancouver's epic housing meltdown has made news around the world, and with sales down by 31.6 per cent over the past year, people listing their homes are turning motivated. After years of what can only be described as a ludicrously strong seller's market, buyers are in the driver's seat today.
And to chronicle this turnaround, a number of Twitter accounts have popped up, gleefully displaying homes sold for way below asking, or listed for well below their last sold or assessed price. Chief among them are Mortimer_1 and Vancouver Real Estate Flip Flops, where new examples of house resale flops appear constantly, to the chagrin of realtors.
To be sure, these sorts of massive discounts are limited mostly to the top end of the market, the million-plus homes -- which today includes just about any detached home in Greater Vancouver, although that is changing as house prices come down.
Watch: Average home prices across Canada. Story continues below.
In the rest of the market, prices have been somewhat more stable. According to data released Monday by the Canadian Real Estate Association, the benchmark price for a property in Greater Vancouver is down 7.65 per cent over the past year, to $1.011 million.
Those of us who aren't in Vancouver may have noticed that a million dollars is still pretty pricey for a bungalow. So still not exactly a cheap market, as these Twitter feeds prove.
The British Columbia Real Estate Association reported numbers showing the slowdown in Vancouver's market is now spreading to other parts of the province.
Sales are down steeply, when compared to a year ago, at real estate boards in Chilliwack, the Fraser Valley and the Kooteny and Okanagan regions, as well as on Vancouver Island, including Victoria. Province-wide, the benchmark house price is down 5.4 per cent over the past year, to $687,720.
'Near recession-level' housing demand
"B.C. home sales continue to be adversely impacted by federal mortgage policy," BCREA chief economist Cameron Muir said in a statement. "The erosion of affordability caused by the B-20 stress test has created near recession-level housing demand despite the province boasting the lowest unemployment rates in a decade."
"The sharp erosion of affordability caused by the B-20 stress test is now creating pent-up demand, as many would-be home buyers are forced to wait on the sidelines. Unfortunately, new home construction is slowing as well, which will likely lead to another housing supply crunch down the road."
Popular in the Community