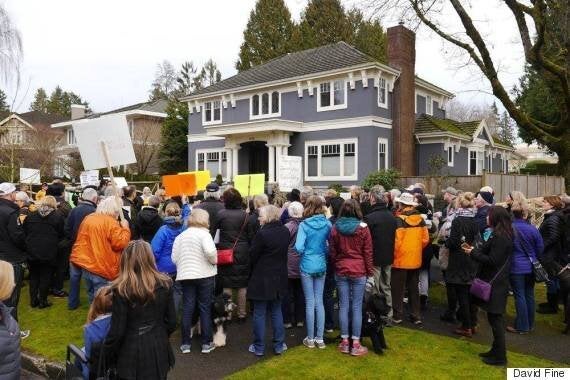 A protest on the weekend about the $7-million house slated for demolition was actually not so much about trying to preserve a 20-year-old house, but the greater problem in Vancouver, which is the out-of-control property market that somehow makes this insane scenario make economic sense.
It's only in this market, with it's unfettered influx of foreign bags of cash that this can happen. If our market was not in overdrive, we would not see such a flagrant waste of a perfectly good home and that's the thing that people are most upset about. This house is just the touchstone for the whole issue.
We are both assured that foreign investment is actually not a significant issue and at the same time, by the same people, told that any restrictions on foreign property investment would cause serious damage to our home equity, the construction industry and the residential sales industry.
Guess what, it can't be both! There really is no doubt that foreign property investment is a significant part of home sales in Vancouver and real estate companies know it. They have offices in China and appeal directly to offshore buyers through advertising in Chinese media. It's big business and it's fuelling rampant speculation.
This is about foreign money, not foreign people. We have duties and tariffs on all kinds of foreign goods and industries to protect our economy. Why nothing on our homes?
Our civic and provincial governments have showed little appetite to do anything about it, but hopefully that might be changing.
The more this issue is covered in the media, the more this "racist card" becomes the irrelevance it should be. This is about foreign money, not foreign people. We have duties and tariffs on all kinds of foreign goods and industries to protect our economy. Why nothing on our homes? Homes which to others, have become commodities to buy, flip, knock down or just to leave empty for months and months.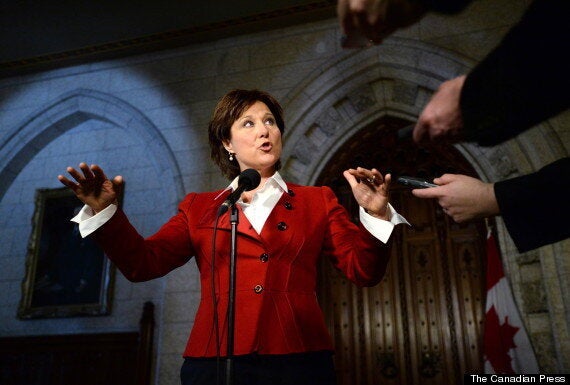 B.C. Premier Christy Clark speaks at a news conference. (Photo: Canadian Press)
B.C. Premier Christy Clark, meanwhile, insists that she does not want to take any steps which might impact the equity people have in their homes. Ms. Clark does not realize how mistaken she is in not appreciating the far wider and more important economic issues around this.
Sure, we bemoan the destruction of our neighbourhoods with so many homes being bulldozed (in what is supposed to be a "green" city), but the bigger problem is how it impacts people. How all this changes the heart and soul of our city and our economy.
When companies look to attract talent, they have to compete with every other market where housing is more affordable: "Come to beautiful Vancouver where you have to line up to buy a house, deal with multiple competing offers and foreign cash buyers."
It means companies have to pay more to compensate for this issue and that has a real economic impact. Attracting skilled workers and professionals is a very important part of growing our economy and tax base, so the present situation causes real economic damage.
Driving professionals away
I personally know of a doctor who moved to Vancouver and then quickly moved to the U.S. where she was offered a job in a city with more reasonable housing. Yes, a doctor cannot afford Vancouver's current house prices. Where does that leave other professionals who do not earn a doctor's salary? The answer: it drives them away.
Hootsuite founder Ryan Holmes says that Vancouver risks becoming an economic ghost town. I would go further to say it risks becoming a creative ghost town as well, as artists and creatives are driven away from what is becoming an unlivable city because of rampant house price speculation making it impossible to get on the ladder.
I want a city that attracts people from more income classes than the uber rich. I want a diverse city, both in terms of ethnic and economic makeup. I want artists to be able to afford this city and I especially want our children to be able to entertain owning a home here instead of having to move away because of affordability. I will take that over seeing the value of my home rise even more. Not only will I take it, but I absolutely believe that it's in the best interest of our city.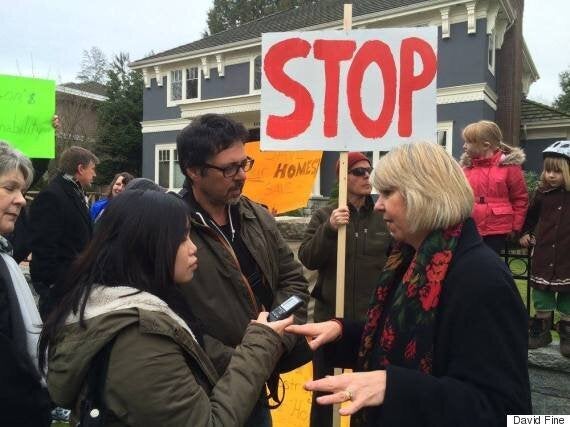 Blogger and filmmaker David Fine listens as Vancouver Coun. Adriane Carr speaks to a reporter.
Both Mayor Robertson and Premier Clark have moved their opinion slightly since those earlier statements. Clark is now interested in reviewing the matter and Mayor Robertson proposed some mostly innocuous remedies pertaining to people who attempt to flip houses in less than six months, which is really not the most significant issue. Our mayor continues to pass the buck to the province instead of showing leadership on this issue or taking the kind of steps that Coun. Adriane Carr proposed at this past Sunday's rally.
This problem is not unique to Vancouver, but the lack of addressing it is. Other countries have taxes to inhibit or even ban foreign ownership. If you don't live here or contribute to our tax base, then you should have to pay a lot more to buy a house. The independently proposed idea of a 1.5 per cent levy would merely be an annoyance to be brushed aside. To address this properly, the tax has to be far higher.
There is enough reason for Vancouver's housing to be of value without the added pressure of unchecked foreign cash flooding and distorting our market even further.
We need to appeal to our civic and provincial politicians to look at the big picture in terms of how this situation impacts our city, both economically and in terms of maintaining the kind of community we want, for a wide variety of people and income classes.
We need our politicians to take meaningful action which will truly effect change and I am heartened that MLA David Eby has taken this on, but we need our government to listen too. If they do, we won't see as many perfectly good houses being left empty or knocked down.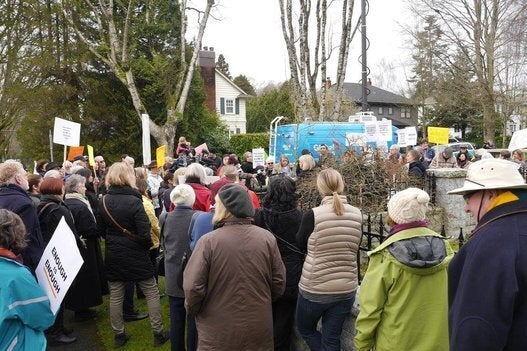 Vancouver Protest Against Teardowns