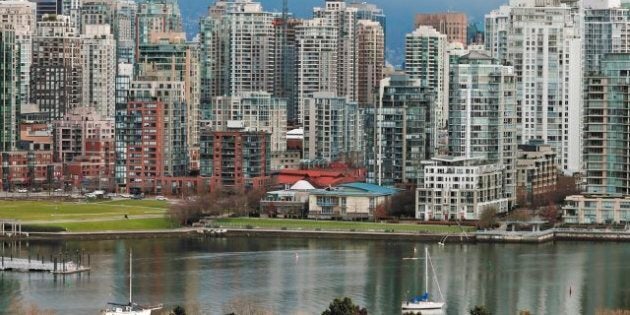 If you haven't heard yet that Canada's housing market is facing potentially serious problems, you've probably been hiding under a rock, but a recent study and comments from Canada's top banker are bringing the point home once again.
A report from RBC released Thursday says Vancouver's housing market is "vulnerable to a marked correction." For a market analysis from a major bank, those are pretty strong words.
"Typical Vancouver-area homebuyers would need to allocate 92 per cent of their income to carry the costs of a two-storey home (based on market price) and almost 45 per cent for a condominium apartment," the report stated.
"Home resales dropped nearly 20 per cent between the first and fourth quarter of 2011, to levels below the 10-year average," RBC noted.
The report did note one area of Vancouver's housing market that's holding up nicely: the high-end market.
"Averages last year were skewed by unusually strong increases in the sales and prices of highly sought-after properties in upscale neighborhood," RBC stated, noting that vancouver's three most expensive areas accounted for most of the 16 per cent price increase seen in 2011; other neighbourhoods saw two per cent house price growth.
The bank expects house prices in Vancouver to fall between 7 and 12 per cent.
But that number is very conservative compared to what Bank of Canada Governor Mark Carney hinted Wednesday might be the actual scale of a Canadian housing correction.
In comments to the House of Commons finance committee, Carney said Canada's housing market is overvalued by 35 per cent. While house prices historically in Canada have hovered around 3.5 times average income, they are now at 4.75 times average income.
In some markets that ratio. Vancouver housing is estimated to cost 9.2 times the average income.
The tension between Canada's booming housing market and the weakness in the global economy is at the heart of Carney's dilemma: Whether to raise interest rates to halt a growing real estate bubble, risking an economic slowdown, or to keep them low, and risk blowing up even larger bubbles in Canada's economy.
Carney has hinted in recent interest rate decisions that the day is nearing when Canadians will no longer be able to count on historically low interest rates.
The RBC report notes that interest rates will be a major factor in determining the dierction of house prices in the months to come, but highlights a wild card in the equation: Foreign real estate investors who have been snapping up residential properties and driving up house prices.
"Risks will be further heightened by Vancouver-area valuation's dependence on a strong and steady flow of wealthy foreign buyers and recent immigrants — a phenomenon that is both poorly documented and potentially vulnerable to adverse external shocks," the report said.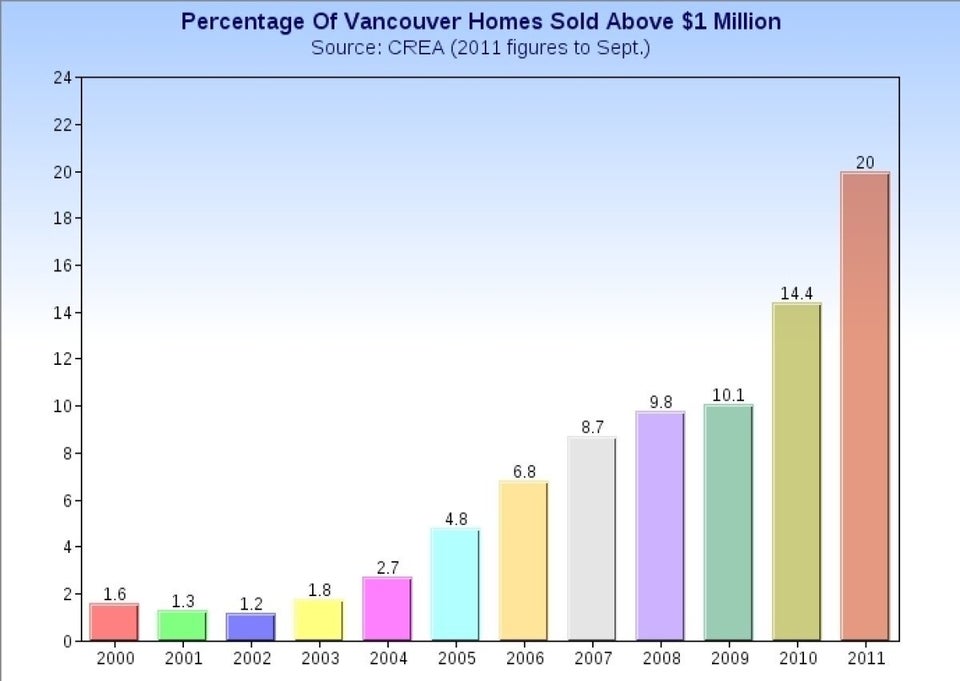 Homes Sold Above $1 Million In 3 Canadian Markets
Popular in the Community