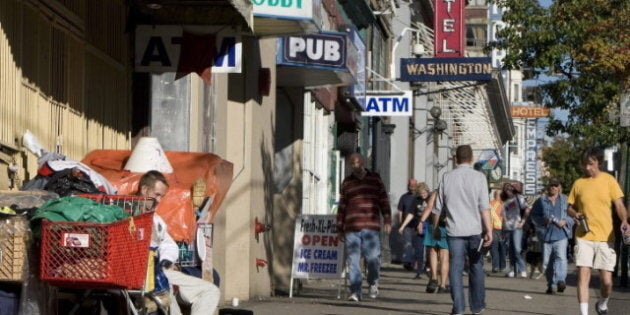 Vancouver has gone from being a solidly middle-class town to a city on the verge of extremes, with neighbourhoods starkly segregated by race and income, a new study shows.
Released exclusively to The Huffington Post Canada, the University of British Columbia study is the first to use census data to explore the dramatic change in income patterns that have reshaped the city's socio-economic landscape over the past 35 years.
From 1970 to 2005, the proportion of middle-income tracts, or neighbourhoods, in the metropolitan area of Greater Vancouver fell significantly, from 71 per cent to 53 per cent. Meanwhile, the share of very low and low-income neighbourhoods increased from 13 to 23 per cent, and high and very-high income tracts jumped from 16 to 24 per cent.
The shift has been even more pronounced in the City of Vancouver, where the share of middle-income tracts was cut by more than half, from 65 to 31 per cent. Higher income neighbourhoods doubled, from 16 per cent to 32 per cent, and lower income neighbourhoods jumped from 19 to 37 per cent.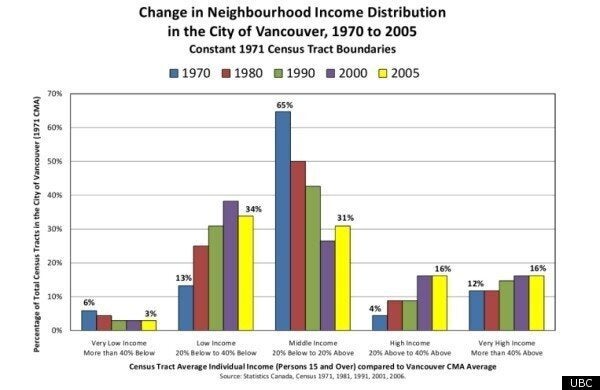 Racial polarization has also deepened, as neighbourhoods where white and native-born residents remained the majority enjoyed the lion's share of the income gains, while areas with the greatest share of visible minorities and immigrants were much more likely to see their fortunes decline.
Though the polarization of neighbourhoods has not been not as pronounced as in Toronto, where a similar study has been conducted, the numbers are evidence of an alarming trend, said David Ley, who co-authored the study with fellow UBC geographer Nicholas Lynch.
"Growing inequality, growing polarization do not make for social stability, or even fairness," he said in an interview. "You can look at it as an ethical issue or as a political concern, and I think you reach the same conclusion: that these are problematic developments."
To delve deeper into the changing geographies of income, the researchers borrowed a method pioneered by the University of Toronto's David Hulchanksi in his the highly publicized "Three Cities Within Toronto" report.
Using neighbourhood-level income data, Ley and Lynch divided Greater Vancouver into three income categories to show how differently these groups have fared over time -- and how economically segregated they have become.
The first group consists of the relative income winners, neighbourhoods where average individual incomes increased by more than 15 per cent above the metropolitan rate from 1970 to 2005.
Identified as "City No. 1," these affluent and up-and-coming neighbourhoods account for 30 per cent of the total, and tend to be clustered in Vancouver's core, in historic or gentrifying neighbourhoods such as Shaughnessy and Kitsilano, in the North Shore suburbs of North and West Vancouver and the newer areas of the Lower Fraser Valley.
Meanwhile, "City No. 2" is made up of neighbourhoods where relative incomes stayed fairly stable, hovering between 15 per cent above or below the metropolitan rate, and constitutes almost half of all tracts.
While these neighbourhoods can be found throughout Greater Vancouver, City 2 is a kind of "middle ground" that "often provides a rough separation between concentrated high-income levels in the north, west and east, and lower income levels in the central and southern parts of the region," the researchers note.
Struggling neighbourhoods, where incomes sunk by more than 15 per cent below the metropolitan rate, were classified as "City No. 3." These areas represent 22 per cent of all tracts, and extend from the city's southern and eastern neighbourhoods along the Skytrain transit corridor into the suburbs.
There are no City 3 neighbourhoods on the more affluent North Shore.
As City 1, 2 and 3 move further apart economically, their ethnic make-up is also diverging. Whereas the share of immigrants in City 1 has stayed steady at 28 per cent, it has grown significantly in City 2, from 27 to 38 per cent.
The change has been more dramatic still in City 3, where the share of immigrants has more than doubled, from 24 to 51 per cent. Meanwhile, visible minorities and recent arrivals now make up a significant proportion of residents, representing 61 per cent and 11 per cent respectively.
It's a trend that Ley describes as "the racialization of the cities," a pattern that was also evident in Hulchanski's Toronto study.
"City 1 is largely Canadian born, and largely white. City 3 is largely foreign born, and largely visible minority. That's a source of anxiety," he said. "It is proving more difficult to get aboard the Canadian dream."
The study does not explore the underlying causes of the growing income inequality and economic segregation in Vancouver, but Ley suspects that some of the same forces that are deepening the rich poor-divide around the world are likely at play.
The erosion of middle-class jobs, declining welfare benefits and tax cuts that have disproportionately favoured the wealthy, he says, have contributed to "growing inequality at both ends."
He says immigration also appears to be part of the story, noting that "new poverty is very significantly tied up with recent immigrants."
Ley posits that Vancouver has experienced less income polarization than Toronto in part because a greater proportion of head offices -- and sky-high salaries -- are located in Canada's biggest city.
Still, he says deepening economic segregation in Vancouver is likewise cause for concern.
"I don't think there are any positive takeaways," he said.
WHICH CANADIAN CITIES ARE SEEING THE GREATEST GHETTOIZATION?
Percentages represent the difference that the income gap has grown between the richest and poorest neighbourhoods in Canada's largest metropolitan areas. The numbers indicate the degree to which residents of those cities are segregating themselves economically.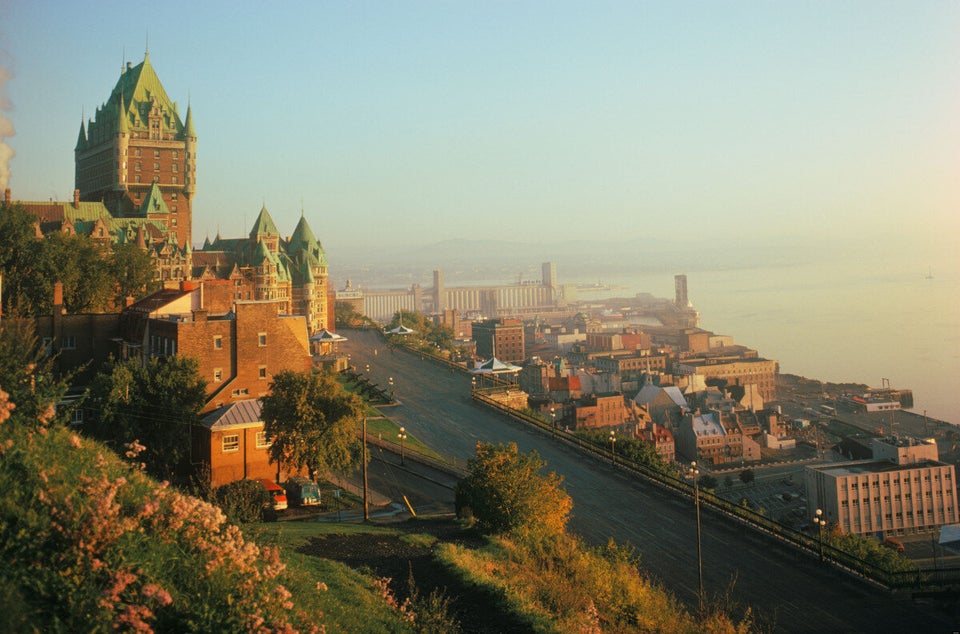 Which Canadian Cities Are Ghettoizing The Fastest?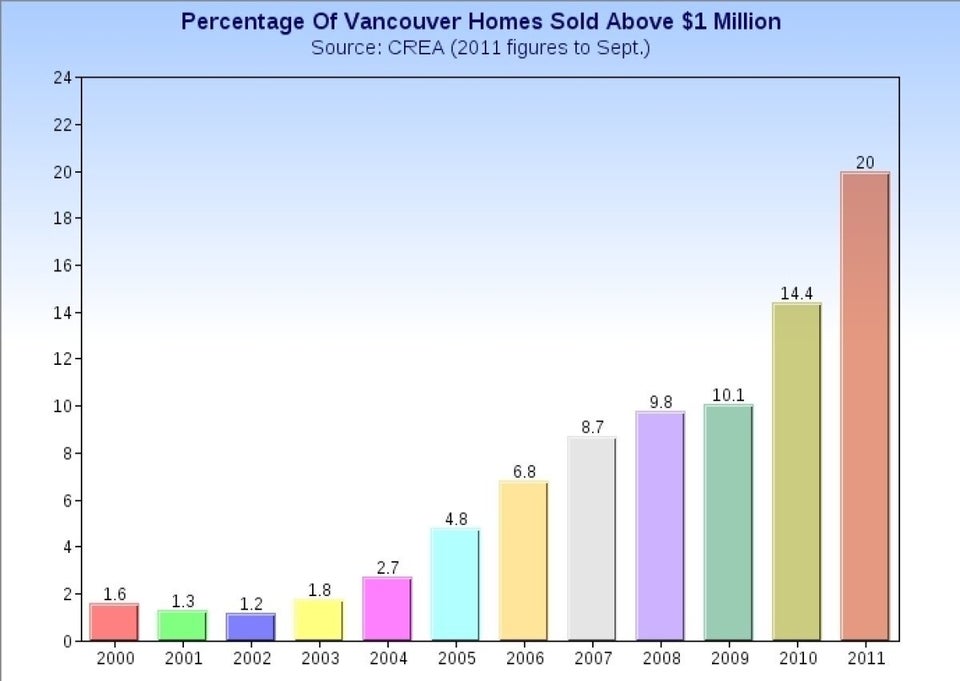 Homes Sold Above $1 Million In 3 Canadian Markets