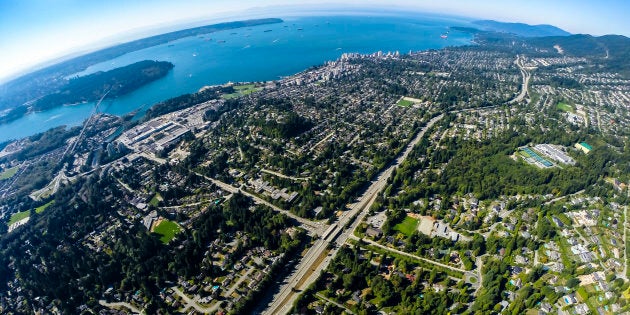 If there's anything Vancouver's property market isn't, it's average. In fact, it's looking increasingly like a land of extremes.
A new report from global realty firm Knight Frank ranks the city's luxury property market as the weakest among major cities worldwide. Two years ago, the same index had Vancouver in top spot.
Knight Frank's prime cities residential index for the third quarter of 2018 places Vancouver 43rd out of 43 cities, with luxury prices dropping 11.3 per cent in the past year. Toronto ranked in 7th place, with 8.5-per-cent price growth over that time. (See chart below.)
Singapore took first place, with 13.1 per cent price growth. Toronto and Vancouver are the only Canadian cities ranked in the report.
Watch: This burned-out house in Vancouver is selling for $4M (story continues below).
"Toronto continues to see prime prices rise in its exclusive areas of Rosedale and Yorkville," Knight Frank said in the report.
"Vancouver, however, sits at the bottom of our rankings as upmarket areas such as West Vancouver have seen a marked slowdown in sales and prices as a result of the raft of measures introduced in February's (provincial) budget."
But that's just looking at luxury housing. When looking at the overall market, the two Canadian cities reverse roles: Vancouver ranked in 10th place in Knight Frank's assessment of the entire housing market last month, while Toronto saw a steep drop to 137th place, out of 150 cities, down from first place a year earlier.
Vancouver's housing market has been so quiet lately you can hear the crickets chirp. The latest data from the city's real estate board showed sales fell 43.5 per cent in September from the same month a year earlier, and are well below the long-run average.
Meanwhile, with fewer homes selling, the supply has soared, with 38 per cent more homes for sale today than a year ago.
The city joins other metro areas whose luxury markets have softened recently, particularly Sydney and Hong Kong, both of which, like Vancouver, were high flyers until recently. If these cities have anything in common, it's their link to China's economy — which has been going through a slowdown recently.
A policy-induced slowdown?
But other factors have taken a more direct toll on Vancouver's once-hot real estate. The foreign buyers tax, introduced in 2016, has reduced demand from abroad, and new housing taxes introduced this year are keeping potential buyers from entering the market, as they wait to see what the effect will be.
Finally, new mortgage rules, introduced at the start of this year, effectively reduced the amount homebuyers can borrow by about 20 per cent.
Here's Knight Frank's ranking of the world's luxury housing markets. (Full report is here.)