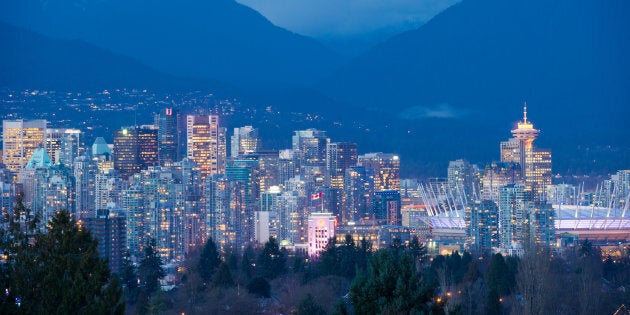 Well, it finally happened. Vancouver's housing market is now less affordable than the U.S.'s two famously pricey housing markets, Manhattan and San Francisco.
According to an analysis of North American cities from Point2 Homes, the median house in Vancouver costs 17.3 times the median income in the city. A median house in Manhattan costs 15.6 times the median income, while in San Francisco it's 13.8.
"Although homes in San Francisco and Manhattan are more expensive than those in Vancouver, with median selling prices of $1,275,000 and $1,207,500, respectively, a lower median income is what makes Vancouver's affordability index higher than that of the two U.S. cities," Point2 Homes said on its blog.
Despite rapid house price growth until this year's slowdown, Toronto clocked in as only the 13th least affordable housing market in North America. A median home there costs 7.5 times median income, Point2 Homes found.
That puts Toronto on par with Queens, New York, or Washington, D.C., on housing affordability.
The survey compared Canadian, U.S. and Mexican housing markets, and found Canada stands alone as the least affordable.
The median home sale price of $485,680 is roughly double the median house price in the U.S., which sits at $258,300. Canadians need to spend 7.5 times the median income to afford a media home, compared to 4.6 times median income in the U.S., and 3.3 times median income in Mexico.
Rising house prices, particularly in Toronto and Vancouver, have had an impact on home ownership in Canada. According to 2016 census data released this week, Canada's home ownership rate declined over the past five years, the first time in decades this has happened.
Watch: Canada has a 30 per cent chance of a housing bust, Goldman Sachs says
Some 67.8 per cent of Canadians owned their own home at the time of 2016 census, down from 69 per cent in the 2011 household survey.
Additionally, the data showed young Canadians today are having a harder time getting on the property ladder than their Baby Boomer parents did a generation ago.
At age 30, 50.2 per cent of millennials owned their own homes, compared to 55 per cent of Boomers at the same age.
Affordability is a growing problem among major cities worldwide, not just in Canada.
Bloomberg's latest housing affordability index found that an average income would not cover the cost of a 1,000-square-foot home, or rent on a three-bedroom apartment, in any of the 105 major world cities covered by the survey.
But that survey also showed that many housing markets in Canada remain relatively affordable. Of the 10 most affordable housing markets in Bloomberg's global survey, seven were in North America, and of those, three were in Canada — Calgary, Montreal and Ottawa.
— With a file from The Canadian Press
Popular in the Community