Despite being inundated with well-meaning offers of help, Vancouver officials say only trained crews in protective gear should be cleaning up the oil spill from a ship in English Bay.
An estimated 3,000 litres of bunker fuel leaked into the water from a brand-new cargo ship that apparently had a malfunction on Wednesday evening.
Oil residue has been washing up on local beaches, and some residents have been out with gloves, brushes, and buckets of soapy water to try and clean up.
"Cleanup efforts will involve crews in protective gear with special expertise in oil recovery and for now there is no involvement possible for volunteers," said the Vancouver Park Board in a news release Friday.
"We appreciate the thousands of offers of help from citizen volunteers and are impressed by the passion local residents have shown for our beaches and wildlife. We will continue to work with the federal and provincial authorities to find ways our volunteers can help as the cleanup continues."
The official cleanup effort will focus on English Bay and Stanley Park, which will temporarily close the seawall around Siwash Rock.
The Western Canada Marine Response Corporation is in charge of the cleanup as directed by the Canadian Coast Guard and with help from City of Vancouver staff.
Several oiled birds have been taken to a refuge for treatment, said the park board.
On Friday, B.C. Premier Christy Clark criticized the coast guard for not alerting city officials until more than 12 hours after the spill.
"The response to what is a relatively small oil spill by historical standards has been totally inadequate," added Vancouver Mayor Gregor Robertson.
In a video uploaded to Vimeo (watch below), some citizens cleaning up the beach on Thursday wondered why there were no officials joining them in their efforts.
With files from The Canadian Press
CORRECTION: A previous version of this story incorrectly stated that an estimated 30,000 litres of oil was spilled. In fact, the coast guard said it was about 3,000 litres.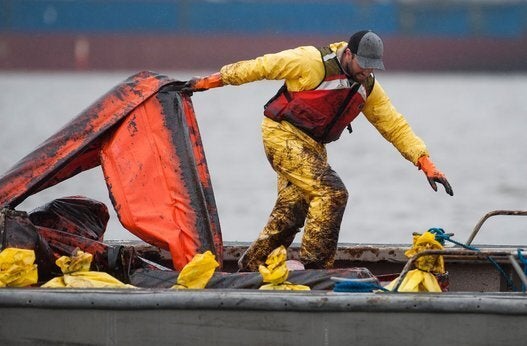 Vancouver Oil Spill, April 2015