Crews have contained a diesel spill in Vancouver's False Creek Monday morning, said the city.
Jeff Brady with the Canadian Coast Guard says hundreds of metres of containment booms were set up off Granville Island.
Health officials are monitoring the air quality and health impacts but there are "no human health risks at present," it said. There are fumes and the smell of diesel but "no flammable risk."
It also advised people to close their windows and turn off their air conditioning if they smelled diesel.
Police have closed a portion of the seawall downtown as a precaution.
The spill was reported to the coast guard around 10:30 p.m. Sunday. Deputy city manager Sadhu Johnston told CBC Radio that the city received word from the coast guard about the spill around 2:30 a.m. on Monday, and cleanup crews were on scene with the booms around 3:30 a.m.
With files from The Canadian Press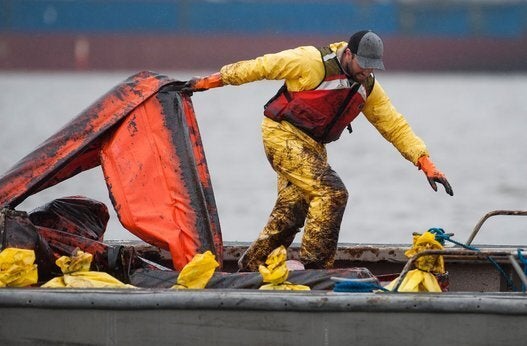 Vancouver Oil Spill, April 2015
Popular in the Community