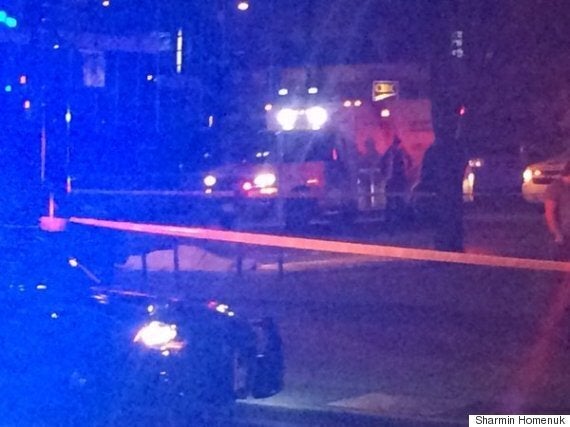 The woman reportedly fell at Burrard and West Hastings in downtown Vancouver. (Photo courtesy Sharmin Homenuk)
Vancouver police are investigating after a woman fell from a moving party bus to her death, said a brief news release Saturday.
Police were called at around 9:30 p.m. to Burrard and West Hastings streets. The woman was pronounced dead at the scene.
UPDATE: The 23-year-old victim was part of two dozen people celebrating a birthday inside the bus, said Vancouver police on Sunday. As the bus made a turn, the woman fell from an open door to the street and was struck by the vehicle.
Passengers alerted the driver who immediately stopped the bus, said police. He is co-operating with investigators.
Sharmin Homenuk, who was sitting at a nearby pub, didn't see what happened but said she "just saw a lot of blood."
Traffic delays were expected in the area as police closed the downtown intersection for the investigation.