Donovan Mahoney was startled to see two cars hit a man at a busy Vancouver intersection — then he was shocked as police forcefully pinned the same man down moments later.
Mahoney was locking up his bike at the northwest corner of Main and Broadway on Sunday afternoon when he noticed the man run out into the crosswalk. A car struck the pedestrian, followed by a second vehicle, which sent him flying "about 10 or 15 feet into the air," Mahoney, 39, said in an interview.
The man was lying on the road when an officer got out of a cruiser, picked him up like a "rag doll," and then forced him back to the ground, according to Mahoney who recorded part of the incident on video (watch above). Within seconds, other police arrived and joined the fray.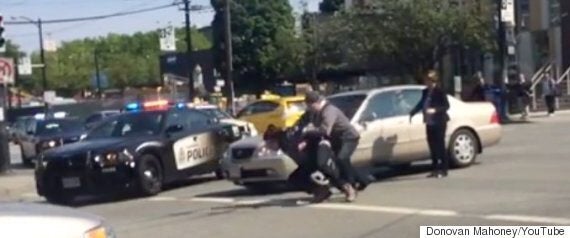 Mahoney said he was "horrified" by police "brutalizing" a man who had just been hit by two cars.
"I'm not an ambulance worker or doctor but I've done enough first aid to know that if someone has potential neck or head trauma, you could potentially kill them [by picking them up like that] because you could further aggravate an injury," he explained.
Mahoney filmed 11 seconds of what unfolded and posted it on YouTube and Instagram. The video ends with an officer knocking Mahoney's phone out of his hand.
"This guy just got hit by two vehicles; he's down, he's unconscious. There seems to be no care and concern about his health and well-being, but be super violent," said Mahoney.
But Vancouver police defended their actions as protecting the man from further harming himself or others.
Const. Brian Montague said police were called after the man had jumped on top of a vehicle and smashed the windshield. He later told officers he was running in traffic to try to kill himself, according to Montague.
"Force is something we never like to use, but is regrettably necessary sometimes when dealing with someone who is goal-oriented, psychotic, under the influence of drugs, non-compliant, and intent on harming themselves or others. There are also many unknowns including the potential for weapons," Montague wrote in an email to HuffPost B.C.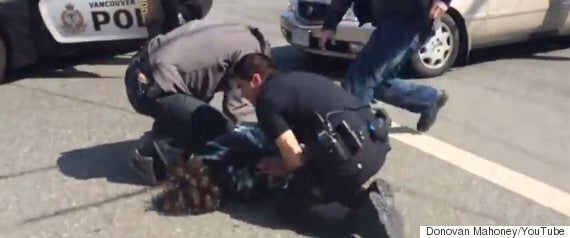 He disputed Mahoney's assertion that the man was unconscious on the ground.
"You can see him lift his head and try to get up before the officer has to grab hold," said Montague about the video. "The officer is in a position where he cannot let this man get up and continue trying to harm or kill himself."
The 28-year-old man, who police said could have faced a mischief charge, was instead apprehended under the Mental Health Act and taken to hospital.
Montague added that Mahoney would have been welcome to ask questions after things were under control.
But Mahoney said police threatened him with a jaywalking ticket before giving him one for failing to use a sidewalk.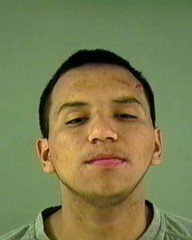 Vancouver's Most Wanted, April 2015