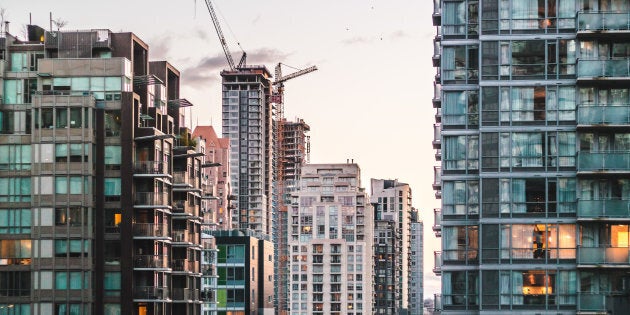 The last time Vancouver's housing market was this weak, Bill Clinton was in the White House and the Baha Men were singing "Who Let The Dogs Out."
Those hoping for a quick recovery in the region's sputtering housing market had their hopes dashed by the latest data from the real estate industry.
Home sales in the area fell to their lowest level since 2000, the Real Estate Board of Greater Vancouver (REBGV) reported Thursday, with all housing types registering declines.
That means sales are even lower today than they were during the 2008-09 financial crisis, when Canada's housing markets were hit by a brief but sharp slowdown.
"With fewer buyers active in today's market, we're seeing less upward pressure on home prices across the region," REBGV president Phil Moore said in a statement.
"This is most pronounced in the detached home market, but demand in the townhome and apartment markets is also relenting from the more frenetic pace experienced over the last few years."
Indeed, the condo market has slowed sharply in Vancouver in recent months. In January, 57 condos sold for every 100 active listings on the market; by July, that had come down to 27 condos sold. That's still considered a "seller's market," but just barely.
Among detached homes, only nine out 100 active listings sold in July — a clear sign of a "buyer's market."
"To summarize, sales are in the dumps," tweeted Steve Saretsky, the Vancouver realtor behind the VanCity Condo Guide blog.
"Buyers are price sensitive and over the past few months prices have been moving lower across all property types, including condos."
As sales slow, the supply of housing on the market is growing. There were 12,137 homes of all types on the Vancouver market in July, up 32 per cent from a year earlier.
The average selling price for a condo in Vancouver has fallen by 2 per cent over the last year, though the benchmark price — which compares similar types of properties — is still 13.6 per cent higher than a year ago, at $700,500. But that number is also falling now, down 0.5 per cent from last month.
The slowdown in the single-family home market worsened, with sales down by 32.9 per cent from a year earlier. The average price of a detached home was 16 per cent lower than a year ago, while the benchmark price declined 1.5 per cent, to $1.588 million.
But the sales slump has so far not been enough to improve Vancouver's housing affordability situation. Recent research from Simon Fraser University adjunct professor Andy Yan found Vancouver is the least affordable housing market in North America. Royal Bank of Canada's measure of affordability found that the cost of owning a home was at a record high in the city in the first quarter of this year.
Like most others in the industry, Moore blamed the slowdown on rising mortgage rates and tough new stress tests for mortgage borrowers.
"Buyers and sellers are opting to take a wait-and-see approach for the time being," he said.