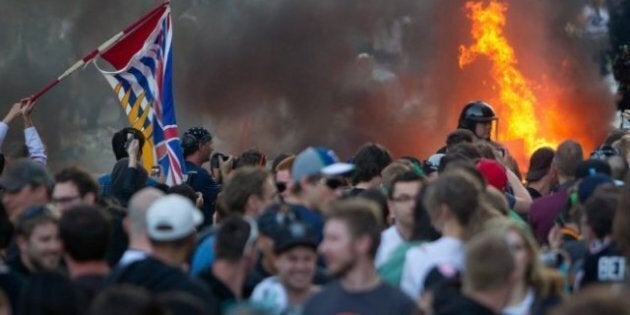 UPDATE: At a press conference today, Vancouver Police Chief Jim Chu said there were almost 100 arrests during the riots. "This criminal element within the crowd was responsible for the burning of 15 cars, including two police cars," he said. "By 5 a.m. this morning, we had 120 tips." Chief Chu said that the city is committed to finding anyone who destroyed buildings, looted, flipped cars or assaulted those who tried to intervene.
"We got the situation stabilized in three hours," said Chief Chu, praising Vancouver police for their swift action. "In 1994, it took almost six hours." He said in reference to an infamous hockey riot that changed the way the department polices large crowds.
He said that last night's riot crowds were three times the size of those in 1994.
THE CANADIAN PRESS -- VANCOUVER - Parts of downtown Vancouver erupted in flames, explosive booms thundered through the air and looters smashed windows and ran amok inside department stores Wednesday after the city's Stanley Cup run ended in bitter defeat.
Weeks of well-behaved crowds watching the Vancouver Canucks march toward Game 7 of the NHL final ended abruptly in violence and vandalism that erupted even before the 4-0 loss to the Boston Bruins was officially over.
"It's terrible," a dejected Canucks captain Henrik Sedin said in an interview after the game.
"This city and province has a lot to be proud of, the team we have and the guys we have in here. It's too bad."
Police said they had reports of four stabbings, though spokeswoman Const. Jana McGuinness said she couldn't confirm them.
Officers from around the region flooded into downtown and Mayor Gregor Robertson said things were getting under control, but the images and atmosphere that persisted late into the night suggested otherwise.
It took about four hours before downtown quieted again.
Robertson said he knew of no fatalities, though he had to be asked the question twice.
Fights broke out and people were seen falling on broken glass.
At the flagship Bay store, looters jumped inside and were seen grabbing T-shirts and anything else they could get their hands on. Young women were seen escaping with MAC cosmetics. One girl carried out part of a mannequin.
The landmark building was filling with smoke as rioters, their faces covered in bandannas, continued the violence. Almost none were wearing hockey jerseys.
The looters turned their attention next on a Future Shop store a few blocks away, smashing windows and flooding up the stairs to the second-floor store, only to turn around quickly. One witness said police were at the top of the stairs.
Sears and Chapters stores were also looted, their glass fronts smashed.
For many, the ugly chaos made the Cup loss an afterthought.
"Tonight, what I've seen is a complete disgrace," said Beth Hope, 28, who is originally from England but has lived in Vancouver for the past two years.
"I'm a Canucks fan but my jersey's in my bag — I'm ashamed to be a fan right now."
She said she saw a parkade on fire, cars ablaze.
"It's insane, it's absolutely insane. What's the point? Our team lost — why destroy your own city? I'm afraid."
Chad McMillan, 31, said he's a lifelong Canucks fan, and the scene unfolding downtown disgusted him.
"This isn't what the Canucks are about," he said. "This isn't what their fans are about, this isn't what this city is about."
Matt Robitaille said he thought people had learned a lesson from 1994, the last time the Canucks were in the final. The team lost to the New York Rangers in Game 7 in New York.
"The bottom line is the better team won tonight," Robitaille said.
"But to see this makes me sick to my stomach. It makes me sick to my stomach to be a Canucks fan in this city right now. This is despicable. Everyone should be hanging their heads in shame."
While some members of the crowd expressed dismay that the police didn't take a more aggressive approach to the early vandalism, others said officers were heavy-handed.
"There's people who've been coming through the crowds suffering from tear gas," said Amy Zevick, 26, from suburban Coquitlam.
"I'm seriously disappointed in the City of Vancouver and the country of Canada because it makes me feel the insecurity I read about in other parts of the world. I don't think it's OK to loot, but I also don't think it's OK to over-police and assume that every person is guilty."
Simon Coutts has run a bike shop on Robson St. for 25 years and the riots of 1994 taught him a few things.
On Wednesday morning, he boarded his store up with plywood and hired four security guards to patrol inside.
"It just looked like there were way too many people downtown the last few nights that have been playoff nights, and its been out of control," he said from outside his shop as the violence ebbed.
He said he was embarrassed to have to explain to his nine-year-old daughter, who was watching the riot on television, what was happening and why.
"She was very upset, she said she couldn't believe it. I didn't want to explain it to her, I didn't know what to tell her.
"What people did to this pristine city and why people act like this, I have no idea."
The riot began before the game even ended.
Spectators from the enormous outside viewing area gathered in front of the downtown Canada Post building and flipped a car, setting it ablaze.
As it burned, thousands and thousands of people stood around, watching warily, with many making no move to get out of the area. Police watched from a distance as a small group screamed in delight on top of the burned-out car.
"I heard a loud noise and turned and there was a car being stomped on by a bunch of guys," 18-year-old witness Brandon Sinclair said of the first few moments of violence.
"A bunch of guys started rocking it, then they flipped it over and five minutes later it was on fire and then they flipped another one. It was just out of control."
Some members of the crowd could be seen trying to hold others back as the rampage continued. Many — including families with children — tried to flee, panicked.
At least two young men covered in soot reported being roughed up by the police, but they weren't arrested. Rivers of poured-out alcohol, broken glass and trash made navigating the streets of the downtown a treacherous task.
And then the violence spread.
Bright orange flames were seen shooting nearly 10 metres into the air as bystanders tossed firecrackers, setting off intermittent barrages of staccato explosions.
The Bay became a target, with windows smashed to allow looters to get to the expensive Coach and Burberry purses. Merchandise went flying into the street. Women rampaged through the main floor makeup department, tossing each other products and squealing in delight.
Another fire erupted nearby in an area littered with abandoned Canucks memorabilia and hand-lettered signs expressing support for the team.
The violence appeared to start when fans set fire to a stuffed bear decorated to symbolize the Bruins. Others sang a drunken tune as they danced on an overturned vehicle.
Another upturned vehicle was visible nearby as flames erupted from the exploding car, prompting bystanders to duck down in alarm. Fans who were trying simply to get out of the danger zone found their visibility reduced to zero by the thick black smoke.
Police in riot gear attempted to cordon the violence, but ambulances also appeared to be having trouble getting inside the zone to help the wounded.
The combination of police tear gas, pepper spray and smoke from the fires was choking.
Bold troublemakers hurled garbage and bottles at police officers, who deflected the debris with riot shields. Protesters who rushed the police line were quickly subdued with blows from a truncheon.
Some protesters held what looked like pipes or hockey sticks over their heads as they jeered at officers. Newspaper boxes were wrenched off the sidewalk and hurled through store windows. Portable toilets were tipped as the stifling black smoke spread through the city's core.
Some seemed to revel in the rampage, recording the vandalism on cellphones and video cameras. A few congratulated those who tried to attack police, while others erupted with cheers every time something was damaged.
At one point, police were using flash-bangs — grenades that are designed to distract and disorient, rather than injure — to try to break up the mob.
McGuinness said those responsible for the damage had an average age of 22 or 23 and were in the downtown specifically to wreak mayhem, not to watch hockey.
"They've embarrassed our city and taken away that pride that we had."
For two weeks, the city hosted thousands of fans in areas set aside with gigantic screens for watching the game as the Canucks progressed through the playoff ranks. Police officers high-fived passersby and spectators were well-behaved, win or lose.
Game 7, however, was different.
McGuinness said police aren't blaming alcohol consumption — there were more pour-outs during the last game Friday night.
But she also bristled at the notion that the force's so-called meet-and-greet strategy was misguided.
"I would completely disagree that there is complacency," she said. "We are very aware in a crowd situation that things can change. We watch for those flashpoints in a crowd."
She urged people to go home, but even that was hampered by bus routes that were cut off.
"We will have to sit down and evaluate exactly what happened here," McGuinness said.
"It's going to be a black mark for a very, very long time."
PHOTOS: See images from the violence and the game
Popular in the Community