The first time Anita laid eyes on the boxy B.C. design known as a Vancouver Special, she was far from impressed.
"When my brother and I saw this house for the first time, we were teenagers, so we had a very teenage reaction to it," she said, recalling their move in the late '80s from Montreal to Vancouver. "We really did think it was really ugly. I thought it looked like a mobile home."
But her parents loved how spacious the house was, featuring a large rec room on the ground floor, and kitchen upstairs.
Decades later, Anita's husband Mark, who grew up in England and France amid century-old houses and striking castles, had his own reaction to such a design.
"I had never seen anything like it," he told The Huffington Post B.C. in an interview. "It wasn't that it was terrible. It was unusual, I guess."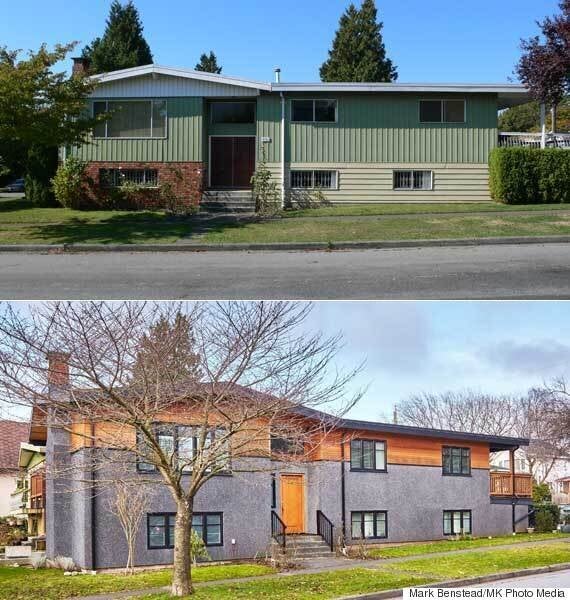 (Top photo of the home before renos by Mark Benstead, bottom photo by Martin Knowles/MK Photo Media)
The utilitarian Vancouver Special, hatched in the '60s, was designed to meet the growing need for family housing. Its distinctive low-pitched roof and metal railing balcony continue to be mainstays of the city's architecture.
Anita and Mark, who asked to withhold their last names for privacy reasons, spent several years deciding on what to do with the 1974 house after Anita's parents passed away.
Faced with Vancouver's incredibly expensive real estate market, the couple ultimately chose to buy out Anita's brother (who had inherited the home with her) and renovate the Marpole property.
They had good bones to work with. While Vancouver Specials are not handsome, they are largely well made. Anita's father also kept meticulous repair records and maintained the house through the years, giving them a "degree of safety" compared to taking on a property with an unknown history.
With a $350,000 contractor budget, the couple set out to take some of the "specialness" out of the house and insert their own aesthetics and energy into the space.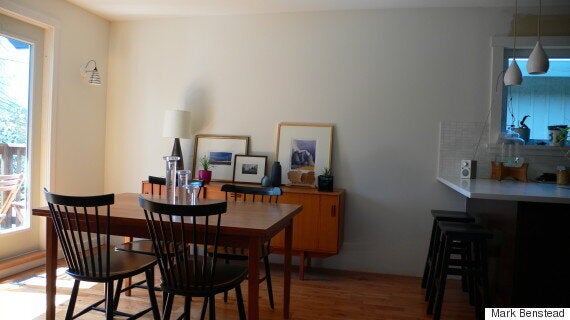 Out went the aluminum cladding and railing, the harvest yellow and avocado green bathroom, and a bedroom wall that contributed to the characteristically dark corridors that run down the middle of Vancouver Specials.
Mark's parents, who built and renovated homes in England and France, helped replace the wall-to-wall carpeting with solid oak floors. Mark rebuilt the stairs and fireplace.
But the biggest project was turning the rec room where Anita and her brother played ping pong into an 850 sq.-ft. rental suite. They gained extra living space by extending one basement wall into part of the deck. It was stripped down to the studs and built into a bright open-plan unit with two bedrooms, one bathroom, and a patio.
"The rental suite was essential to the renovation plan: it made sense to break up the house into two usable suites instead of having 3,100 sq. ft. all to ourselves. And of course, the rental income allowed us to justify the renovation costs," said Mark, who is a web developer.
They also turned a massive asphalt strip — "you could put six small cars on that driveway" — into green space.
Story continues after slideshow: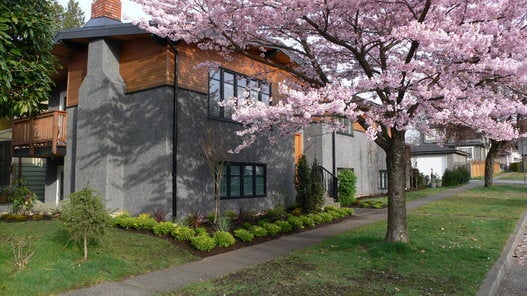 Vancouver Special Reno In Marpole
Throughout the construction, a beautiful magnolia tree planted by Anita's parents stood watch.
"We're a pretty transient generation… and so the idea of continuing where my family had ended up, that idea appealed to me," said Anita, who works in digital content and research. "Because not many generations ago, people were born in the same house and kind of died in the same house. There was that continuity and that was something I was thinking about."
The tree isn't the only thing connecting her to her roots. She points to neighbours who have been friends for decades, including one she lovingly describes as "an anchor for our family."
On April 18, Anita and Mark are opening their home up to the public for the annual Vancouver Special Tour, organized by the Vancouver Heritage Foundation, which features stunning and creative overhauls of the design.
By displaying what they've done, the couple hopes that others can see the benefit to repurposing older buildings.
"Hopefully this will add to all the houses and the projects that people are doing to save some of the old houses rather than tear them down and build an oversized box," said Mark.