Sales volumes are starting to slacken in two of Canada's hottest real estate markets.
And that could be bad news for anyone hoping to jump in and buy a home.
Home sales in Vancouver have not grown in two months — the city saw 4,769 transactions in May, a decline of 0.3 per cent from the previous month, according to the Real Estate Board of Greater Vancouver (REBGV).
Monthly home sales had also dropped by 7.6 per cent in April — from an all-time record of 5,173 in March.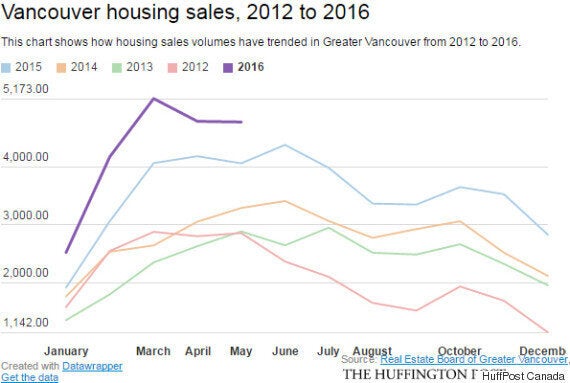 Toronto's housing market is also showing signs of slowing down.
Sales were up 6.4 per cent month-over-month in May, after rising by 43.2 per cent in April and 35.4 per cent in March, according to stats provided by the Toronto Real Estate Board.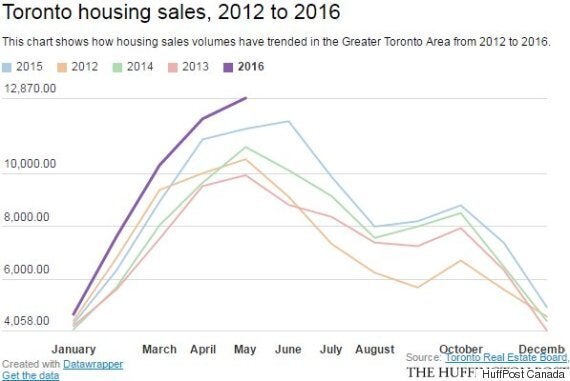 Slowing sales aren't necessarily good news for anyone who hopes to buy a home in these cities, CREA economist Gregory Klump told The Huffington Post Canada on Friday.
He said the sales reflect a lack of supply, mainly of single-family homes — and that can only lead to higher prices.
Indeed, prices have only continued to grow year after year in both Vancouver and Toronto.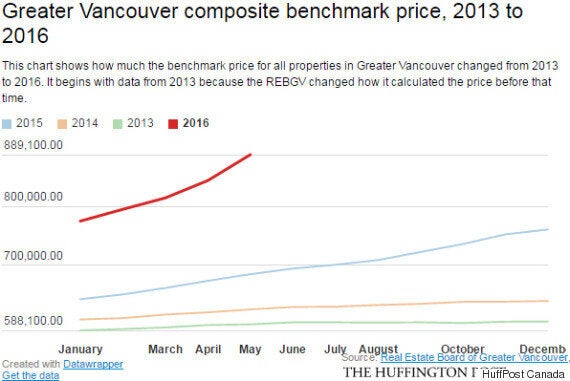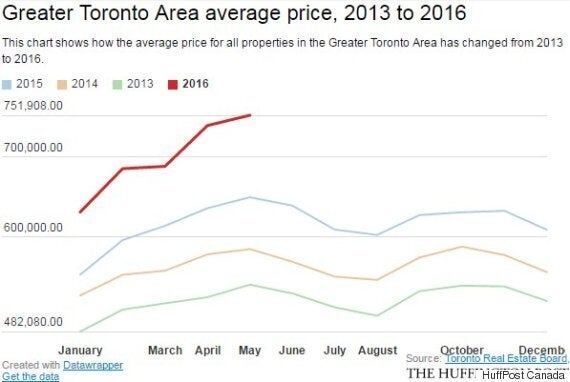 "Single-family inventory has declined to very, very low levels in Toronto, and is approaching that in Vancouver," Klump said.
"You can't have sales continue to go up without the supply there to meet it, and that's what we're seeing."
He expects to see increased sales in the areas outside those cities.
"Sales outside of central Vancouver and Toronto are going gangbusters," Klump said. "And I don't see anything changing that way, except when it reaches the point when those areas too have a shortage of supply."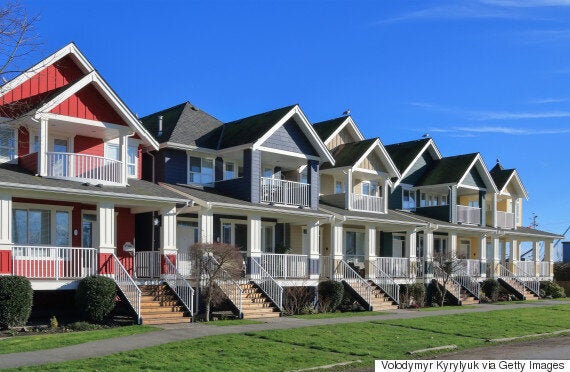 Klump's comments come as other observers express fears about a housing correction in both cities.
Scotiabank, for example, has taken its "foot off the gas" and ramped back mortgage lending in both cities amid fears of a market decline.
And on the same day, BMO Capital Markets issued a chart suggesting that Vancouver could be on the edge of a bubble.
Senior economist Robert Kavcic reasoned that way because the benchmark price of a home in the city has risen by 37 per cent in the past year; similar trends in Calgary and Toronto "ended poorly" in the 2006 and the 1980s, respectively, he said.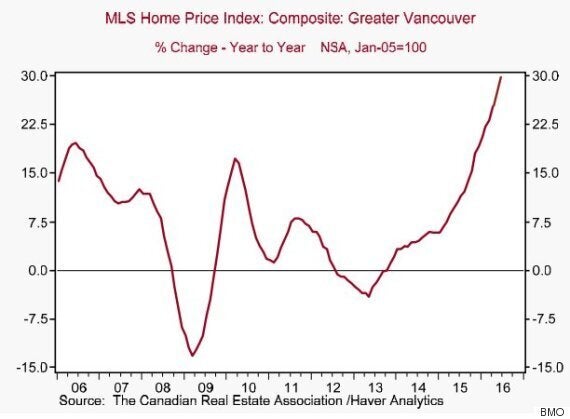 Klump sees three scenarios that would cause a housing correction:
Further tightening of mortgage requirements
An increase in interest rates
A "lasting decline in employment."
The last two don't seem likely to him. But the effects of mortgage tightening have been clear in previous years.
Sales dropped dramatically in Vancouver in 2012, after the federal Conservatives changed mortgage rules to allow only 25-year amortizations, among other requirements.
The federal government tightened mortgage rules again in December to require around down payments of 10 per cent on any portion of a home's price over $500,000, up to $1 million.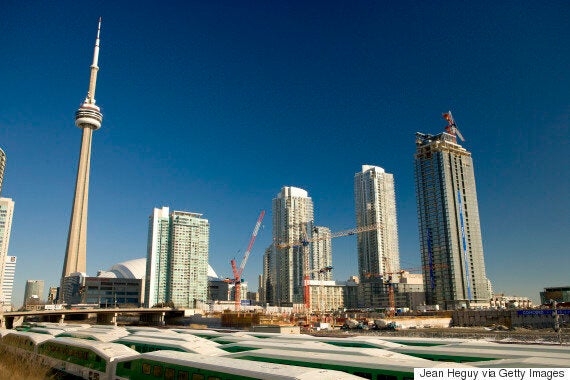 Even if prices did drop, however, the Vancouver and Toronto markets could be primed for a "soft landing," TD Bank economist Diana Petramala said last month.
"The average price for a home has risen by more than $100,000 in Vancouver and Toronto over the last year," putting them increasingly out of reach for the average buyer," she wrote in a note to clients.
"As such, we expect demand to continue to spread out into their surrounding areas."