Leave it to Vancouver's green thumbs to transform a vacant gas station lot into what the city has billed as the "largest urban orchard in North America."
For $1 a year, Sole Food Street Farms, a Vancouver-based urban farming group behind some of the city's most successful food production projects, will lease the city-owned two-acre property at the corner of Main Street and Terminal to grow a variety of fruits and herbs in large, above-ground plastic containers.
Container planting is necessary because it's nearly impossible to grow plants in the contaminated soil found on site of a decommissioned gas station.
"We have designed a very innovative system that both isolates the growing medium from the existing soils, so the food is safe," Sole Food co-founder Michael Ableman told The Huffington Post B.C.
Specialty fruit trees such as apples, pears, plums, figs, persimmons and Meyer lemons are planned for the orchard, and 500 have already been planted. Though the fruit will take up to five years to reach full production, Sole Food also plans to grow up to 60 types of culinary herbs ready-to-pick this fall.
Last year, the organization produced over 30 tons of food for local farmers markets, restaurants and stores. That number is expected to double this year.
It's another example of the local social enterprise movement dedicated to help the city meet its local food production goals while providing jobs to residents of the Downtown Eastside. It's this two-pronged focus that differentiates Sole Food from other urban agricultural initiatives.
"We have a very strong social agenda and that's to hire as many people as we can from the Downtown Eastside," Ableman explained.
"We're not trying to get anybody off drugs, we're simply trying to provide meaningful work. And if the result of that is that other things change in people's lives then that's fantastic," he said.
Of course, setting up an orchard on downtown city-owned land that's in short supply has its own risks.
Each plant container comes built with forklift tabs, which allows Sole Food the opportunity to move the orchard on short notice without physically uprooting plants.
"The cost of real estate is so high you can't expect a very long term lease."
Despite fierce competition among developers for downtown land, no one was interested in leasing this particular property because of potential risk factors involved with building projects on sites with contaminated soil and industrial zoning restrictions.
"The land might be valuable but decontamination has a cost associated with it," city councillor Andrea Reimer told HuffPost B.C.
"The options were gas station or orchard, and orchard made a lot of sense."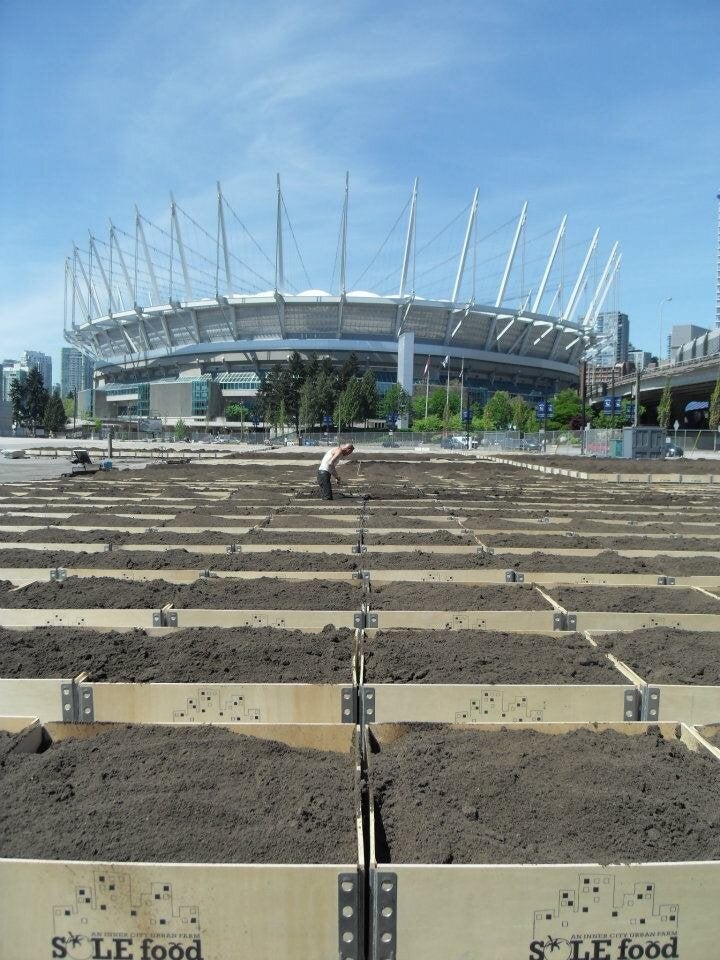 Urban Farming In Vancouver, Seattle
Popular in the Community