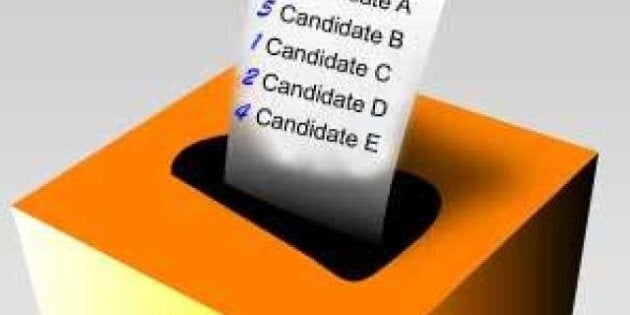 Vancouver Mayor Gregor Robertson recently marked the end of his first year of his second mandate, and I would like to congratulate him belatedly on his electoral success. As one of City Hall's close observers (and unabashed critics) I know the mayor is focused on taking the work of successive councils on environmental stewardship and addressing homelessness in new directions.
But I believe there's an opportunity for the mayor to create a unique legacy in office — in the area of electoral reform.
Over the years, Vancouver's city councils have paid lip service to the matter of low voter turnout and a disengaged citizenry by proposing changes to the way we vote. However, these things do little to address the underlying apathy felt by nearly three-quarters of eligible voters.
We often hear the excuses for not voting, such as lack of understanding of the issues or poor familiarity with the candidates, or that voting does not jibe with a busy schedule. In Vancouver, the most common gripe is that there are just too many names on the ballot.
The worst complaint is that voting does not matter.
Now is the time to modernize how we vote in a way that is practical for governments, fair to all candidates and voters, and is painstakingly non-partisan in its implementation. In our democracy, no government or opposition member should be satisfied with a system that only involves a fraction of its citizenry.
For the City of Vancouver, where voter turnout percentages have averaged in the mid to low 30s over the past decade, I propose the following 10 reforms toward rebuilding the public's interest in our elections:
1. Address long ballots with stricter candidacy requirements
In 2011, there were 40 candidates for 10 spots on city council, and the number has been even higher in previous elections. A council candidate is only required to get signatures of 25 nominators and pay a $100 deposit (which is refunded after the election). I suggest the city clerk should require 100 signatures and a $500 deposit. While this may seem fair to some, it might be perceived as prohibitive by others. Nonetheless, let's consider it.
In fledgling democracies, ballots have included colour-coding and sometimes candidate photographs to address illiteracy. Requiring English fluency for voters in a city where many of us speak other languages at home is restrictive. Let's re-imagine ballots so they appeal to the eye and are understandable in any language.
3. Place names on ballots in random, rather than alphabetical order
We all seem to think having a name starting with an A, B, or C can improve electability, so let's print sets of ballots with names randomly arranged to ensure fairness for all candidates regardless of their initials.
4. Have Elections BC administer all local elections, not municipal staff
In 2011, there was a last-minute decision by Vancouver's city manager to appoint a new chief electoral officer. The staffing change highlighted a fundamental conflict of interest at city hall — the city manager is hired by the elected city council. The current system puts inordinate trust in a single public official, and outsourcing to provincial representatives removes that conflict.
5. Expand the use of mail-in voting
Voting by mail has increased voter turnout significantly in other jurisdictions, and is less susceptible to fraud than Internet voting. Mail-in votes in Vancouver are limited to people with disabilities, but should we allow anyone to register as a mail-in voter provided the appropriate checks and balances are observed?
6. Dedicate appropriate funding to advertise elections
Witness the 2002 election where 50 per cent of voters turned out. Many credit the city's aggressive promotion.
7. End pro-government advertising 90 days before an election
This is standard practice before provincial elections, and local governments should follow suit.
8. Audit the election results every three years
Today, it is rare to rely upon technology for long periods, but the city has employed the same Diebold AccuVote system to count ballots since 1996. Freedom of Information documents show there were dozens of technical glitches in these machines on election day. Instead of destroying all ballots eight weeks after the election, should some polls be subject to a manual re-count to test the voter machine results?
9. Expand advanced voting days and locations
Advanced voting opportunities led to a four per cent spike in turnout in 2011 over 2008. It makes a good case for more advanced vote opportunities.
10. Require detailed disclosure information from elector organizations
We hear disingenuous calls for removing corporate and labour donations usually from political organizations that benefit from large amounts of in-kind support from unionized workers. What we really need is annual reporting of all financial and in-kind support. We should also shorten the disclosure deadline after elections from 120 to 30 days.
Too many of us are showing our indifference about local government by not voting. If Vancouver's mayor aspires to increase public engagement, he should take on the problem of low voter turnout head on. These 10 recommendations are a good place to start.
Popular in the Community