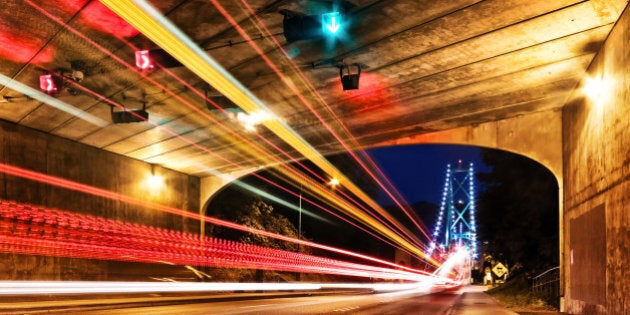 Vancouver has the worst traffic congestion in North America. Worse than Toronto, worse than New York, worse even than Los Angeles.
That's according to the TomTom Traffic Index, which ranked the west coast city worse than all of North America's major cities in the second quarter of 2013, in a comparison of non-congested travel times against peak hours.
The study said that an average drive in Vancouver takes 36 per cent longer than when traffic is flowing freely, a 2.8 per cent jump over the same period last year.
Check out the worst cities for traffic congestion in North America. The story continues after the slideshow:

The Worst Traffic Congestion In North America
Commuters face 93 hours of delays per year in a 30-minute commute, which adds up to 11.6 working days, while the delay per hour is 41 minutes, according to a Wednesday news release.
The evening peak time commute takes 76 per cent longer than normal traffic conditions, while the morning peak takes 61 per cent longer.
Meanwhile, an average drive through Los Angeles takes 35 per cent longer than when traffic is flowing at a normal pace, putting it second to Vancouver. Toronto (27 per cent) came seventh on the worst congestion list while Montreal (25 per cent) came tenth.
Vancouver's traffic congestion came third when taking South American cities into account, behind Rio de Janeiro (50 per cent) and Sao Paulo (39 per cent).
TomTom arrives at its rankings by analyzing data from millions of GPS users around the world.