With a plan to become the greenest city in the world by 2020, Vancouver is becoming renowned for its safe and extensive bike paths. With all this glorious sunshine we're having, it's time to tune up your bike, strap on your helmet, and get outdoors to explore everything this amazing city has to offer!
With such a plethora of choices, here are our top picks for spots to pedal your way to.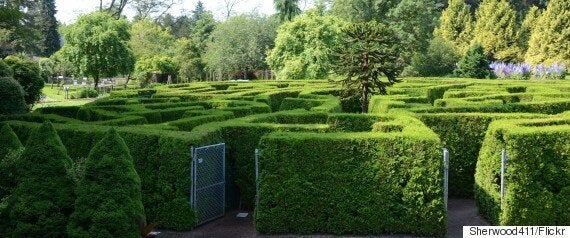 This is a true gem, whichever season you cycle out here, and there's lots of bike parking to keep your bike safe. The gardens are a vast, sprawling place with a fun maze, and more types of plants than you can shake a stick at. Boasting plants from many different countries around the world, Van Dusen is as educational as it is beautiful, which is to say extremely!
Located seconds from the seawall, this unique museum has ever-changing exhibits on a variety of interesting subjects - from Neon Vancouver | Ugly Vancouver, to Stefan Sagmeister: The Happy Show, there's always something fun to see. With a bike parking right outside you can chain up and enjoy all the museum has to offer, whether you're a Vancouver native, or brand new to the city.
Although this is one of the busier places to go in Vancouver, it's easy to see why. It's right on the seawall and a great place to stop for a rest after biking around Stanley Park. With tons of local bars and restaurants nearby you can grab a coffee or gelato and take it down to enjoy on the beach. There's tons of bike parking around, or you can prop your ride against one of the giant logs on the beach as you recline and watch the sun set.
Follow the bike trails down to Trout Lake on a sunny summer Saturday and you'll find a cheerful group of people holding bushels of delicious, locally grown food. With oodles of bike parking you can rest assured you'll find a spot to leave your steed as you take a stroll around. Once you're done at the market you can take your treasures and have a picnic by the lake, and even stop by the dog park to laugh at the excited pups as they dive in and out of the water!
QE Park is a bike-accessible spot that really has it all: stunning views over the city, a restaurant, a rose garden, and a conservatory. You can't go wrong with this beautiful greenspace -- there are always interesting people to watch, and lots of space to spread out on the grass with a picnic. If you get bored of the view (yeah, right) there's pitch and putt and lawn bowling to keep you busy until you head to Seasons in the Park for a delicious meal to finish the day.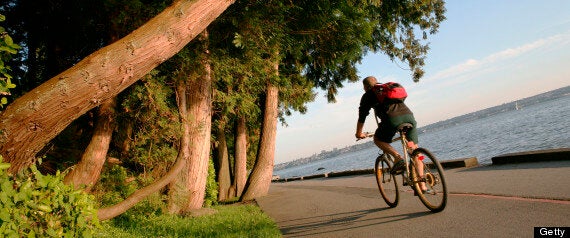 No mention of biking in Vancouver would be complete without discussing Stanley Park. This giant swath of green takes up a large part of Vancouver's downtown, and between the seawall and the forest paths there's plenty to keep you busy while you're pedalling around. The views over English Bay are stunning, and you'll definitely want to stop at one of the gorgeous beaches scattered around the park to soak it all up.
Feeling like a longer ride? Follow Vancouver's designated bike paths all the way out to UBC and take a trip to Wreck Beach. This is a stunning beach at any time of day, with breathtaking views, soft sand, and quietly lapping waves, but do be warned that this is Vancouver's only nude beach so you may get more than you bargained for! There are bike racks at the top of the trail to the beach, and be prepared for a workout -- there are a lot of stairs to get there.
This stunning gallery is a reverent tribute to Northwest Coast First Nations' culture, and somewhere you can easily spend a whole day -- plus with the handy bike racks outside you know your ride is safe. The gallery also has the world's largest collection of art by famous Haida artist Bill Reid. The Great Hall has beautiful totem poles and bentwood boxes, plus a gorgeous outdoor sculpture area which is perfect for a sunny day.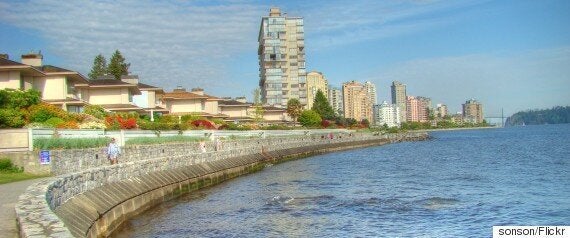 Need to stretch those legs after a long week at work? Take a trip out to Ambleside Park in West Vancouver! A good ride from downtown, this is a beautiful park with unbeatable views of the skyline, Stanley Park, and the Lion's Gate Bridge. There's also an off-leash dog park, a kid's play area, and a pier.
With shared trails for cyclists and pedestrians, this massive park provides endless miles to explore. The park stretches across Point Grey, allowing you to travel around and through 763 hectares of gorgeous, West Coast beauty! With over 50 kilometres of trails to try out, this one's going to keep you busy for a while.
This article was compiled by Ayla Collins. Follow her on Yelp, and on social media @yelpyvr.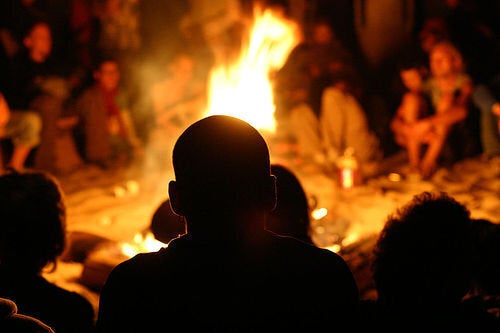 24 Free Things To Do In B.C. This Summer