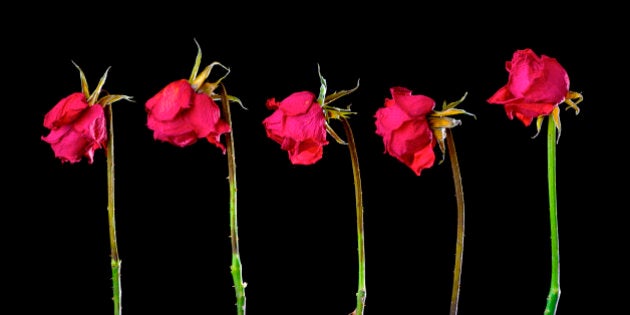 Since Valentine's Day is just round the corner, some of you probably have big plans. Perhaps it's a special date night or a couple's massage. Maybe you've already booked the babysitter, scheduled your mani-pedi or bought new lingerie.
It's not because my partner and I don't love romance and chocolate. I would never say no to a big bunch of red roses, and I'm sure he would love to see me in some fancy lingerie.
But over the years, we've learned that is not the way our relationship flies, so we gave it up.
For us, Valentine's Day was too much pressure. Too often, we found ourselves arguing as we trekked through snow and biting winter winds from one Montreal restaurant to the next, unable to decide, feeling about as far from romantic as you can get. These were not our best moments. So now we skip the traditional Valentine's Day and seek other ways to celebrate our relationship.
When it comes to romance, we all feel the pressure to get it right and to prove our love. In the face of increasingly dramatic proposal videos on YouTube, young people are especially vulnerable to feeling they must make grand romantic gestures.
But as my dear aunt Elaine used to say, "To love is an active verb," and now I think I finally understand what she meant. A great relationship is less about romance and more about respect and caring, repeated on a daily basis.
My understanding of what it takes to create a successful relationship has developed a thousand-fold thanks to my job as Director of Violence Prevention at the Canadian Women's Foundation. I get to learn directly from the experts who deliver healthy relationship programs for teens, in schools and community organizations across Canada. Each year, these programs help 5,000 young people learn how to make their own relationships healthier.
The programs help the students to explore ideas about romantic love and to talk about why gender equality is essential for creating respectful, balanced relationships. They learn about different forms of physical, sexual and emotional abuse, and how to recognize an unhealthy relationship when they see one. They learn to identify and protect their own personal boundaries, and to express their feelings. They role-play different communication styles. They begin to develop more empathy. They learn that the starting point of a healthy relationship is trust and respect. They discover that each relationship is as unique and as special as the people in it.
What if we all had the same opportunity to explore and improve our relationships? What would Valentine's Day look like then?
As the parents of three boys, my partner and I try to model gender equality in our relationship. We actually reverse some gender stereotypes: my partner used to work in a Cordon Bleu restaurant kitchen, so he does all the cooking. I tend to burn food and my best meal contains eggs and potatoes, though I can do amazing things with those two ingredients.
But in other ways, modelling healthy relationships is harder. How do you show anger in a respectful way? How do you listen with respect when all you really want to do is slam the door while yelling, "Talk to the hand!" Over time, we've learned what works for us: using humour, developing our personal "cool down" techniques like going for a walk, and booking a time to chat later when we feel calmer.
In the end, a healthy relationship is far more enduring than the dozen red roses that will wilt in a few days, or the chocolates that will end up stuck between the sofa cushions.
While we don't need to give up the flowers and chocolate entirely, I'd trade them any day for a genuinely healthy relationship.
As for me and my partner, this Valentine's Day we won't be having dinner in a fancy restaurant, staring deeply into each other's eyes over white linens and flickering candlelight. Instead, you'll probably find us curled up on our sofa, eating chocolates together while a snow storm howls outside.
And that, my dears, is our idea of romance!
Want to make your own relationship healthier? Join the #HealthyLove movement and support violence prevention programs across Canada!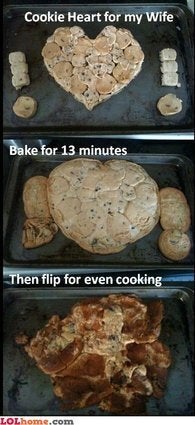 10 Epic Valentine's Day Food Fails