The show-stopping item at an Ontario festival celebrating meat didn't have any meat at all.
Thousands of people lined up for the Big MACinnes — a vegan riff of McDonald's iconic burger — at Ribfest in London, Ont. last week.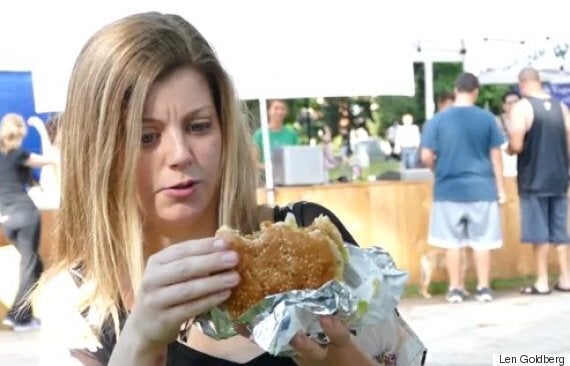 A woman tastes a Big MACinnes at London's Ribfest.
"The whole point of it was to illustrate we can make something out of plants and still have it taste amazing," said James McInnes of his namesake burger.
In the Big MACinnes, two meat patties are replaced with ones made from a mix of chickpeas, onion, and bread crumbs bound with tamari and flax flour.
They're thrown onto a griddle for a nice sear before being topped off with creamy homemade mayo, shredded iceberg lettuce, dairy-free cheddar cheese, and onions and pickles inside a three-part sesame bun.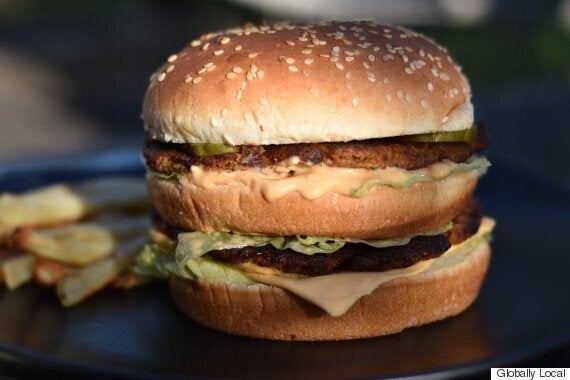 Closeup of the Big MACinnes vegan burger. (Photo: Globally Local)
Demand was so strong for the vegan Big Mac, the burgers were sold out before the end of the five-day BBQ festival.
McInnes told The Huffington Post Canada he and his team went through 300 kilograms of dried chickpeas to satisfy hungry customers.
A vegan himself, McInnes said the last time he had a McDonald's Big Mac was about four years ago. So to fine-tune his recipe, he turned to omnivore friends and family for help in taste-testing his versions.
"Vegan food can really be more popular than animal-based products — even at a meat festival."
McInnes owns Globally Local, a business that works with farmers and suppliers to delivers organic produce and vegan products to area residents.
After the success at Ribfest, he told HuffPost Canada there are plans to open a fast food vegan restaurant in London that will sell the burger.
It just goes to show how "vegan food can really be more popular than animal-based products — even at a meat festival," McInnes said.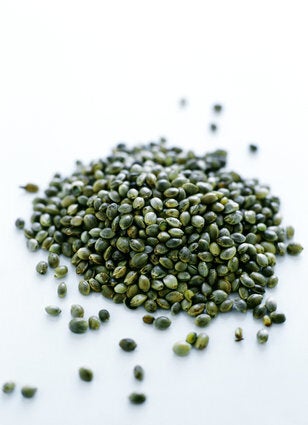 Best Sources Of Protein For Vegans
Popular in the Community