Veil of tears #ItEndsHere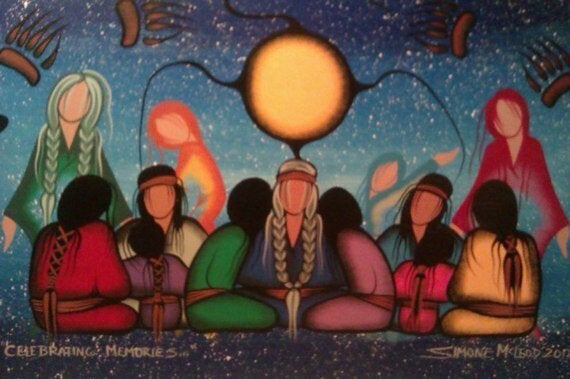 The women sit in a circle with family and community as a symbolic way to show that although they are gone they are not forgotten
Although they are gone they are not forgotten
Yvonne Abigosis, Sharon Abraham, Christine Ackabee, Bridget Adams, Jackie Adams, Natalie Adams, Rachel Adams, Bernadett Ahenakew, Laura Ahenakew, Elaine Alook, Adrienne Amikons , Gertrude Anderson,Shelley Anderson,Joni Andre, Patricia Andrew, Norma Andrews, Lisa Anstey, Jessica Anuroff,Wendy Arnault,Tara Arney, Sharon Arrance, Elisapi Assapa,Cynthia Audy, Katherine August,Laverna Avigan
The veil of tears: #ItEndsHere with us the living: the knowledge keepers, the storytellers, the medicine women, the word carriers; the spirit of the Lodge.
Shelly Bacsu, MarilynBadger,Chystal Baker, Karen Baker, Alice Ballantyne, Emily Ballantyne, Jenilee Ballantyne, Marie Banks, Lora Banman, Gloria Baptiste, Jordena Baptiste, Amanda Bartlett, Immaculate Basil, Janet Basil, Chrystal Bearisto, Nadine Beaulieu, Samantha Belcourt, Deanna Bellerose5, Ginger Bellerose, Nancy Benn, Leanne Benwell, Danita Bigeagle7, Christine Billy, Angel Bird, Vickie Black, Lorna Blacksmith, Celestine Bob, Jacqueline Bob, Nancy Bob, Lisa Marie Bone-Spence, Nancy Books, Francis Boon, Barbara Bostrom, Denise Bourdeau, Rebecca Boutilier, Deena Braem, Ada Brown, Melanie Brown, Annette Bruce, Leona Brule, Dodi Brunette, Jodi Bryant, Stephanie Buboire, Maggie Burke, Caroline Burns, Chantelle Bushie, Haily Butler- Henderson,
There is a new book coming out
Vivian Cada, Constance Cameron, Joan Campbell, Roxanne Campbell, Bernadette, Campo, Carol Cardinal, Gail Cardinal, Jessica Cardinal, Joyce Cardinal Michela Cardinal, Loran Carpenter, Monica Carpenter, Terri Carson Terri Catcheway, KristenCatcheway, Chantelle Cathcart, Charlene Catholique, Annie Cedar, Chrissie Charles, Jacqueline Charles, Mathilda Charles, Chassidy Charlie, Donna Charlie, Mary Ann Charlie, Connie Chartrand, Donna Chartrand, Louise Chartrand, Tara Chartrand, Heather Chinnock, Tamara Chipman, Michelle Choiniere, Holly Cochrane, Sharla Collier, AmandaCook, Jordan Cook, Hazel Coombs, Ada Court Jaylene Crane, Laura Cross,JenniferCusworth
Corrine Dagnault, Catherine Daignault, Colleen Daignault , Antoinette Daniels,Crysta David, Carol Davie, Carol Davis, Deanna Daw, Rose Decoteau,Carol Deiter, Lana Derrick, Beverley Desjarlais, Janice Desjarlais, Naomi Desjarlais, Rose Desjarlais,Yvonne Desjarlais, Karla Desrosiers, Sarah deVries, Judy Dick, MaryDick,Diane Dobson, Suzanne Dube, Nancy Dumas,VelmaDuncan, Gloria Duneult, Jackaleen Dyck, KatrinaEdwards, Roberta Elders, Adrienne Ermine, Karen Ewanciw, Barbara Eyapaise, Patricia Favel, Chantel Ferguson, Jerry Ferguson, Roberta Ferguson,Ashley Fisher, Sandra Flamond, Amanda Flett, Mildred Flett, Leticia Fleury, Georgette Flint, Elaine Flowers49, Elaine FlowersShiela Fontaine, Cheyenne Fox, Leanne Freeman, Cherish Frenchman, Roswitha Fuchsbichler, Jennifer Furminger
It is the same word over and over
Kimberley Gallup, Jewel Gambler, Julie Gambler, Martha Garvin, Sandra Gaudet Sylvia Gaudet, Lisa Gavin, Martha Gavin, Corona Genaille, Brenda George,Helena George, Marina George, Norma George, Alisha Germaine,Joanne Ghostkeeper, Helen Gillings, Hilda Agawa, Nina Akbarian, Leah Anderson, Cassandra Antone,Lorraine Arrance, Elena Assam- Thunderbird, Susan Asslin, Linda Backfat, Coral Baird, Jean Ballantyne, Sylvia Ballantyne, Lisa Bear, Geraldine Beardy, Dillon Belanger, Edna Bernard, Jane Bernard , Nora Bernard, Kyra Bighetty, Farro Bird8,Shawna Bird, Cheryl Black, Alice Black, Gloria Blackplume9, Cindy Blazek,Hilary Bonnell, Liz Bonney, Dahleen Bosse, Bernice Bottle, Eileen Bradburn,Tanya Brooks,Audrey Brown,Ella Brown, Marlissa Brown, Fonessa Bruyere, Vanessa Buckner, Marlene,"Buffalo-Hudson" Cindy Burk,
And Every Single One Was Someone
Belinda Cameron, Evaline Cameron, Robin Cameron, Loretta Capot-Blanc, Jeanette Cardinal Angel Carlick, Kim Casimer,Jennifer Catcheway, Roxanne Charlie, Sherry Charlie, Jeanette Chief , Christina Christison, Karen Cobbs, Linda Condo,Carolyn Connolly, Alicia Courtoreille- Brignall, Jacqueline Crazybull, Yvonne Crazybull, Dawn Crey31, Faith Crey, Unice Crow33, Corrine Cunningham, Sonya Cywink, Terrie Dauphinais, Maryann Davis,Stacey Diabo, Judie Dickie, Elizabeth Dorion, Cheryl Duck, Glennis Edwards, Moira Erb, Summer Fowler, Rena Fox, Lorilee Francis, Maryse Fréchette, Melanie Geddes , Ruby Genaille, Tashina General52, Christa George, Mary George, Pamela George, Michelle Ginnish, Cindy Gladue, Sonia Abbas, Patricia Abbott, Sally Abou, Aya Aboulfadl, Halina Abraham Abigail Acheampong, Anna Adams, Sherry Adams, Delphine Adamson , Clorissa Adolph, Ruby Adriaenssen, Delia Adriano, Anita Agyeman, Cindy Alarco, Wadha Albadri, Yeny Alfaro, Leila Ali, Annette Allan, Debra Allen, Isobel Allen, Jade Allen, Patricia Allen, Bibi Alli, Theresa Allore , Shirley Allwright, Victoria Alty, Comfort Amankwaah , Nuzhat Amiji, Barbara Amiri, Mary Amlin, Sandra Amos, Claudette Anctil, JenniferAnderson, Kerry Anderson, Linda Anderson, Ruth Anderson, Doreta Andrews, Teengia Andrews, Shirley Andronowich, Lien Angelis, Tatiana Anikejew, Dimitria Anmgelopoulo, Cheyenne Antoine, Eunice Antoniuk, Agnes Appleyard, Pamela Ariza, Kylie Armishaw, Krystina Armstrong, Sigrun Arnd Brigitte Arsenault-Guillemette, Kathleen Arseneault, Yasmin Ashareh Nabila Asifa , Pamela Asprey Agnes Assen , Andrea Atkinson, Tamara Atkinson, Maor Attar, Andrea Attwood, Gurpreet Atwal, Dianne Aubert, Valérie Aubin, Edith Authier, Maria Avidago, Donna Awcock, Johan Ayotte,
The veil of tears: #ItEndsHere with us the living: the knowledge keepers, the storytellers, the medicine women, the word carriers; the spirit of the Lodge.
Sereena Abotsway, Chelsey Acorn, Christina Calayaca, Shirley Cletheroe, Helen Frost, Inusiq Akavak, Teresa Aklunark, Shannon Alexander, Martha Ammaq, Ida Angotigirk, Allison Ayalik1, Michelle Ayalik, Mary Ann Birmingham, Daisy Curley, Mupaloo Eegeesiak, Oolayou Eyesiak, Elzabeth Bergen, Delores Brower, Bev B., Charlotte Baas, Terri-Lynn Babb, Seema Badhan, Sinah Baechen, Marion Bagshaw, Dawn Bailey, Susan Bailey, Rose Baillargeon, Cheryl Baines, Brittany Baird, Eva Baker, Zaniffa Balkaran, Susan Ball, Sandy Bannon, Patricia Barker, Rene Barkley, Gladys Barnard, Michelle Barnoski, Tina Baron, Donna Bartman , Cynthia Bastien, Alicia Bateman, Darlene Battistolo, Evelyn Bayoneta, Debra Beaulieu, Stephine Beck, Suzanne Bédard, Helga Beer, Pamela Behrendt, Corrine Belanger, Noella Belanger, Larisa Belekova, Nola Belisle, Amy Bell4, Patricia Bell, Ivana Belohlavova Marie-Claire Beniskos, Nassima Benkartoussa, Sabrina Benkartoussa, Samantha Berg, Geneviève Bergeron, Alma Berlin,
How do you understand more than ONE: one dead, one missing
Julie Bernier, Lillian Berube, Margaret Besteck, Carol Big Tobacco, Roxanne Bigelow, Evangeline Billy, Karoly Binder, Anne Biomme, Jocelyn Bishop, Lisa Black, Caroline Blair, Deborah Bleuge, Annette Blomme, Annette Bloskie, Gail Blunt, Nellie Bobbish, Elizabeth Bodnar, Natalie Bokeika, Vanessa Bol, Édith Bolduc, Kasandra Bolduc, Haraap Bolla, Zofia Bonder, Linda Bonette, Rhonda Borelli10, Constant Borg, Lorraine Borgford, Rose Boroja, Manijeh "Bostani-Khamsi," Marie-Pierre Bouchard, Sylvie Boucher, Ashley Boudreau , Karissa Boudreau, Catherine Bourbonnière, Manon Bourdeau, Isabelle Bourgeot, Patricia Bovin, Mary Bowen Amber Bowerman11, Diana Bowers, Reva Bowers, Lavina Bradburn, Martha Bradburn, Dana Bradley, Pauline Brazeau, Regina Brazil, Aurora Breakthrough, Phillip Bright, Annie Brissette, Nicole Brochu12, Barbara Brodkin, Lorelei Brose, Ida Brown, Lara Brown, Pearl Brown, Rose Brown, Christine Browne, Carol Ann Brunet, Carmela Bruni, Alayne Bryk, Lilawattee Budram, Carol Buggins14, Stella Burdo, Corrine Burns, Wendy Burrell, Melody Burtis16, Heather Burton, Carol Butler, Marjorie Byerly
How do you see more than One: dead mother, missing daughter
Leonilde Cabral, Susan Cadieux, Patricia Cairns, Michelle Cameron, Pamela Cameron, Louise Camirand, Fenny Campbell, Sandra Campbell, Joleil Campeau, Serena Campione, Sophie Campione, Aysegul Candir, Betty Card, Charlotte Cardinal, Lillian Cardinal, Patricia Cardle, Esther Carlisle, Treana Carlson, Leanne Carnes, Dori Caroll, Lucie Caron, Carolyn Carroll18, Marie Carson-Hill, Diane Carter, Judy Carter, Jenna Cartwright, Betty Case, Charity Cassell, Orma Cassleman Lucie Castonguay, Bonnie Catagas, Maria Catroppa, Karen Caughlin, Margaret Cedrone, Rosella Centis, Andrea Ceolin19, Norma Cervas
How do you touch the dead and missing of too many?
Sandra Chabauty, Melilssa Chaboyer, Kiveli Chadjiioannou, Rajwar Chahal 20, Stephanie Chaisson, Heidi Challand21, Jewell Challand, Lisa Chamberlain, Barbara Chapman, Marcia Charette, Michelle Charette, Barbara Charles, Pierrette Charrette, Micheline Charron, Gabrielle Chartrand, Sadie Chartrand , Tracey Chartrand, Ngoc Chau, Tuyet Chau, Vivian Chau22, Tara Chequis, Michele Chiesa Brenda Chillingworth, Donna Chisholm, Erin Chorney, Hafiza Chowdbury, Hilda Chreptyk, Marie-Claude Chrétien, Nancy Christensen25, Connie Christenson, Gabriella Christian, Gladys Christie, Carol Christou, Nybol Chuol, Kristina Cindric26, Nevenko Cindri27c, Thelma Clapham, Helen Clare, Catherine Clark Kimberley Clarke, Stacey Clarke, Martine Clément, Isha Cleverdon
Christina Cline, Diane Clouâtre, Denise Cloutier- Guidi28, Catherine Cluney, Sara Coates Francine "Coderre-Gregoire," Florence Coffee, Eileen Coffey, Maxine Cohen, Victoria Colard, Hélène Colgan, Samantha Collins, Serena Colson, Fernanda Conceicao, Rosalinda Concepcion, Shelly Conners, Donna Connon, Shelly Connors, Leslie Conrad, Pamela Constable29, Luzmila Contreras, Claudia Cook, Kelly Cook, Victoria Cook, Joanne Cooke, Audrey Cooper, Virginia Coote, Gertrude Copegop, Jennifer Copithorn, Mary Corbiere, Katheryn Corchis30, Gaye Corley, Aline Cote, Audrey Cote, Elise Cote, Jolene Cote, Sophie Couchman, Pierrette Courcelles, Natasha Cournoyer, Katlin Cousineau, Virginia Coutt, Diane Couture, Tammy Couture, Shelley Cowell, Tania Cowell, Julia Cox, Wendy Crawford, Jennifer Creighton, Veronica Cropp, Julie Croteau, Nathalie Croteau, Allison Crowe, Key-Lee Crowell, Mary Cruse34, Shaniya Cruse, Shannon Cruse, Janice Cudjoe, Juliet Cuenco, Micheline Cuerrier, Kim Cuff, K'Leigh Cundall, Aimee Cunningham, Leanne Cupello, Donna Currier-Burns, Carmela Cusano, Maria Czibulka
And you get stones from the earth
Carla Dach, Louise DaCunha, Mary Dahlie, Darla Dahmer, Barbara Daigneault Marie d'Amour, Fiona Dario, Darji Urmilaven, Debbie Darlene, Anne Dasaulniers Candace DaSilva, Ashley Daubs, Stephanie Daubs, Victoria David, Beverly Davidson, Martha Davies, Morag Davies, Annie Davis, Kelli Davis, Fiona Davreux, Maria de Los Santos, Louise De Prater, Marion Deacon, Victoria Debes, Nelita Deboraja, Catherine Deboucherville, Alexandra Degrasse , Aliyah Degrasse, ***Delaronde, Dorys Delgadillo, Marilyn Dellaire, Wanda DeLong38, Brenda Demoor, Sereena Denesiuk, Norma Derosie, Melanie Desroches, Sylvie Desroches, Jane Dever, Deborah Devine, Sabrina Devittoris, Alexis Devlin
Shelley Devoe, Lindsey Dibert, Jocelyn Dickson, Catherine Didluke, Thera Dieleman,Sharon Dietrich, Valerie Diner, Terisa Ditchburn, Irene Ditchfield, April Dobson, Brenda Domingo, Cimmeron Doncaster, Laurissa Dookie, Helen Dorrington, Marie Dorval, Cheri Doucette40, Reva Douglas, Victoria Doyle, Monica Drake, Dana Draycott, Valerie Drew, Karen Drinkwalter41, Sharon Drover Jocelyne Dubé, Crystal Ducharme, Patricia Ducharme, Danielle Duchesneau Gisele Duckham, Deja Ducross, Pauline Dudley, Susan Duff, Nathalie Dufresne, Alexandra Duguay, Karrie Dulmage, Jocelyn Dulnuan, Kimberlee Dumais43, Mya
Dumont, Margaret Duncan, Rhonda Duncan, Jacqueline Dunleavy, Lillian Dunsmore, Lori Dupont, Mylène Dupuis, Donna Durham, Diane Durocher, Ann Durrant, Dominika Dutkiewicz, Beverley Dyke
ONE stone for every death
Agda Easingwood, Jessica Eastabrooks, Sara Easton, Linda Eaton44, Sandy Ebrahim, Marietta Echavez, Anne-Marie Edward, Donna Edwards45, Leah Edwards, Jessica Eguia-Cornejo, Petra Eilbrecht, Jolene Einerson, Christina Eisnor, Melissa Ekkelenkamp, Darcy Elder, Jolene Eliuk46, Misty Eliuk, Chrystal Elk, Petra Ellbrecht, Louise Ellis, Diane Ellison, Laura England , Jacqueline English, Vivian Enuaraq, KarinaEsquivel, Jessica Estabrooks, Pascale Eustache, Enola Evans, Florence Fagan, Danielle Falardeau, Carmelo Fallico, Bridie Fanning, Phylllis Farquhar, Karine Faubert, Peggy Favel , Rachel Favreau, Anna Fedorio, Anna Felker, Isabelle Felsing, Ethel Fenotti, Dora Ferguson, Heidi Ferguson, Jennifer Ferguson, Maria Ferguson, Valerie Ferguson, Marie "FernandezLevesque," Anne Fernando, Vikki Ferrando, Edith Ferraz, Suzanne Ferry, Chantele Fetterly, Michelle Fiddick, Noelle Fielder, Juanita Fields, Jenny Figueroa, Mary Ellen Filer, Sophie Filion, Donna Filiszewskia
ONE stone for each of the missing
Juliette Fillion, Colleen Findlay, Margaret Findlay, Jessie Finnamore48, Alexandra Firgin-Hewie, Sophie Fitzpatrick, Maria Fitzulak, Helene Flanders, Doreen Flann, August Flatfoot, Sara Flores- Quintana, Johanne Foessl, Thelma Fokuhl, Debra Foley, Joanne Foley, Nancy Forbes, Margaret Forget, Julie Fortier, Margaret Foster, Nathalie Fournier, Kristie Fowlie, Rosemary Fox50,Sharon Fox , Lisa Francis Maria Franco, Edith Francomano, Sonia Frappier, Marilyn Fraser, Linda Fredin,Ruchael Friers, Leanne Friesen, Cathie Frost , Constance Fuhrmann, Rachael Gabriel, Arlène Gagné, Betty Gagnon, Nancy Galbraith- Quick, Paula Gallant, Karolyne Gallasz, Barbara Galway, Steffany Gardiner, Sheryl Gardner, Raymonde Garon , Brenda Garside, Hannah Gartry, Catherine Gastador, Audrey Gates, Karine Gaudreault 51, Cari Gaulton, Cindy Gauthier, Alexia Gautreau,Kiarra Gautreau, Barbara Gawby, Lydia Gayle, Natalie Gayle, Rhonda Gaynor, Claudia Geburt, Ludmila Gechtman, Nadia Gehl, Lucy Gélinas, Diana George, Lorna George, Virginia Gerlitz, Irene Gibbons, Sherry Gibson, Brittany Giese, Martine Giguère Anita Gilavesh, Edith Gilavish, Lynn Gilbank, Helen Gilby, Linda Giles, Gill Kanwaljitk, Gill Kulwinder, Chantal Gillade, Beverly Gillett, Nora Gillis, Erin Gilmour, Jeannie Gingras, Monique Girard, Lillian Giroux, Nancy Gladue
It was Rabbi Hillel, in the first century BCE, who wrote these poignant words: "If I am not for myself, then who will be for me? And if I am only for myself, then what am I? And if not now, when?"
If not now, Canada, when? When will we declare that the dead and missing women of our First Nations are our dead, our missing, our lost children.
The veil of tears: #ItEndsHere with us the living: the knowledge keepers, the storytellers, the medicine women, the word carriers; the spirit of the Lodge.