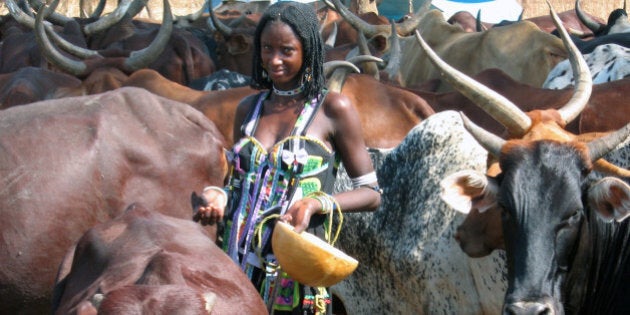 An estimated one billion of the world's most impoverished people live in rural communities. Of these, approximately two thirds rely on some type of livestock for food and income. For many developing communities, like those in South Sudan -- or the farmers of Vanuatu (an archipelago in the Pacific) who faced devastation from Cyclone Pam this week -- animals are walking bank accounts, dowries and life insurance policies. To lose your livestock is to lose everything.
Veterinarians Without Borders (VWB) tackles a problem many don't even realize exists.
Erin Fraser is co-founder and executive director of Veterinarians Without Borders Canada -- part of the VWB international network in 12 countries. She tells us she learned about the vital connection between developing communities and animals as a young vet intern, assisting with a development project in Honduras where she taught women to raise chickens. We spoke with her about VWB's project in Maban County, South Sudan -- a fascinating illustration of all the ways that helping a developing community look after its animals also helps its people thrive.
By 2013, more than 130,000 refugees had arrived in Maban. With them came more than 350,000 animals. As resources dried up and diseases spread, as many as 500 animals died every week -- and with them their owners' hopes for the future.
When the Maban development project launched later that same year (with funding from the government of Canada) the first priority was to stem the tide of dying animals. Not only were families losing their only assets and livelihoods, a major health hazard arose as animal corpses were left to rot in the open. VWB began a massive program of vaccinations, deworming, and treating injuries for more than 160,000 animals in the four main refugee camps and largest town.
Of course, these communities cannot rely on outside veterinary help forever. So VWB set up three animal health centres and trained 43 locals as community animal health workers who would treat common animal illnesses and injuries, and perform basic procedures like vaccinations. These individuals also acted as outreach workers, going into communities to teach others about good animal hygiene, and how to properly dispose of dead animals to protect the health of both animals and humans.
Training community animal health workers provides an added bonus -- creating local jobs and income.
It's easy to forget that diseases, which start in animals, don't always stay in animals. In the past decade animal diseases like avian influenza and "swine flu" have taken hundreds of human lives in developing and even developed countries. Developing communities, where animals live in much closer contact with humans, are at higher risk for these "zoonotic" illnesses. Although there was little risk of avian influenza or swine flu in Maban, VWB vaccinated almost 300 dogs against rabies to help protect people.
The health of Maban's animals was well in hand. But the county still had a problem with too many animals for the available resources like water and grazing land. So VWB set up two slaughter facilities and trained 23 people in safe and sanitary butchering practices, again creating new jobs. Families with excess livestock could get a fair price for their animals, simultaneously reducing herd sizes and generating a total $250,000 in income throughout the county. The slaughter facilities have produced more than 19 metric tonnes of meat, which have been given to 4,600 vulnerable households, reducing food insecurity.
VWB is also helping create greater food security, incomes and gender equality by providing chickens, and training in how to care for them, to 250 female-headed households in Maban.
Poverty in the developing world -- especially in the aftermath of war or a natural disaster -- is an incredibly complex knot of interwoven issues. Sometimes thinking creatively and pulling a seemingly innocuous thread can solve a host of problems.
Who would have thought veterinarians could provide a treatment for poverty?
Brothers Craig and Marc Kielburger founded a platform for social change that includes the international charity, Free The Children, the social enterprise, Me to We, and the youth empowerment movement, We Day.