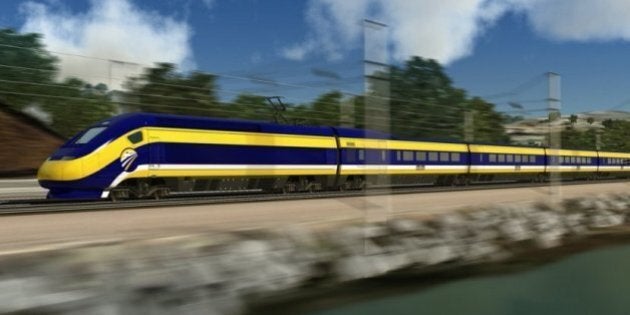 Prime Minister Justin Trudeau's newly sworn-in government has vowed billions in infrastructure spending, but if the CEO of VIA Rail has his way, that plan won't include high-speed rail.
Yves Desjardins-Siciliano is instead pushing the new Liberal government to fund a $4-billion project to create a dedicated regular-speed passenger rail corridor between Toronto and Montreal, which he says would speed up and increase the frequency of service.
"Back in 2012, there was a report published that pegged the cost of high-speed rail between Toronto, Ottawa and Montreal at $10 billion, and for $10 billion it would get you 10 million customers," he said, as quoted at the Financial Post.
But the dedicated passenger corridor would cost $3 billion ($4 billion if the track is electrified) and attract an estimated 7 million passengers, "so it's a third of the cost for two-thirds of the benefit," Desjardins-Siciliano says.
It isn't the first time the CEO of Canada's Crown corporation passenger rail service has said high-speed rail is wrong for Canada. He has argued previously that half of VIA's customers travel to and from points outside large cities, so a high speed rail network between Toronto and Montreal wouldn't be of use to them. And "going at 300 kilometres an hour (for shorter trips) does not warrant the investment," he said, as quoted at the Windsor Star.
VIA says a dedicated rail track would allow its trains to travel at a "higher conventional speed" of 177 km/h, up from 100 km.h today.
"The lower-cost dedicated track project can be introduced quickly and affordably and set the stage for ... an increase in speeds of trains, over time, as passenger traffic grows across the Quebec-Windsor network," a VIA spokesperson said in an email.
Supporters of high-speed rail say it has many economic benefits, from reducing a country's dependence on fossil fuels to revitalizing communities near high-speed rail stations.
High speed rail "links cities together into integrated regions that can then function as a single stronger economy," the U.S. High Speed Rail Association says. It "broadens labour markets and offers workers a wider network of employers to choose from. … [It] also expands visitor markets and tourism while increasing visitor spending."
Backers of high-speed rail also point out that North America has fallen behind other parts of the world, particularly Europe and Asia, in developing the infrastructure.
But many experts argue out that high-speed rail requires a high degree of population density that even the Toronto-Montreal corridor may be lacking.
And Tim Keith, CEO of a company that has proposed building a high-speed rail connection between the Texas cities of Dallas and Houston, says public resistance is also a concern.
"It's not easy to create a high-speed-rail system in an economy that doesn't accept high-speed rail as a mode of transport," Keith told a recent infrastructure conference in Toronto.
High-Speed Rail In North America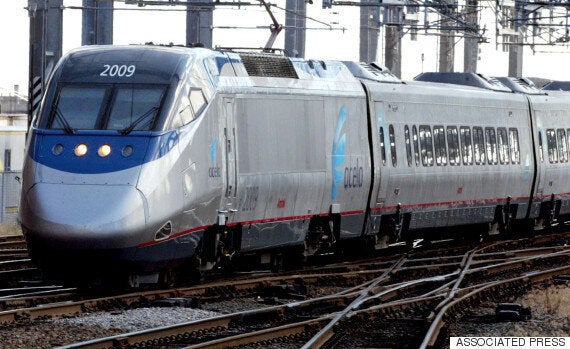 Amtrak's Acela is the only high-speed train operating in North America today.
Currently, the only operating high-speed train in North America is Amtrak's Acela, which runs in the Boston-Washington corridor. But it doesn't have its own dedicated track, meaning it can't run at top speed. Though it reaches 240 km/h on some stretches, its average speed is 105 km/h.
Amtrak says it has a plan to get the trains running at full speed by 2040.
California put shovels in the ground this year on a US$68.4-billion high-speed rail project that will connect Los Angeles with San Francisco by 2029. The train will have a top speed of 350 km/h.
The California High-Speed Rail Authority estimates the line will generate US$2.23 billion in revenue annually once it's up and running and will create 450,000 permanent jobs. It also estimates the rail will decrease carbon emissions equivalent to taking 17,000 to 53,000 cars off the road.
VIA Seeks To End The Bleeding
VIA Rail has seen its public subsidy cut repeatedly under the previous Harper government, resulting in reduced service and some communities losing VIA Rail service altogether.
That has had an impact on its passenger numbers, which were down to 3.8 million in 2014, from 4.2 million in 2010, though the company expects growth of 100,000 passengers this year, thanks to additional stops on routes and extra cars on busy trains.
The Crown corporation recorded a $320-million loss last year.
"That's why we've got to be very responsible in how we [use] your money by investing it wisely," Desjardins-Siciliano said.
He told the Toronto Star he plans to present the new Liberal government with a $3- or $4-billion proposal to build a dedicated Toronto-Montreal passenger corridor within months of the new government's swearing-in.
Of that, $2 billion would be spent on rail construction, $1 billion on new trains and stations and an optional $1 billion would go to electrifying the tracks.
Currently VIA uses a CN Rail track between Toronto and Montreal, and passenger trains often find themselves in bottlenecks. Trains are getting slower, with a Toronto-Montreal trip taking more than five hours today, compared to some four hours a decade ago.
A dedicated track would reduce a Toronto-Montreal trip to just 3 ½ hours, Desjardins-Siciliano says. The increase in passengers would make the service pay for itself, he adds.
"We're satisfied that the case is built and now it's just really a matter of waiting for the government to consider it," he said, as quoted at the Star.
Popular in the Community