Victoria's Secret is notorious for taking photo manipulation to a controversial level, sometimes to ridiculous and obviously bad lengths. And now, one former Victoria's Secret employee is spilled the brand's retouching secrets.
The anonymous woman, who manipulated photos for Victoria's Secret and other brands, decided to come clean after dealing with years of shame over how her work has impacted society.
"I know what I'm doing is wrong and that's a huge part of why I'm not doing it full-time anymore," she told Refinery29.
For the anonymous insider, these retouching tricks were essential in the beauty trade:
"I don't think I ever was on a shoot with a model that had real hair."
The gravity-defying bosoms in swimsuit editorials aren't so mysterious anymore.
The retouch artist noticed that even before the editing, studios would make enhancements and models on set would wear push-up bras underneath their swimming suits and strapless bras. Any visible sign of the push-up bra would be erased in post-production.
"When you're wearing a strapless bikini, in no way, shape, or form [can] you have cleavage," she said to Refinery29. "It's physically impossible with the way gravity works."
Inserts were stuffed into bras, to give the illusion of bigger breasts for the models, who are usually A-cups.
Once in the editing suite, nothing was off-limits. Retouching would routinely make boobs bigger, higher, nipple-less, and symmetrical.
Everyone's armpits are grey wrinkly crevices, but for some reason models' armpits always seem to be flawlessly smooth. The anonymous insider says that those pits are far from the truth. Armpits and pubic hair are always retouched. Because of this, many models don't even bother shaving away unruly arm beards and pubes.
The insider blames this on society's expectations for advertising.
"If someone saw a picture of stubbly pubes, they probably wouldn't buy the thing," the retouch artist told Refinery29. "They'd be like, 'This is like a really weird picture. Why would I buy this?'"
It's not just for Frankenstein's monster; models also have body parts that don't belong to them.
Often times, retouch artists swap different body parts for the sake of avoiding awkward stances. For example, the retouch artist had been asked to swap one model's arm out because it looked like she was picking her butt.
But contrary to belief, retouch artists often get marching to add more "meat on the bones."
"Models are thinner than you actually think they are, and we retouch them to look rounder," the anonymous source said to Refinery29, who remembers routinely using her editing skills to make butts bulge, protruding ribs soften, and angular limbs curvy.
It's a puzzling paradox, since curvier models are desired but are not hired.
The anonymous source said that the low demand for diverse body types from customers means that campaigns are less likely to gamble on them.
Although the Victoria's Secret insider liked Aerie's body-positive strategy, she made sure to pop the bubble on Aerie's seemingly altruistic motives and encourage consumers vote with their wallets.
"They didn't do it to make people feel good. They wanted to do it to see if it would sell, and it did. So then they kept doing it," she said. "When you see things like that pop up, you should vote your money towards it, because then they see it as a money-making thing and they'll continue to do it."
Even she's fallen prey to the power of advertising.
"I ordered a Victoria's Secret swimsuit this summer. And then I got it and, of course, it wasn't as cute as in the photo," she said. "I'm the one retouching this stuff and I'm still not immune to marketing. It's incredible."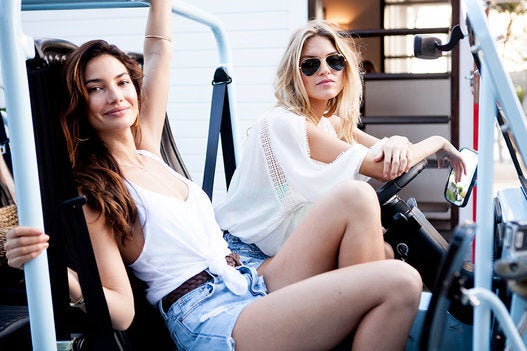 Victoria's Secret Swim Special 2016