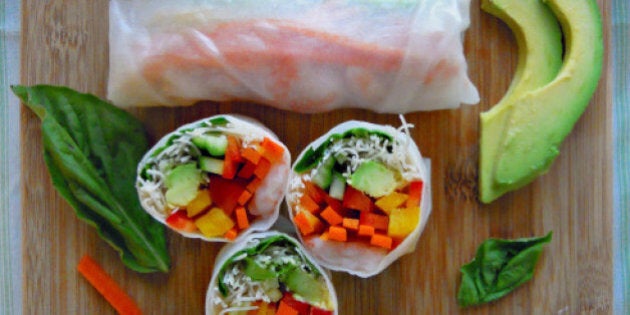 Spring is upon us, and I cannot think of a better way to embrace it than with these Vietnamese spring rolls.
They're not only super tasty, but also healthy and packed with layers of flavour and crunch. They're also a refreshing change from the usual fried spring rolls. They're great as a cool summertime appetizer, or even as a main dish, especially when dipped in this homemade zesty peanut sauce.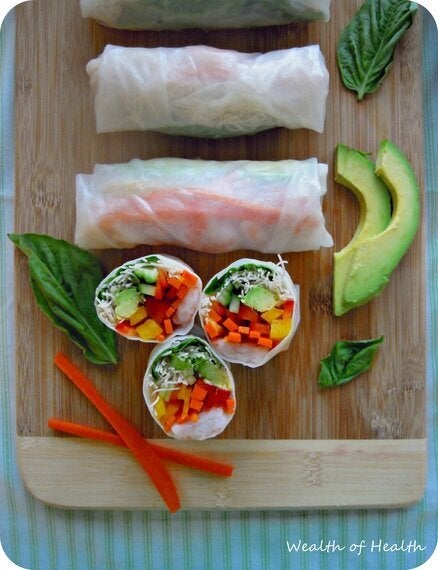 Spring rolls are so versatile because you can put whatever you want in them. And they're a great way to use up the remaining veggies in your fridge. Instead of prawns, try chicken or tofu. And for an extra punch of colour, consider using thinly sliced roasted beets or braised purple cabbage. Switch up the greens by adding different types of lettuce or even cilantro.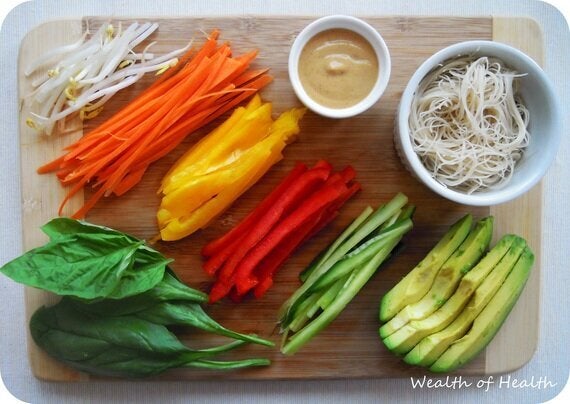 8 (8-1/2-inch) round rice paper wrappers
4 oz brown rice vermicelli noodles
8 large cooked shrimp - peeled, deveined and cut in half OR 24 small cooked shrimp
1 avocado, sliced lengthwise
16 fresh basil leaves(2 for each roll)
16 fresh mint leaves (2 for each roll)
1 English cucumber, sliced very thin and seeds removed. Length should be ~5 inches long (I used approx 1/3 of the cucumber)
1 red bell pepper, sliced very thin
1 yellow bell pepper, sliced very thin
1 carrot, sliced very thin (~5 inches long)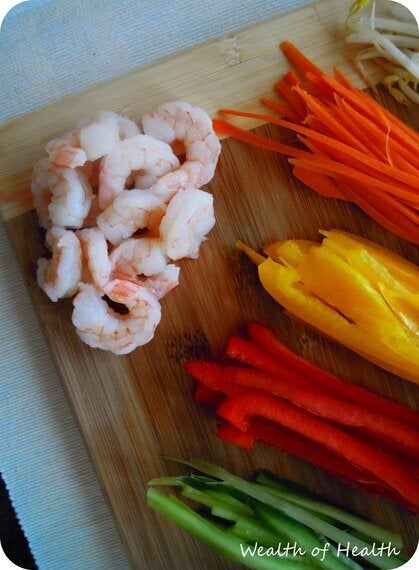 1/3 cup natural peanut butter
2 tbsp low sodium soy sauce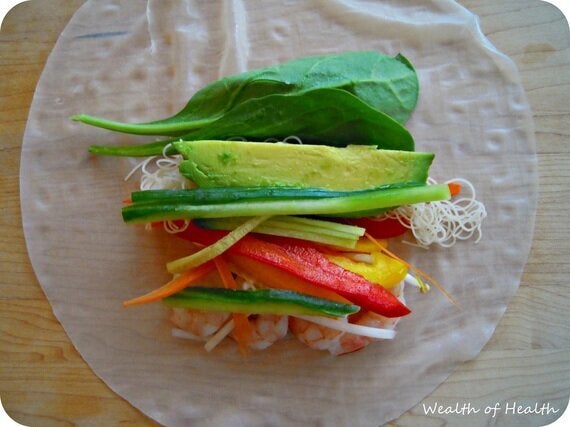 -Cook the rice noodles according to the package directions. Drain and set aside
-Arrange all prepared salad roll ingredients on a large plate or tray
-Fill a medium frying pan or wide, shallow dish large enough to hold the rice paper wraps with hot tap water
-Completely submerge one wrap at a time until it is soft and pliable (about 15 seconds)
-Remove the wrap from the water and place it on a large cutting board (click here for a step-by-step tutorial with pictures)
-On the bottom center of the rice paper place two shrimp halves beside each other, cut side up, leaving about one inch of space on each side. Layer a few sticks of carrots, red and yellow peppers, and cucumber on top of the shrimp
-Add 1/4 cup of the rice noodles over the vegetables, followed by a few bean sprouts, two of the mint leaves, two of the basil leaves, and two large spinach leaves
-Add in one slice of avocado wherever it fits
-Fold the bottom half of the rice paper wrap over the filling
-Holding the whole thing firmly in place, fold the sides of the wrap in. Then, pressing firmly down to hold the folds in place, roll the entire wrap horizontally up from the bottom to the top
-If not serving immediately, keep the rolls tightly covered with plastic wrap at room temperature for up to two hours
-Serve with the peanut sauce for dipping
-Whisk all ingredients together in a small bowl and set aside
-Add more warm water if needed to achieve your desired consistency