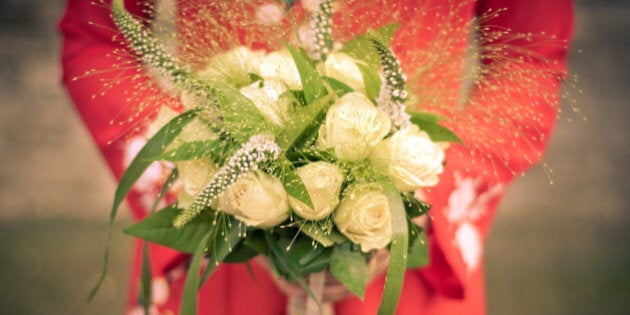 Thanks to our multicultural society, you may find yourself at a wedding this summer that celebrates in ways you aren't familiar with — and we're here to help. Each week, the HuffPost Canada Living team will take a look at a different culture's wedding and tell you about the customs, traditions and rules that go along with celebrating your friends' big days.
In the Vietnamese culture, the betrothal ceremony (an hoi), the engagement party (le dinh hon), the wedding ceremony and the wedding reception can all fall on the same day — talk about a packed itinerary. While the betrothal and engagement parties can happen months beforehand, it's becoming more common to hold everything together to accommodate people's busy schedules.
The Vietnamese usually combine the betrothal ceremony and the engagement party in one and it is often more important than any other aspect of the marriage.
"The reason why this can be viewed as being both an engagement party and a betrothal ceremony, is because an engagement party is a public announcement that the couple intends to marry, thereby making the focus on the couple's plans for their wedding," says Toronto-based wedding planner Wendy Lee of Asian Fusion Weddings. "A betrothal ceremony is a public announcement that the couple is preparing to marry and that the focus is on each other. In some respects, it is the first opportunity to change the couple's focus from 'me' to 'we'."
The actual Vietnamese wedding ceremony, which is also followed by a church wedding and reception, includes the exchange of several symbolic gifts and a time to receive blessings from both families.
"When an individual gets married, they are not just marrying their future spouse, they will be marrying their spouse's families," Lee says.
In the slideshow below, Lee explains the importance of the an hoi ceremony and what guests can expect if they are invited to a Vietnamese wedding this year.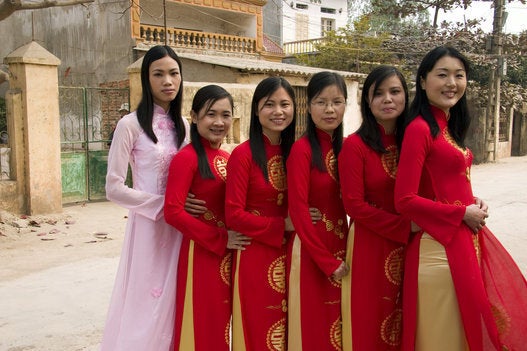 What You Need To Know About Viet Weddings
Get More Wedding Ideas On Our Pinterest Page