For much of his life, Academy Award-winning, Vancouver filmmaker John Zaritsky was a self-proclaimed "closet eccentric."
But then he spent some time with those who live life on its fringes, and "couldn't help" but be inspired by them.
Eccentrics are the subject of Zaritsky's new documentary film, "A Different Drummer," which makes its world premiere next week at the Vancouver International Film Festival.
To be clear, it's not a film that makes fun of eccentrics; in fact, it celebrates them.
"What I didn't want was for this to just be a voyeuristic experience for an audience, 'Here are these weirdos,' like a freak show or something," Zaritsky — who won a best documentary Oscar in 1981 for "Just Another Missing Kid" — told The Huffington Post B.C. in a phone interview.
"I wanted the audience to take away from this film something more than just looking at people who are different than they are."
One featured eccentric is Vancouver's Laura-Kay Prophet, who is known around town as "The Duck Lady." The psychic takes her pet ducks everywhere in a modified stroller. One duck became famous for painting pictures, while she claims another can tell fortunes.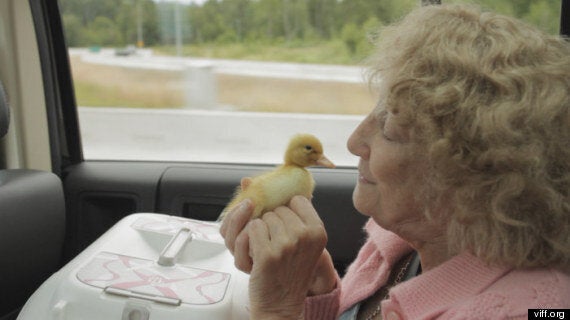 Others in the film include a man who lives in Utah caves and hasn't used money since the '90s, and the inventor of a "bra warmer."
"I tried to get a mix of characters so they aren't all the same," says Zaritsky, adding that the hardest part of the film was choosing which of the many interesting people he encountered to include.
The director got the idea for the film after reading Dr. David Weeks' book "Eccentrics: A Study of Sanity and Strangeness." The 10-year study of over 1,000 eccentrics concluded that they live longer and are generally happier than "regular" people.
"That's the reason they're so much more healthy than the rest of us: because they don't have that kind of stress of trying to fit in," Zaritsky says.
He wants the film to inspire people to be themselves — every part of themselves.
"I hope it will encourage people to not be so conforming, not so concerned with what their neighbours or friends think, and be more independent and a little more — dare I say it — eccentric," says Zaritsky.
"There's an eccentric in every one of us, I think, but most of us suppress it and keep it deep in the closet."
But after spending weeks with people who truly let their freak flags fly, he says: "I'm a true believer now."
"A Different Drummer" plays at VIFF on Oct. 8 at The Rio (world premiere, with Zaritsky and Prophet in attendance) and Oct. 10 at SFU Woodwards.


Popular in the Community