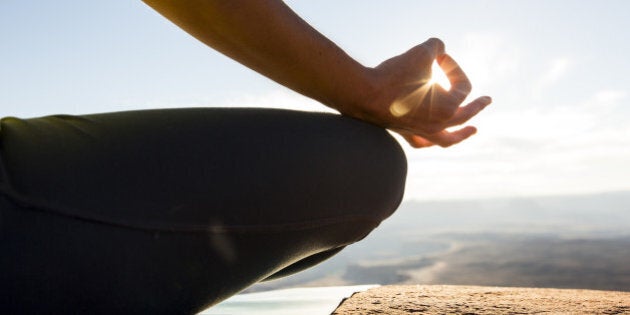 One way to achieve this is through "Vipassana meditation," a technique that emphasizes mindfulness, with the goal of seeing things as they "really are."
An ancient meditative technique from India, Vipassana was taken up by Siddharta Gautama (Buddha) just over 2,500 years ago, according to Dhamma.org.
Happiness, he felt, did not rely on changing the world around a person, but learning how to see oneself clearly.
To this end, Vipassana doesn't tap any higher beings, such as gods, for help — clearing the mind for this practice depends entirely on what we can do ourselves.
Vipassana, also known as "insight meditation," asks practitioners to live in the present as much as they can, the society says.
Gautama taught it as a "universal remedy for universal ills," and it has since been passed down through generations to a teacher named Satya Narayan Goenka, a Burma-raised Indian who has been credited with spreading Vipassana to more people than it has ever reached before.
Goenka, who died in 2013, learned the technique from a teacher named Sayagyi U Ba Khin for 14 years before taking it with him to India, where he started teaching in 1969. Eventually, he attracted thousands of students from all over the world, and appointed teachers to educate people about Vipassana in other countries.
Learning how to practice this meditation is no easy task. To do it, you must attend a free, 10-day residential course at any of a number of Vipassana centres around the world.
The course follows a strict Code of Discipline, which says that you can't kill, steal, have sex, lie or consume any intoxicant for its duration. Most importantly, you have to practice "noble silence," not saying a word or communicating with anyone except the teacher from the moment the course begins until the start of its last full day.
Students cannot practice any other form of worship or prayer during the course, in order to "give a fair trial to the technique of Vipassana in its purity." As they follow the code, students also learn how to focus on the "ever changing flow of breath as it enters and leaves the nostrils."
Participants soon calm their minds, in a way that allows them to properly practice Vipassana. They develop a stronger understanding of bodily sensations, and learn "not to react to them." And on the course's last day, students learn how to meditate in a way that shares the purity they've learned through the course with other people.
Any Canadians who wish to learn Vipassana can learn it from any of five centres across the country.