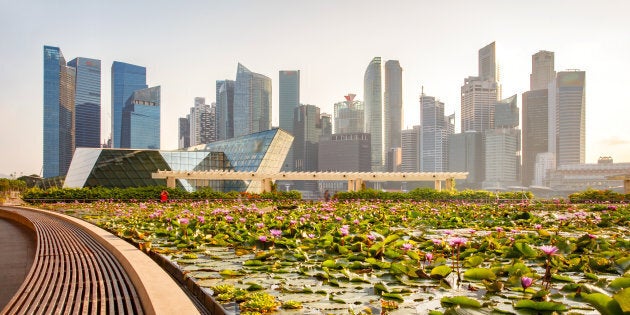 "Crazy Rich Asians" has become the most successful studio rom-com in nine years at the U.S. box office. Jon M. Chu's groundbreaking film finished the Labour Day long weekend with an estimated total of US$117 million, besting the US$110.2 million earned domestically by Amy Schumer's 2015 pic "Trainwreck."
While the lifestyles lived in "Crazy Rich Asians" are rather tantalizing, we can't all live that luxuriously. However, we can visit some of the Singaporean sites seen in this summer's box office smash hit.
Here are six ways you can have your own "CRA"-inspired adventures on a budget.
Eat satay at a hawker centre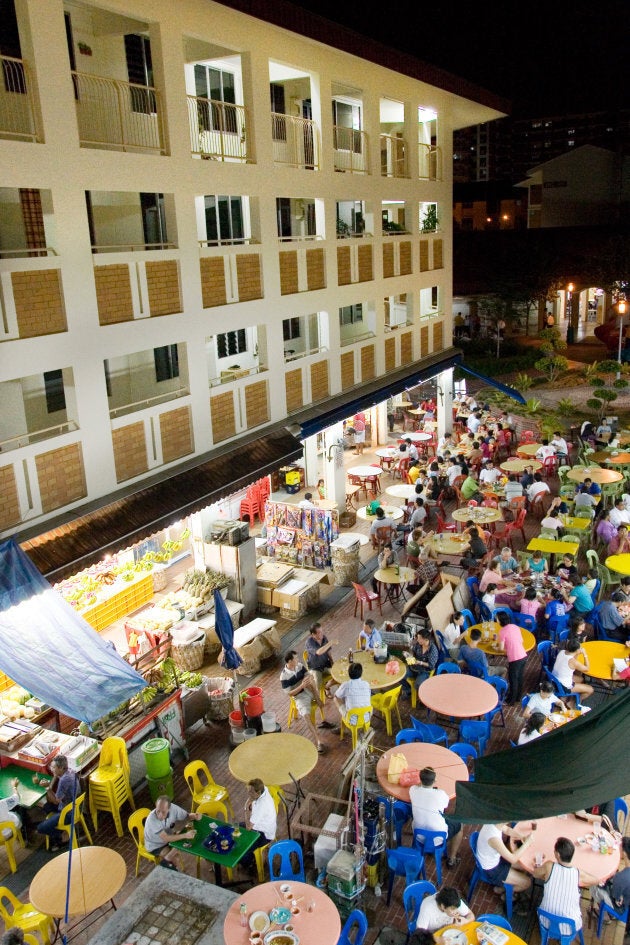 Arguably the least extravagant dining experience in the film — the hawker centre meal is Rachel Chu's (played by Constance Wu) first taste of Singapore. Hawker centres are essentially open-air food courts with many stalls that sell a variety of inexpensive food found in city centres, near public housing communities or transport hubs (such as bus interchanges or train stations).
With dishes as distinct and prismatic as the cultures that inhabit the island, this open-air, no-frills food court should be the first stop on your itinerary. Snag a shareable plate of satay, chili crab, Michelin-star chicken rice, or fried "carrot cake" (spoiler alert: this is not the cinnamon-sweet treat you might imagine) for under $10. No need to limit yourself to the Newton Food Centre where the "CRA" scene was filmed; there are more than 100 hawker centres in Singapore to choose from.
Snap a selfie with Merlion
This water-spouting statue was already somewhat of a celebrity before filming even started. With its larger-than-life lion head and fish body, Merlion has been a recognizable part of the skyline since 1972. The iconic statue is emblematic of Singapore's sea town roots and original name (Singapura, meaning "lion city" in Malay). The beloved statue makes an appearance in the establishing city shots in "Crazy Rich Asians."
You won't need to spend a single Singapore dollar for a selfie with Merlion: this sculpture is free to visit and conveniently located in front of The Fullerton Hotel, along the picturesque Marina Bay promenade.
'Bok bok' on Bukit Pasoh Road
Anyone who's seen the film remembers the infamous line: "Bok bok, bitch!"
The hilarious phrase comes up when Rachel describes to her BFF, Peik Lin (played by rapper and actress Awkwafina), that her relationship with her boyfriend's mother is like a game of chicken.
That snort-inducing, three-word line was born at Humpback, a seafood restaurant on Bukit Pasoh Road. You, too, can enjoy the quaint street scene of pastel-coloured shophouses along Bukit Pasoh Road in Chinatown while brunching. And, if you're so inclined, "bok bok" for under $40.
Stroll the Supertree Grove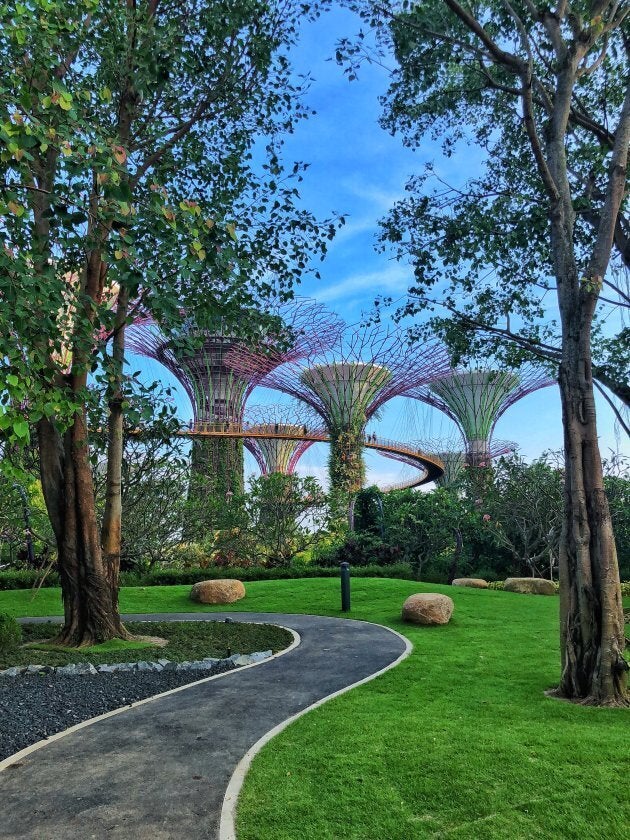 Colin (played by Chris Pang) and Araminta (played Sonoya Mizuno) spared no expense for their exquisite wedding reception, filmed at Gardens by the Bay. Luckily, you don't need a "Crazy Rich" wedding invitation to walk among the towering, extraterrestrial-looking trees. There's no cost to stroll these vertical gardens by day, or enjoy the Garden Rhapsody music and light show by night.
Get a bird's-eye view from Marina Bay Sands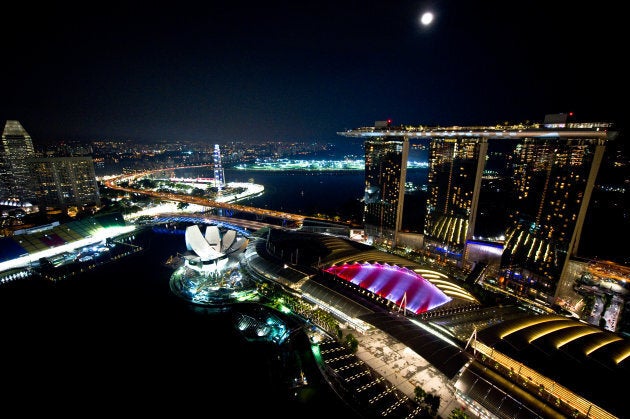 Sorry to ruin your rom-com dreams, but sans Nick Young (played by Henry Golding) or another "Crazy Rich" companion, you aren't guaranteed fireworks or synchronized swimmers when you visit Marina Bay Sands Skypark. However, the panoramic views of the city from the massive surfboard-shaped observation deck on the 57th floor is worth the entrance fee ($23 per adult). Your Instagram will thank you.
Sip a Singapore Sling
The legendary Raffles Hotel, Nick and Rachel's home away from home and the birthplace of the Singapore Sling, is undergoing renovations through the beginning of 2019. But you can still sample the infamous cocktail in the interim. Raffles has set up a pop-up Long Bar at 3 Seah Street where you can pull up a seat and — as an unexpected tradition in an otherwise fiercely anti-litter city — throw down your peanut shells while sipping the gin-based drink. The hotel is due to reopen in the first quarter of 2019. So if you can afford that presidential suite as seen in "Crazy Rich Asians," by all means, book it. And invite us. K, thanks.