Vogue has finally caught up to the rest of the fashion world by embracing gender fluidity, but its latest cover story, which attempts to paint Gigi Hadid and Zayn Malik as the poster children for this identity, isn't going down so well.
The accompanying article states that the couple "Are part of a new generation embracing gender fluidity" because they shop each other's closets.
"I shop in your closet all the time, don't I?" Hadid asks Malik in the article, to which he replies, "Yeah, but same." Malik also explains that he borrowed Hadid's Anna Sui t-shirt. "I like that shirt," he said. "And if it's tight on me, so what? It doesn't matter if it was made for a girl."
Hadid replies, "Totally. It's not about gender. It's about, like, shapes. And what feels good on you that day. And anyway, it's fun to experiment..."
And although a lot of people loved the cover (it is gorgeous, tbh), many were quick to point out that being gender-fluid isn't about swapping clothes.
Some wondered why a straight, cisgender couple were picked to represent gender fluidity.
Others pointed out the irony that two gorgeous people who uphold society's narrow beauty standards are called "gender-fluid."
And others made us LOL because they are so on point.
"He's a male pop star with a top model girlfriend. She's a top model with a really hot boyfriend. And both of them move around in protected circles. I'm not saying it's not important for them... to encourage acceptance, my point is that the way this piece reads, coming out and embracing whoever you are seems EASY. Pretty sure we're not there yet."
While it's true that being gender-fluid isn't about swapping clothes, it's an important step for inclusion when a major fashion brand recognizes it as a real identity.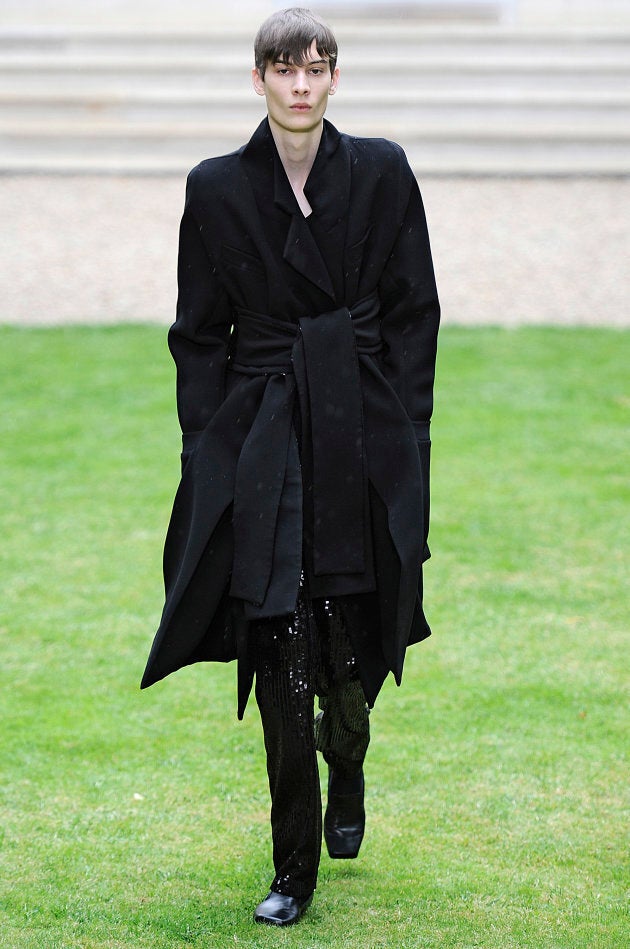 And Canadian designer Rad Hourani has been designing a unisex line since 2007.
"Who decided that a man should dress in one way and a woman in another? Or that different ages should dress differently? Who imposed these codes?" Hourani told Fashionista in 2014. "It doesn't make sense to me to limit things. I'm not trying to dress a man like a woman or the opposite. I'm creating a new way of dress that makes people look modern without any limits."