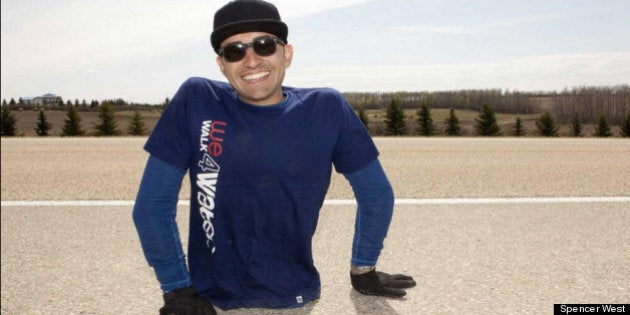 Clean water activist, long-distance trekker, Me to We motivational speaker and double amputee.
On the final day of our trek from Edmonton to Calgary to raise money for clean water overseas, we're just outside the city limits of Cowtown. I can see Calgary's skyline, and after 10 straight days of walking on my hands, it's like a mirage in the desert.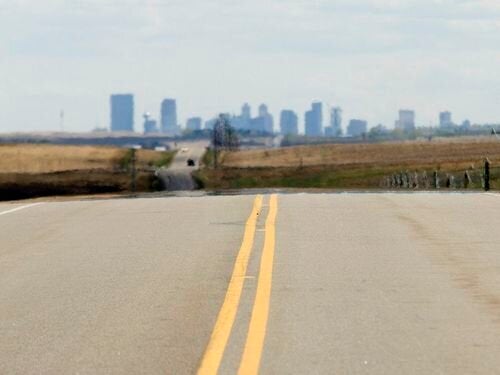 I can't even tell you how sore my shoulders are right now. It's a pain I can't describe. A lot of people ask me how walking for 30 kilometres a day compares to climbing Mount Kilimanjaro on my hands -- it's much worse. The repetitive motion is wreaking havoc on my joints. But it's been worth it. The journey has offered me a renewed perspective on just how far women in developing communities have to walk to collect clean water for their families, and it's strengthened my will to support them.
And I've been amazed at how much that support has been reciprocated for me and my best friends Alex Meers and Dave Johnson, who've taken every step of this 300-kilometre journey with me.
Even after 10 days on the road, the early mornings don't get any easier. Yesterday, we woke up tired and sore at 5 a.m. for our last (and longest) full day of walking, but were excited to reunite with reality TV personality and Survivor winner Ethan Zohn -- an old buddy of ours -- and U.S. Army veteran J. R. Martinez, a new friend I met just a few months ago at We Day Seattle.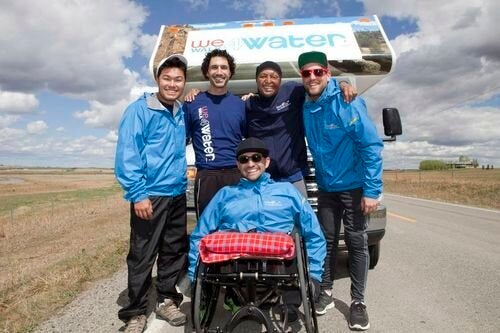 There was a huge outpouring of support at our first stop, Nose Creek Elementary School. They've been involved with Free The Children for a few years now. The student ambassador, Gracie, told us all about the amazing work her school is doing, like sewing dresses for girls in Honduras! Then, they presented us with one of those oversized novelty cheques (it was as big as me) -- for the $5,000 they had raised for We Walk 4Water!
And the supporters kept on coming. Yesterday evening, a man pulled up ahead of me on his motorcycle and came to say hello. He'd seen us on the news and wanted to make a donation. He pulled out a Ziploc bag and apologized for the "strange amount." It was his entire tax return. He'd wanted to give it to charity, and when he heard our story he knew this was where the money should go!
We set out to inspire Alberta; in the end, Alberta inspired us.
And on our final day, over our final kilometres, I find myself thinking about the first time I walked for water. Five years ago, on a Me to We Trip to rural Kenya, I walked alongside the Mamas of the Maasai Mara to collect the rushing Mara River water in yellow jerry cans. Their strength and grace amazed me, and the moment stuck with me.
This is the memory I'll take with me as I walk the final few kilometres into Calgary. See you at the finish line.
Spencer West was born with a rare congenital spinal disorder and lost his legs at age five. As a double-amputee, West climbed Mount Kilimanjaro on his hands and raised over half a million dollars for clean water in developing communities. He's now in the final stretch of his latest journey, walking from Edmonton to Calgary to support clean water programming overseas. West is a Me to We motivational speaker and the author of Standing Tall: My Journey.